In 1880 there was a small towboat built at Wheeling, W.Va., that would prove to have a very versatile career over the nearly 40 years that it existed. The sternwheel boat had a wood hull that was 121 feet long by 20 feet wide and 3 feet deep. Named Sea Lion, it was originally owned by Capt. A.J. Monteith, of Friendly, W.Va. Friendly is a small hamlet on the West Virginia shore near the head of Grandview Island, about Ohio River Mile 142.5. In 1900 it had a population of 253, and the most recent census in 2020 shows some 100 residents. Capt. Montieth utilized the small steamer to tow produce boats, and in about 1890 he had it towing logs out of the Big Sandy River.
The Big Sandy, which serves as the border between Kentucky and West Virginia, enters the Ohio River at Mile 317. In the late 19th and early 20th centuries the small river saw tremendous amounts of timber come out of the valley area. Catlettsburg, Ky., at the mouth of the stream, was known as the hardwood capital of the world during this timeframe. This timber was assembled into large rafts at the mouth and then ushered to points downstream by boats such as the Sea Lion. The boat and men chaining these rafts together are today featured on floodwall murals at Catlettsburg.
According to Way's Steam Towboat Directory, the Sea Lion was initially part of the Big Sandy Towboat Company when it began working in the area, and by 1902 it was owned by the Enterprise Towboat Company. During this time Capt. Robert Owens was master, Capt. J.A. Barnes was pilot, and William Cooper was chief engineer. Way's says that the boat was sold to Capt. Ellis C. Mace of Proctorville, Ohio, in 1906; however, in 1944 Capt. Mace published a book detailing his life and local river history that indicates that his brother Capt. Carl Mace actually bought the Sea Lion in 1906, with "Jim Kennedy and Pearl Brubaker as partners."
Capt. Ellis Mace does say in his book "River Steamboats and Steamboat Men" that in 1906 he "joined my brother on the towboat Sea Lion. I soon, thereafter, received my license as pilot and piloted this boat for several years." Mace states that the Sea Lion pulled timber out of the Big Sandy, Guyan and Little Kanawha Rivers in the fall and winter. While Way's gives no details on machinery aboard the boat, Capt. Mace describes the engines as being 12's – 4-foot stroke.
Sign up for Waterway Journal's weekly newsletter.
Our weekly newsletter delivers the latest inland marine news straight to your inbox including breaking news, our exclusive columns and much more.
Mace gives a year-by-year account of happenings on the Ohio, and particularly the mid-Ohio River. In this the exploits of the Sea Lion are mentioned frequently, such as "Aug. 16, 1906, Greenland broke shaft. Sea Lion towed her to Cincinnati." "April 18, 1909, Sea Lion was delivering timber tow at Louisville." And "July 22, 1909, while pulling 12 string timber downstream, the Sea Lion struck U.S. dredge boat at Bonanza Bar, causing some excitement."
During times that the timber was not running, the Sea Lion was often on charter to the U.S. Engineer department, tending dredge boats and working in lock construction. Capt. Ellis Mace states in his book that "The Sea Lion helped to build more locks than any other boat afloat." Capt. Carl Mace passed away in 1914, and Capt. Ellis Mace continued to operate the boat as before. In 1917 it was sold to Capt. Lewis Tanner, who shortly transferred it to James Jett of Carrollton, Ky.
The boat then towed coal out of the Kentucky River, and Patrick Calhoun, Jr., later a founder of American Barge Line (now ACBL) was involved in this operation. The Sea Lion burned near Boone's Ferry, Ky., in November 1919. In the 2014 Kentucky River Navigation Charts published by the Kentucky River Authority, a Sea Lion Branch is still shown on the Right Bank at Mile 153.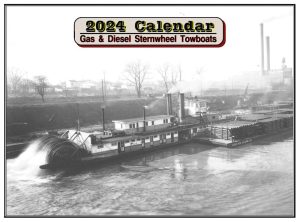 2024 Gas & Diesel Sternwheel Towboat Calendar
Steve Huffman of Draftware, Inc. has announced the publishing of the 2024 Gas & Diesel Sternwheel Towboat Calendar. Proceeds from the calendars are going toward the publishing of a directory of such craft built between 1891 and 1955, as well as a section to deal with more contemporary vessels. Huffman has become an authority on these vessels and has been a great help in providing photos and details for some of the boats that have been featured in this column.
The cost of the calendar is $15.95 plus $4.50 shipping and handling. It can be obtained by contacting Draftware, Inc., 41 Ems W32, North Webster, IN 46555, or through the website www.draftware.com/calendar.