When a vessel is named for a person, the dedication ceremony always takes on a deeper meaning. That certainly was true of the October 12 vessel dedication held at American Commercial Barge Line's Jeffboat facility in Jeffersonville, Ind., where the mv. Tom Behringer was officially renamed the mv. Rich McCarty, after ACBL's senior director of sales.
"When people think of our industry, boats and barges often come to mind as our most valuable assets," said ACBL CEO Mike Ellis, speaking at the event. "But at ACBL, we think a little bit differently. Our vessels might be the face of our operations, but the heart and soul of our business lie within our team members. That's why we find no greater honor than recognizing our exceptional team members by naming boats after them."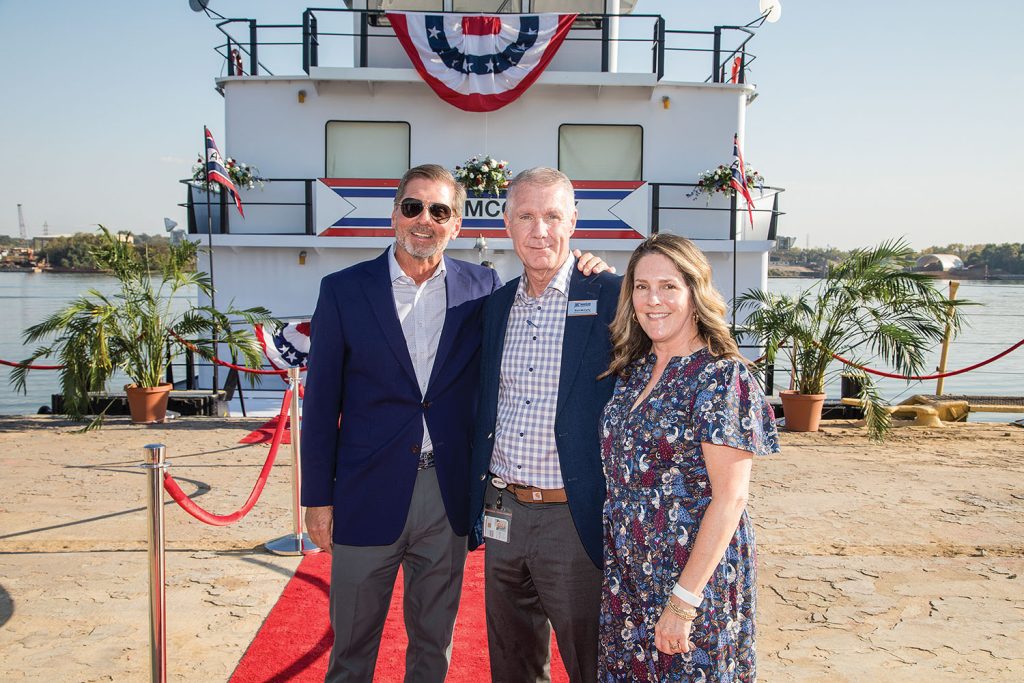 Ellis called the newly renamed mv. Rich McCarty "one of our flagship workhorses." The boat is a twin screw, 6,000 hp., 140-foot by 42-foot towboat that was built by Dravo Corporation in Neville Island, Pa., in 1977. The vessel primarily works on the Illinois, Ohio and Upper Mississippi rivers, pushing liquid and dry cargo barges for ACBL.
Ellis said "workhorse" is also an apt description of the vessel's namesake, a 15-year veteran at the company.
"Rich McCarty embodies our core values at ACBL and makes a positive impact on our culture," he said. "His unwavering dedication, combined with his unparalleled resilience, consistently paves the way for us to realize our vision of being the trusted leader in marine transportation."
Ellis said McCarty is more than a seasoned professional. He's also a friend, colleague, mentor and "devoted family man."
"Rich, today is a reflection of our gratitude and admiration," Ellis said. "I cannot think of anyone more deserving of this honor."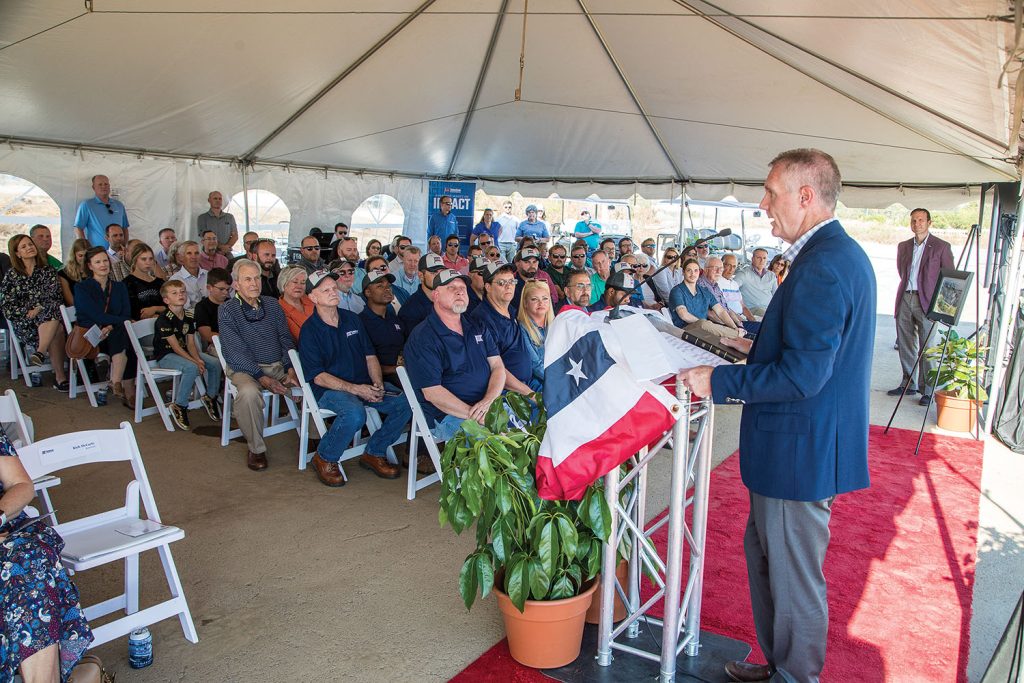 The occasion was especially meaningful in light of the journey McCarty and his family have been on since June 2021, when he was diagnosed with pancreatic cancer. Throughout his treatment, McCarty remained not only connected, but active in his role at ACBL, said Robert Blocker, senior vice president of ACBL's Dry Cargo division.
"I don't think anyone really knows that he never  seemed to miss a day of work," Blocker said. "In fact, I was told by an anonymous source that, in between chemo treatments, he always made phone calls to customers or the office, always staying in contact with business and ACBL."
In part, that reflects McCarty's family connection to the industry—his grandfather was captain of a towboat. More than that, it reflects McCarty's dedication to hard work, integrity and relationships, all of which are crucial to success in the maritime industry.
Those are disciplines even McCarty's family sees and imitates.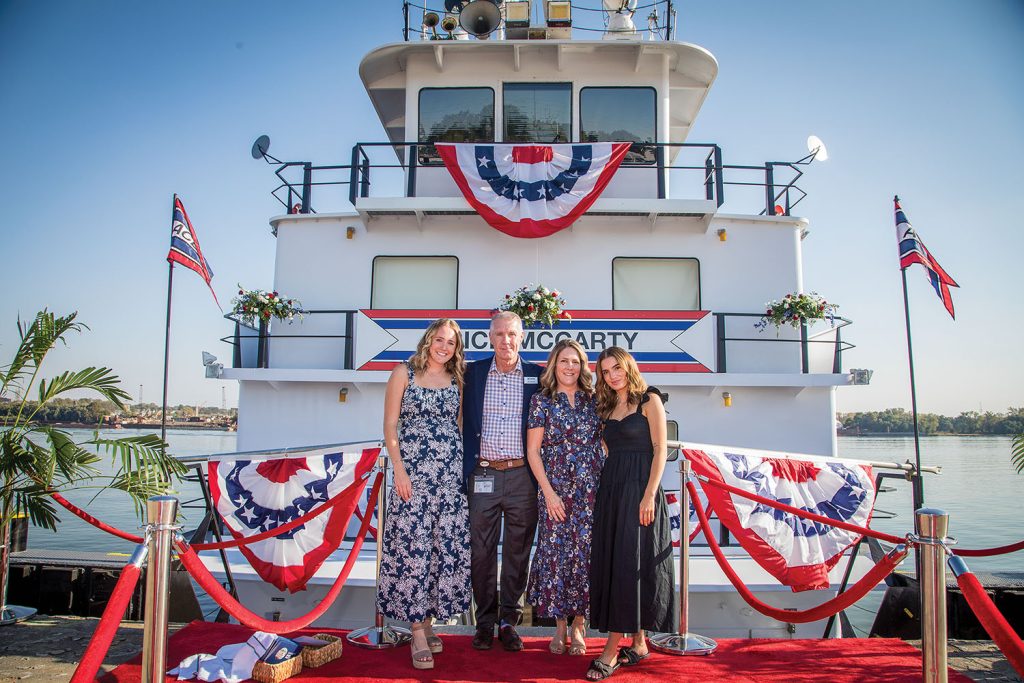 "That's something that we've always tried to follow after, because it really is so impressive just how hard he works," McCarty's daughter, Miranda, said. "We couldn't be more happy for him that he's getting recognized."
"I think we both knew this day was going to be really special, but I feel like when we got here and we saw everything set up and how nice the boat is and how everybody took the time to come out here, it just made it so much more special," McCarty's daughter, Mallory, said.
McCarty's wife, Jill, expressed thanks for the outpouring of support the family has received since he was diagnosed in 2021.
"His diagnosis two and a half years ago came out of nowhere, so this just smacked us in the face and woke us up to reality really quickly," she said. "I have to say, our family, our friends and the ACBL family have been amazing. We never could've made it without them."
McCarty echoed that message of giving thanks as he recognized childhood friends, colleagues and customers in the audience.
"No matter how many times we see you or don't see you, talk to you or don't get to talk to you, you guys all hold a very special place in our heart," he said. "You have been unbelievable to us these past two and a half years."
McCarty also recognized someone who wasn't at the christening.
"I'd be remiss, standing in front of the most important people in my life, not to mention one person that's not here," he said. "He wasn't even invited. I wanted him to be at work. That's Dr. Eric Davis, who is my surgeon and who has from day one made Jill and me hopeful. He's been here every step of the way. About two years ago, he performed a very difficult surgery on me and saved my life."
McCarty concluded his words of thanks by recognizing his wife.
"Jill has been there for every chemo treatment, every radiation, every doctor visit, hospital stay, surgery, COVID infection, shingles," he said. "It just goes on and on and on. I would not be alive today if it were not for Jill. She has physically, mentally and emotionally put everything she had into my recovery and my treatments."
McCarty said he wakes up every day, not just fighting for himself, but fighting for her.
McCarty described himself as "still in shock about this whole dedication thing."
"When it was presented to me, I was looking around the room like, 'Wait a second,'" he said. "It's a shock. It's overwhelming. I'm honored. I'm humbled."
McCarty said he tried for a long time to find something positive about his cancer experience, something he's learned, something that could serve as an inspiration or a takeaway for the crowd gathered for the dedication ceremony. Finally, he said, a word came to mind.
"That is the word 'perspective,'" he said. "When you go through something like cancer and all the other challenges people deal with in their lives, all the little things we used to sweat and even the big things we used to sweat that life throws at you, are really minor compared to what's important. That's happiness, health, family and friends.
"When we have a bad day once in a while or we have something weighing heavily on us," McCarty said, "we just don't sweat it as much because we know what's important."
The Rev. David Shirk, a Paducah, Ky.-based chaplain with the Seamen's Church Institute, offered a prayer for the mv. Rich McCarty and its crew, which is led by Capt. Todd Richardson. Capt. Heather R. Mattern, commander of Coast Guard Sector Ohio Valley, then recognized the vital work of towboat crews and mariners throughout the nation's ports and waterways.
To officially dedicate the newly-renamed vessel, McCarty, along with his wife and daughters, climbed aboard, with Jill breaking a bottle of champagne over the towboat's railing.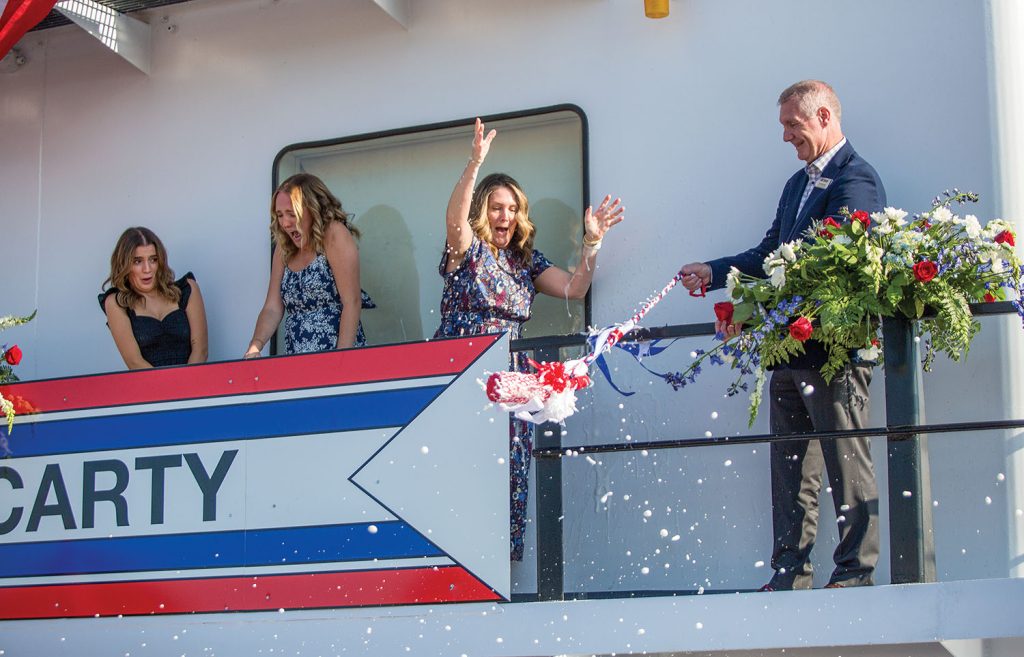 Caption for top photo: The 6,000 hp. mv. Rich McCarty was called one of ACBL's "flagship workhorses."
Special Event Coverage Courtesy of ACBL