Associated Terminals, a leading stevedore and terminal operator on the Lower Mississippi River and the exclusive operator of the Port of South Louisiana's Globalplex Intermodal Terminal, held a dedication ceremony November 7 at Globalplex to celebrate the renaming of three of the company's barge-mounted cranes after longtime team members.
"Today, we have the privilege of dedicating three of our Gottwald cranes, two of which were recently placed on new platforms and the third having been recently acquired," said Gary Poirrier, chairman of Associated Terminals. "These barges all should have more than 50-year lifespans working on this river, far exceeding my remaining days for sure."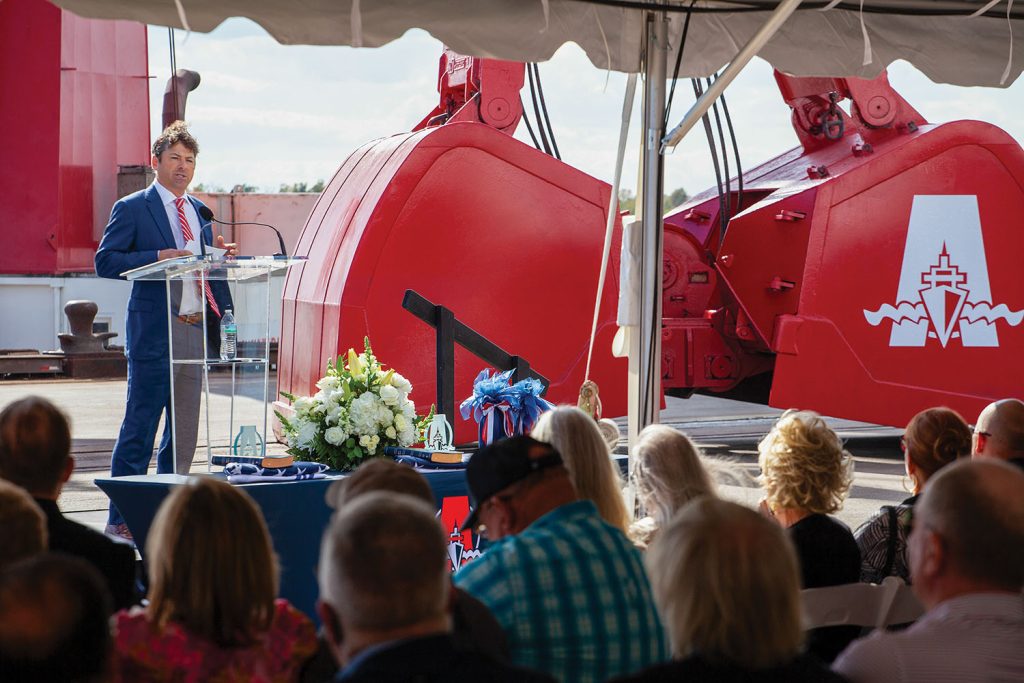 Two of the cranes, the newly renamed Ann T. and the Yvonne S., were part of Associated Terminals' acquisition of St. James Stevedoring in 2015. Those cranes now rest atop new Attitude Class barges built by Morgan City, La.-based LAD Services. The barges measure 250 by 72 by 12 feet and feature 1-inch-thick decks and half-inch-thick sides and bottoms, along with hardened rub rails and fendering, to protect them in the rough working environment of stevedoring.
"These barges have 21 watertight compartments to keep them floating, even in a catastrophic event," said Todd Fuller, president of Associated Terminals.
Sign up for Waterway Journal's weekly newsletter.
Our weekly newsletter delivers the latest inland marine news straight to your inbox including breaking news, our exclusive columns and much more.
Associated Terminals acquired the third crane and barge, the J. Ryan, in 2020 from Impala's Burnside terminal.
"After assessing the condition of this crane, we found it to have extremely low hours, so it was like brand new," Fuller said.
In addition, the barge had been built to the same specifications as an Attitude Class barge, so the combo needed little more than to be painted in Associated Terminals' color scheme.
Fuller thanked both LAD Services for building the two new barges and Boh Brothers for lifting the cranes onto the barges.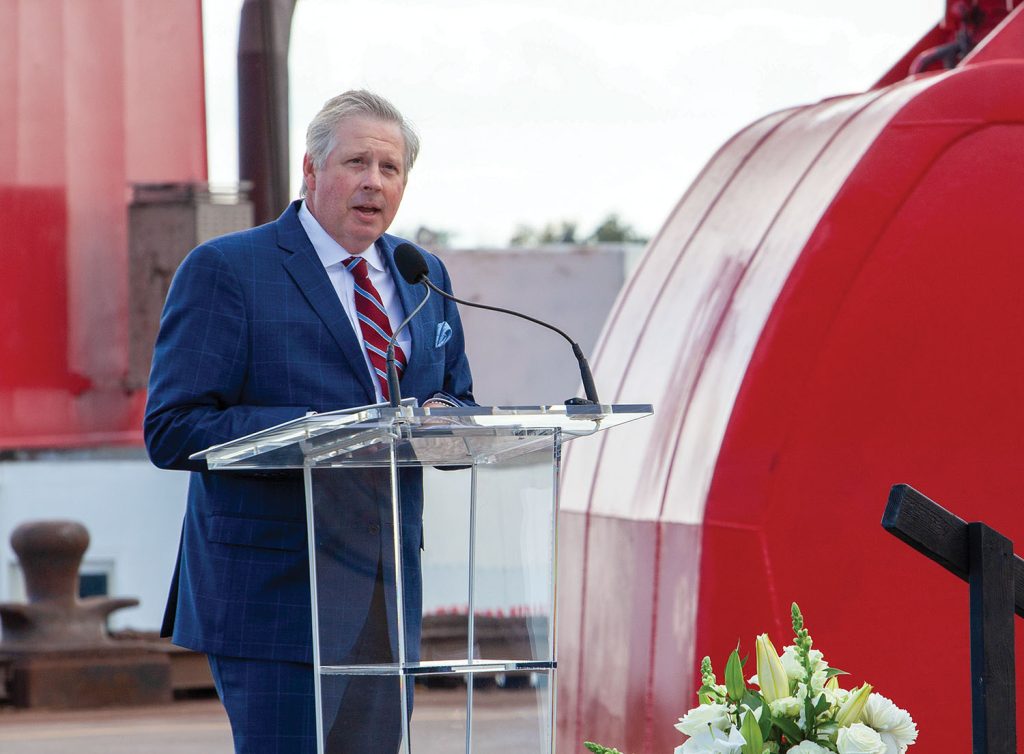 The renaming and dedication of the Ann T., J. Ryan and Yvonne S. continued a longstanding Associated Terminals tradition of naming its Gottwald cranes after team members. The Ann T. is named for Ann Thibodeaux, a native of Napoleonville, La., who serves as senior vice president of accounting for Associated Terminals and Turn Services. When Thibodeaux joined the company in 2003, Poirrier was still serving as chief financial officer. Poirrier said it was quite a relief when Thibodeaux came aboard with her CPA skills.
"Ann took the helm and never looked back," Poirrier said. "She's been a rockstar, learning and understanding every single nook and cranny and facet of our business and has been so instrumental in our successes to date."
Speaking to the crowd gathered for the event, Thibodeaux reflected on her 20 years with the company.
"As I reflect on my humble beginnings at Associated Terminals, I had little knowledge of what this industry entailed," she said. "However, what followed was beyond my expectations—an exciting, gratifying and incredibly rewarding career."
The Yvonne S. is named for Yvonne Stein, a native of nearby St. James, La., who came to Associated Terminals from Impala's Burnside Terminal in 2006. She serves now as logistics manager.
"Yvonne is the 'tip of the spear' for our midstream bulk group, leading a group of logistics specialists who are tasked with keeping our customers happy and translating the customers' wishes to our operations team," Fuller said. "Yvonne has been with our team for 15 years, and she has exceeded the abilities of her predecessor, which happens to be me!"
Stein said it's amazing to think of how her whole life has been tied to the Mississippi River.
"While growing up on the banks of this mighty Mississippi River in my hometown of St. James, I could not have imagined that one day I would be standing here before all of you, representing the finest company, Associated Terminals, who in my heart and mind is the greatest leader on this Mississippi River," Stein said.
The last crane and barge combo, the J. Ryan, is named after Jerry Ryan, a veteran of the U.S. Marine Corps, who got his start in the maritime industry with International-Matex Tank Terminals (better known as IMTT). He joined St. James Stevedoring (SJS) in 2002 and stayed on when Associated Terminals acquired SJS in 2015. Ryan now serves as vice president of operations for Associated Terminals.
Zeljko Franks, senior vice president at Associated Terminals, introduced Ryan to the crowd, describing him as someone who shares all the company's values, which elevate hard work, determination, dedication, pride in self and in the company and the will to succeed. More than that, Franks said, Ryan is dedicated to helping others succeed as well.
"Associated Terminals believes that we need to place our people in an environment where they can achieve their own individual success that they seek," Franks said. "Doing so leads to the success of the company as a whole. Jerry does this by engaging, inspiring and motivating our team members so that they can achieve the success they want and deserve. And he does this with an approachable demeanor and humility toward individuals. That is the culture at Associated Terminals, treating people with kindness and respect, where every team member is valued, empowered, important and encouraged."
Ryan said over the years at Associated Terminals he came to understand why the company names cranes after team members.
"To those colleagues, I want to recognize you and say, I hope you can appreciate the incredible regard I have for each of you, because it, more than anything, defines how honored I am to be considered part of your alum," Ryan said. "Today is a bit of an inflection point for me. As I look around, I can't help but reflect on all the teammates that I've had in my years as a stevedore. Those teammates that I've had an opportunity to lead, my peers and those who have led me. Any ability I've had to deliver value in this industry is merely the composition of those relationships and investments those teammates made in me. I hope you recognize the tremendous regard I have for each of you."
The Rev. Vincent Dufresne, from The Catholic Church in East St. James Parish, opened the ceremony with an invocation, while Ryan Burks, chairman of the board of commissioners for the Port of South Louisiana, welcomed the crowd to Globalplex. Dufresne later offered a prayer of blessing for the cranes and the crews that will work on them and also presented Bibles to crew members. Capt. Kelly Denning, commander of Coast Guard Sector New Orleans, addressed the crowd and presented the American flags. Franks presented the company colors to the crane crews.
To conclude the event, the three namesakes gathered in front of a giant Associated Terminals clamshell bucket, with each breaking a bottle of champagne over it, symbolically rededicating the cranes to the Associated Terminals fleet. Afterward, friends, family and team members "second lined" to the Port of South Louisiana's guest house for a celebratory reception.