Ingram's Conatser Elected International Propeller Club President
Maria Conatser had never heard of the barge industry before a call from a recruiter.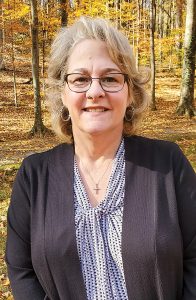 "I had no idea I would be here 28 years later and be passionate about it," she said.
Conatser, 58, of Franklin, Tenn., is a senior financial planning analyst at Ingram Barge Company. She was elected September 28 as the first female president of the International Propeller Club.
While her entry into the field may have involved a degree of chance, Conatser has been purposeful about remaining in it. She sees it as a critical industry both domestically and worldwide.
Sign up for Waterway Journal's weekly newsletter.
Our weekly newsletter delivers the latest inland marine news straight to your inbox including breaking news, our exclusive columns and much more.
"Global shipping is the backbone of the global economy," she said. "For many, shipping was out of sight and out of mind. And then COVID happened. We had a mismatch between supply and demand, and then everyone became aware. Now that people are aware of the industry, we need to leverage that."
She said it's also the right time to be in the industry to help shape it for the future.
"There are so many things impacting the industry and more coming down the pike," Conatser said. "We've got all these climate issues: sea-level rise, and even on the inland side we have flood years, drought years, salt-water intrusion. We have a workforce shortage, lots of emerging technologies, and the need to recapitalize infrastructure, including locks and dams, and developing the ports of the future, just to name a few. I'd like to see a strong strategy in place to move forward."
Background In Finance And Technology
In her role at Ingram, Conatser focuses on finding greater value for the company, whether that is through analyses, streamlining processes or providing and/or enhancing insight using business intelligence tools.
While attending Western Kentucky University, she started out as a computer science major before changing to accounting.
"So now I've got the best of both worlds," she said.
Before coming to work at Ingram, Conatser worked at the corporate headquarters for Fruit of the Loom and at Sullivan Graphics, a printing company, where she was involved in budgeting, forecasting and accounting.
Conatser moved to the Nashville area after her marriage, taking her first position at Ingram in fall 1995. She has worked in a variety of financial, analytical and business intelligence roles within the company. She also has added to her education, graduating with her MBA from Belmont University in Nashville in December 1996.
Conatser's involvement with the Propeller Club started with the Port of Nashville, where she served as secretary/treasurer and then a two-year term as president beginning in 2010.
Her first International Propeller Club meeting was in 2014 in Louisville, Ky.
"That was my real introduction to the headquarters and the overall international organization," she said.
It wasn't her first interest in international affairs, however. She developed that at an early age, spending 10 years in her childhood in the Netherlands and in Germany, as her father was in the military and her mother from The Netherlands.
"Growing up, I thought everybody moved every three or four years," she said. "I didn't realize that was not the norm."
Bringing Awareness To Brown-Water Issues
Conatser spent time serving as treasurer and as first vice president of the International Propeller Club and said she wanted to serve as president in part because it's a great opportunity to meet people and to help get them excited about the industry.
Additionally, it puts her in a position to heighten awareness about issues affecting the brown-water marine industry.
For example, Conatser wants to bring about greater understanding of the cost of delaying construction on lock and dam projects, both because of the rising cost of construction over time and the cost of delays to the industry.
"We need to be that advocate to make people aware and say we've got to work on this," she said.
Additionally, she added that while rehabilitation of these structures is important, it is also necessary to identify policies and strategies going forward that can make the system more efficient.
Conatser also spoke about the importance of federal grant programs significantly investing in brown-water ports so that they may continue to serve the industry most effectively.  As an example, she noted that of the Port Infrastructure Development Program (PIPD) grant awards announced November 3, only about $100 million in grants of the $653 million awarded went to inland projects.
The inland marine industry needs more investments, particularly for the ports of the future, to offer traditional barge services, intermodal offerings (terminals and warehouses) and container-on-barge, she said.
Addressing Common Industry Concerns
As International Propeller Club president, Conatser said she also wants to work across the board with other sectors of the maritime industry to address common issues.
"I think that's important and would like us to do more of that in the future," she said.
For example, Conatser said she hopes to work on workforce development.
"We need to attract more people to the industry, people who are excited about working for the shipping mode with the smallest carbon footprint," she said.
Additionally, she said, the industry needs to attract people from a variety of fields.
"We need to recruit tech-savvy people," she said. "A majority of the industry's top trends relate to emerging technologies."
The Propeller Club is a good vehicle for workforce development because it is the most diverse of the maritime organizations, with members both directly employed by maritime organizations and indirectly related to them as suppliers, shippers, clients and related firms.
To help focus awareness on the maritime industry, Conatser also has a goal of adding 1,000 members to its 5,000-strong membership internationally and to increase its 77 chapters, called "ports," to 100 by the organization's 100th anniversary in 2027.
To do that, she said, club officers are working on reactivating some ports that haven't been active in recent years. One example is a recent event in Chicago, where the club hasn't been active since 2008.
"We have some great folks working in that area, particularly Ben Pinnington of Polaris Media, who helped launch a successful event there last month," she said.
Additionally, Conatser said, some international ports are looking to become affiliated with the Propeller Club.
'Passionate And Involved' Leadership
In looking at her role as the first female president of the club, she said she sees it as a great opportunity, and one she appreciates it, but she is more interested in having leadership for the club that is "passionate and involved," not necessarily just from a female perspective.
"Everybody has been very welcoming," she said. "I've had great mentors as I've worked up."
Mentorship is something that's especially important to Conatser.
"I think wherever we are, whatever organization we're with, we need to develop and encourage people, male or female," she said.
Outside of her roles at Ingram and at the Propeller Club, Conatser helps to advocate for and encourage others through serving on the finance committee for Nashville's YWCA, with which she has been involved for 13 years.
"I see such great leadership there," she said. "Those women have broken ceilings and made significant accomplishments."
Outside of work and volunteer efforts, Conatser enjoys hiking and spending time outdoors with her family. She and her husband, Roger, have been married 33 years and have two adult sons, Skyler and Stone. Her mother has also lived with them for the past 17 years.
Conatser also enjoys cooking, focusing on "healthy, easy meals," and in her down time relaxes with true-crime documentaries and podcasts. She also enjoys traveling.