Inland River Guide – Advertising
Ads will be placed as near as possible to the free listing. All advertisers receive a complimentary copy of the Inland River Guide.
Please contact Zac Metcalf (zac@wjinc.net, 314-561-4701) or Dee Dee Whittaker (DeeDee@wjinc.net, 270-519-5316) for advertising inquiries.
Advertising Reservation Deadline – August 29, 2022
Contact Kim Waterhouse regarding production and design issues. If you need assistance designing your ad, provide us with a rough layout. There is no charge unless the ad takes more than 1/2 hour to create. See sample ads for sizes.
We accept digital ads created in Photoshop, Illustrator, and InDesign. We accept high resolution files (at least 300 dpi) saved as a TIFF, EPS, JPEG, or a press ready PDF format.
Click here to download our IRG Media Kit
2023 Advertising Rates

Size
Black & White
2-Color
4-Color
Back Cover
–
–
$3,450
Inside Front Cover
–
–
$3,200
Inside Back Cover
–
–
$3,000
Dividers
–
–
$2,950
Full page
$1,640
$1,765
$2,245
1/2 Page
$950
$1,095
$1,595
1/4 Page
$565
$690
$1,090
1/8 Page
$380
$550
$950
Sample Ads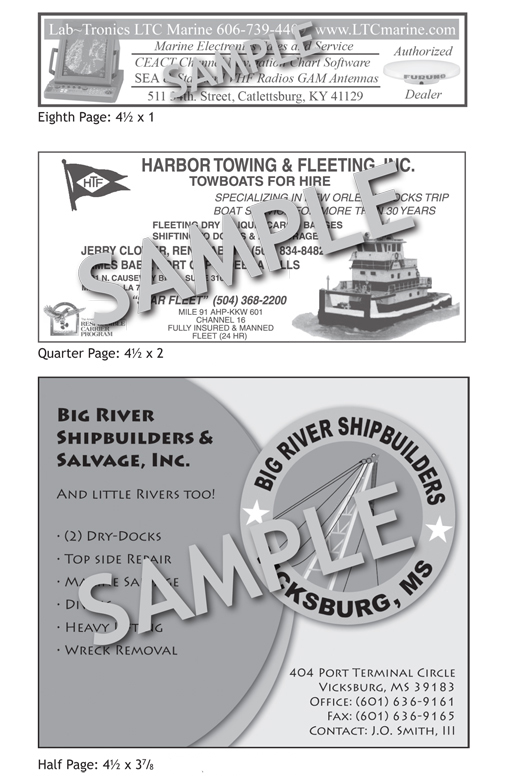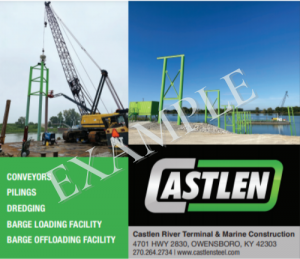 Half Page: 4 1/2″ x 3 7/8″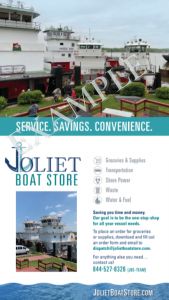 Full page: 4 1/2″ x 7 3/4″