Red, White, Blue And Brown: Veterans Work The River
People from all walks of life end up working for the inland river transportation industry, whether they were born and raised around the rivers or they happened upon a job opening in a local paper. There are newbies and latecomers ashore and on the water.
For those who work onboard a towboat, it's a job that may take them from their families every other month. The men and women onboard must work in close quarters with others and teamwork and determination are key factors to a successful run.
These are just a few of the reasons military veterans make excellent candidates for jobs in the industry—they can handle the long stretches away from home and make great leaders and teammates. And as the Fourth of July approaches, we wanted to honor those who have served both our country and our industry. What follows are brief profiles of seven veterans who are now employed in various river transportation roles, from members of a towboat crew to maritime educators and training professionals.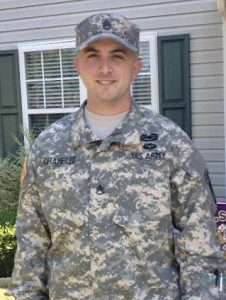 Dustin Chamblee, U.S. Army
Golding Barge Line
Logistics Coordinator

Dustin Chamblee, 30, joined the U.S. Army in February 2005 at the age of 18. He left his hometown of West Monroe, La., and headed to Ft. Sill, Okla., for training as a 13D fire direction specialist. During training, Chamblee spent the majority of his time training to target coordinates for artillery rounds.
Sign up for Waterway Journal's weekly newsletter.
Our weekly newsletter delivers the latest inland marine news straight to your inbox including breaking news, our exclusive columns and much more.
Chamblee headed to Germany that summer before being deployed to Iraq for the first time that December. In Iraq, Chamblee said he served as an M2 .50 calibur gunner on a Humvee. He helped to recruit civilians for the Iraqi Police Force, while also conducting route reconnaissance in the area.
In March 2007, Chamblee returned from deployment and ended up in Fort Benning, Ga. "Shortly after arriving, I waived my 12-month dwell time from my previous deployment in order to join my new unit back in Iraq," he said. "I got to Iraq in December 2007 and returned in June 2008."
Once again, Chamblee volunteered for deployment in Iraq in September 2009, his third deployment. While there, he was put in charge of up to eight soldiers, while accounting for more than 2,000 soldiers within his unit. "I was promoted to the rank of staff sergeant during that deployment," he said.
Chamblee returned to the United States a year later and met his wife, Trista in Fort Polk, La. "I always say that if it wasn't for the Army, I wouldn't have met my wife, because I was always the type who said I would never get married," he said.
Chamblee spent his time training units for deployment in Fort Polk, where he participated in numerous jumps from C-130s, Blackhawks and Chinook helicopters as a paratrooper. He eventually moved to his last duty station at Fort Jackson, S.C., but this time with a family in tow. His wife, stepdaughter Hayleigh and newborn son Cooper began a new life in South Carolina, where Chamblee spent the remainder of his military career as a training coordinator and operations manager for his unit. "I took the job as a challenge, and I made it a point to succeed in that role," he said.
Expecting his second son, Chamblee  made the decision to leave the Army after 12 years and three deployments to the Middle East. Where he would end up next was anyone's guess. Being called to the river certainly wasn't on his radar, he said.
"I had no idea of the kind of business conducted on the river until I was hired by Golding Barge Line," said Chamblee, who was hired as a logistics coordinator in Vicksburg, Miss., in April. "I used to pass over the Mississippi River all the time and see maybe one or two boats that I had no idea what they were pushing in the barges or whether they were called towboats or tugboats."
Chamblee spent 45 days on various Golding vessels once he was hired. He rode from Memphis, Tenn., to Louisville, Ky., and back, and then from Houston, Texas, to Chicago, Ill., and back to Memphis. "I even spent a little time in the New Orleans area to learn exactly what the river business was all about," he said. "I owe a lot of my current knowledge to nine captains who I was fortunate enough to ride with while on the boats."
As a logistics coordinator, Chamblee said he is the communication piece between the customers and the captains on Golding towboats. "I input orders for where the boats are going and the product they will be loading," he said. "It is a huge piece of the puzzle when it comes to this industry, and I am enjoying every minute of it. I am thankful to work for an organization that is very family oriented."
With nearly three months of work in the river industry under his belt, Chamblee said he has no plans to seek a different career path in the future. "I plan to continue to work hard in the position I have now and show that I can be a valuable asset to the company," he added.
Chamblee said he attributes his strong work ethic, which he carried with him into his new role at Golding, to his years spent in the military. "The military helped me grow up," he said. "At the age of 18, I didn't have a choice but to become disciplined and learn to respect another person based on their role and not necessarily their age. I learned about teamwork, structure, leadership and the fundamentals."
As for other veterans out there trying to re-enter the workforce, Chamblee said they should look into specialized industries, such as the river transportation sector. "I can honestly say that applying for this position was the best decision I've made for my career," he said. "I am part of a great team, which is similar to how the military works. You have to be successful as a team, not just as an individual."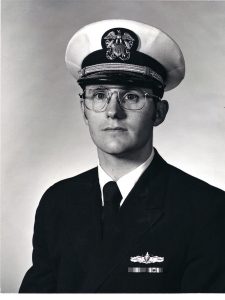 Ron Robbins, U.S. Navy
Ingram Marine Group
Maritime Training
Ron Robbins is a retired naval officer who is now employed by Ingram Marine Group as manager-marine associate support and development. In this capacity, Robbins both trains and assists employees in various professional development techniques.
He also has developed and taught new radar observer and designated examiner curriculum to Ingram staff. "I assist mariners as they move through their careers and assist those with the goals of advancing to and being licensed as pilothouse and engineering watchstanders," he said.
Back when he was in the Navy, Robbins was assigned the position of communications manager aboard the U.S.S. Edward McDonnell (FF-1043). The ship served primarily as an anti-submarine warfare vessel, where Robbins also assisted as navigator.
He would move on to serve as communications officer for Amphibious Squadron Two, which commanded a task force of amphibious ships. "During this tour, I spent six months as part of the Multinational Peacekeeping Force in Beirut, Lebanon," said Robbins. "My final sea tour was as the operations officer, and briefly the executive officer, on the U.S.S. Valdez (FF-1096). During shore tours, I worked in manning and efficiency studies for shore activities and spent two tours at Naval Reserve facilities, including the Naval Readiness Center in St. Louis, Mo.
Robbins spent some time in Kuwait, where he assisted in the training of rebuilt naval forces during his final tour. "As far back as I can remember, I have wanted to be in the Navy," he said. "I had four heroes as a kid—Wyatt Earp, Davey Crockett, Sir Francis Drake and Popeye. Since I was a city kid and didn't have a horse, I guess going to sea was more feasible. Also, I was born on the anniversary of the attack on Pearl Harbor, December 7, so it kind of fit."
Upon his retirement from the Navy in 1995, Robbins took an interest in training and workforce education and development. He answered a help-wanted ad in a St. Louis newspaper, which led to him being interviewed and hired as a training manager for Midland Enterprises Inc.
Echoing Chamblee's comments on not knowing much about inland towing, Robbins said despite living in St. Louis for many years and going over the Eads Bridge many times, he never really paid attention to what was happening on the Mississippi River below. "After being hired at Midland, I suddenly noticed the vast number of towboats and barges heading up and down the river," he said.
"Having experience in training and having a nautical background enabled me to integrate inland maritime concepts quickly into my skill set," said Robbins. "I was also approved by the Coast Guard to teach radar concepts to inland pilothouse watchstanders as had been mandated the year before I was hired."
With more than 21 years in the river industry, Robbins said he plans to continue to assist inland mariners progress through their careers and help them become more skilled, professional mariners. He attributes his background in the military with allowing him to understand the importance of safe and professional navigation. "It enabled me to recognize the professionalism of the inland water mariners and fostered a desire to help them plan and execute their preferred career path," he added.
Though he acknowledges many differences between the military and the inland marine industry, Robbins said there are also similarities. "The development of close and lasting bonds as crew members and the concern that grows for the safety and welfare of shipmates is probably the closest similarity," he said. "Also, the need for safe, professional and dedicated mariners in the inland towing industry is just as evident as the need for professional military personnel.
"It is very important for veterans to know about this industry and the opportunities it provides for meaningful careers that benefit mariners, the public and the nation as a whole."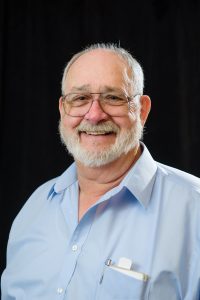 Bill Bethell, U.S. Army
Canal Barge Company
Retired Captain

Capt. Bill Bethell, recently retired line-haul captain from Canal Barge Company, credits working on a towboat with helping him deal with the aftereffects of his combat experiences in the Vietnam War.
A native of Des Arc, Ark., where after high school he worked as a heavy equipment operator, Capt. Bethell was drafted into the Army in 1964, received his basic training in Fort Polk, La. and was then assigned to the 20th Mechanized Infantry Division in the Panama Canal Zone. He volunteered to fight in Vietnam a short while later.
He served as part of an eight-man detachment that delivered pallets of heavy ammunition, Agent Orange and other artillery to key supply points in Pleiku, Qui Nhon, Saigon and other Vietnam hot spots. He operated a rough-terrain forklift. He also pulled guard duty, and by the time his tour was up, he had witnessed enough to quell any desire he may have had to reenlist, he said.
When he returned home in 1967, a hometown acquaintance, Capt. Buddy Bell, told him about working on the river, and he got a job as a deckhand with SCNO Barge Lines. With his background as a heavy equipment operator, it wasn't long before he graduated to the wheelhouse. He then piloted for Apex Towing Company for a number of years after the company purchased the mv. Codrington, and then was made captain when Apex brought out the new mv. Gloria G. He tripped for several other barge lines for years after that, before starting a career with Canal Barge Company that lasted over two decades. He retired last year at 75.
"What I liked about Canal Barge," Capt. Bethell said, "is the fact that everybody in the office knows what it is to work on a boat. It's a great company to work for."
He said being with Canal and working on the river, away from his family and with a boat crew that was similar in size to that of his detachment in Vietnam, helped him make the transition to civilian life. He added, he still can't sit in an open room at night with the shades up, but he had no problem sitting in the wheelhouse of a towboat under the same circumstances. "Being on the boat helped me quite a bit," he said.
Now that he's retired, though, he said he feels lost. At the time of the interview, he was on his way to the VA Medical Center, where, like many veterans, he continues to receive help in adjusting. "Don't retire," he said laughing. "Whatever you do, don't retire."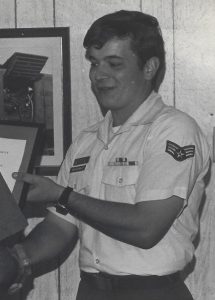 Thomas Montgomery, U.S. Air Force
Inland Rivers HR
CEO

As the Vietnam War was winding down and most troops were returning home, Thomas Montgomery decided to enlist in the U.S. Air Force in order to receive G.I. Bill money for college.
From 1975 to 1979, Montgomery, who served as human resources director at Ingram Barge Company for 18 years, worked as a combat communications specialist. "If there was a hot spot in the world where air strikes, logistics support or military airlift capabilities were needed, we would go in and provide the communications for the establishment and operation of the tactical air base," said Montgomery, who worked as a security police officer from 1980 to 1982 in the Reserves.
Several years later, Montgomery found himself between jobs when he came across an ad in the Paducah Sun for a human resources manager, with a background in recruiting and training. "Those are two areas where I have experience," he said. "I got the job with Ingram Barge, and I remained with them for years."
Today, Montgomery serves as the CEO and president of Inland Rivers HR in Louisville, Ky. The company provides human resources support, such as recruiting, employee relations, training and performance management to fleeting services, line-haul operations and repair facilities.
Montgomery began operating the business as a way to help companies in the inland river industry as he did while he was at Ingram Barge. "I was able to help them reduce turnover, improve safety, cut hiring costs and help develop the organization's culture," he said. "I'd like to help small- and medium-sized companies achieve the similar results."
Owing his military background with providing him with leadership skills, Montgomery said his service has benefited him in his current role. "It was instrumental in me developing certain skills," he said. "Skills like communication, conflict management, teamwork, discipline and decision making were instilled and nurtured in me through my military training and are one of the key reasons for my success in leadership today."
When asked what he would tell other veterans about working in the river transportation industry, Montgomery said the industry offers veterans a place to utilize the leadership, discipline and motivation they obtained through their military service in a rewarding and life-long career. "The industry offers individuals with the drive and initiative they developed in the military to grow as fast and as much as they desire," he said.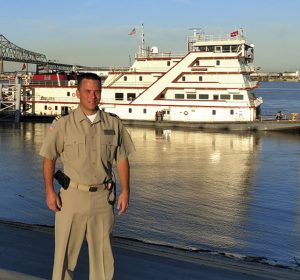 Aaron Kirk, U.S. Navy
Army Corps of Engineers
First Mate

Seeking adventure outside of his small, quiet hometown in New Hampshire, Aaron Kirk decided to join the U.S. Navy at age 19. While in the Navy, Kirk became a boatswain mate, where he found himself engaged in various operational roles. Kirk participated in everything from shipboard navigation, firefighting and cargo operations, to flight and search and seizure operations.
Kirk married an officer in the Air Force. At this time, Kirk was working as a contractor for the Navy and his wife got orders to move to Columbus, Miss. Wanting to continue his service to the government, Kirk applied to the U.S. Army Corps of Engineers, where he currently works onboard the mv. Mississippi as a first mate.
The mv. Mississippi, according to Kirk, is the largest towboat in the country. It is a triple-screw inspection vessel built in 1993 by Halter Marine Inc. The vessel is 240 by 58 feet and has 6,270 hp.
"I achieved my personal goals in a relatively short order," he said. "I was hired first by the Corps as a seasonal deckhand and within a year-and-a-half, I became a licensed Merchant Mariner." Kirk said he owes his quick progress with the Corps to his determination. He was promoted to first mate shortly thereafter.
Due to his military background, Kirk said he is flexible with regard to scheduling and is well organized with his priorities—both skills he said he can apply to his job on the river. "The military also taught me to have the foresight to plan ahead and to understand the importance of teamwork," he added.
Kirk said he would tell other veterans trying to decide on a future career that there is more happening on the river than one might realize. "For me, what the Corps team does by keeping the river open for traffic is amazing, because we're literally battling mother nature every day," he said. "What the commercial vessel guys are doing is equally amazing, because most people don't realize the work that it takes to build a tow or navigate a vessel nor do they know the amount of cargo that is moving up and down the river daily.
"It would be a great benefit to the river industry to start getting more vets out on the water on boats, at ports, on a levee board, etc., due to the experiences and professionalism that many veterans possess. That can't be taught anywhere else but the military."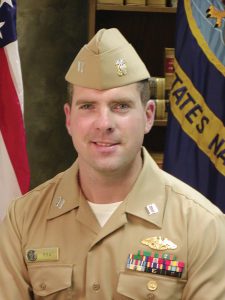 Stephen Polk, U.S. Navy
Seamen's Church Institute
Director, Center For Maritime Education

Stephen Polk received a U.S. Navy Reserve scholarship while attending Texas A&M University in Galveston. He was commissioned upon his graduation in 1997, and spent 12 years in the Navy Reserves. During his time in the military, Polk worked with the Military Sealift Command for four years until 9/11 happened.
After 9/11, Polk changed communities and joined Naval Coastal Warfare and was assigned to Mobile Inshore Undersea Warfare Unit 108 in Corpus Christi, Texas. "We were deployed during Operation Iraqi Freedom and mobilized as an inshore boat unit (IBU) from January 2005 to March 2007," he said. "I was honorably discharged as a lieutenant commander in 2009."
In the early years of his Reserve career, Polk held a few jobs outside of the military. He bounced around working for Diamond Offshore Drilling Inc., Motiva, Polar Tankers and Kirby Inland Marine. "I enjoyed the inland river industry because of wonderful people, ever-changing challenges, hands-on watchstanding and career development opportunities," said Kirk, who worked for Kirby in various roles for seven years.
Today, Polk is the director for the Center for Maritime Education (CME) for The Seamen's Church Institute (SCI), where he has been for 10 years. "I plan to continue working at SCI helping mariners," he said. "I am grateful to work for an organization that serves others, both spiritually and professionally." CME helps bridge the gap between regulatory organizations and river companies and facilitates Subchapter M implementation, according to Polk. "We are poised to help our stakeholders with commercial changes like TMSA-3 and assist towing companies moving petrochemicals for the oil majors to stay ahead of emerging industry guidelines," he said.
In the military, Polk said one learns the fundamentals of watchstanding. "Working for Kirby and serving with the IBUs allowed me to take what I used from the inland river industry and apply that to patrol boat operations, port security and anti-terrorism," he said. "However, the most important thing I gained from serving in the military was leadership. Serving with the Navy allowed me to observe all types of leaders, learn from them and learn to be a leader myself."
Polk said he tells everyone what tremendous opportunities exist within the maritime industry. "Lots of people never give it a thought," he said. "We are silent professionals and most people are unaware of us until the supply chain is disrupted for whatever reason. I advise many young high school graduates, college graduates and individuals being separated from military service to consider starting over on a boat as a deckhand and learn from the bottom up."
Note: H. Nelson Spencer contributed some information for this article.