With roots that run deep in the fertilizer industry, St. Louis-based Lange-Stegmann began its journey as Lange Brothers Fertilizer back in 1926. Brothers Henry and Dewey Lange sold processed meat scraps, blood meal and steamed bone meal as fertilizer to customers throughout the Midwest. Having since moved into the role of middleman, this small-but-nimble family business thrives more than 90 years later.
"Henry Lange was a founder of the company in 1926—and my grandfather," said Debbie Fick, vice president of Lange-Stegmann. "I've been around this business my entire life."
Fick's father, Rich Stegmann, joined the business in 1960 after marrying Henry Lange's daughter, and Lange-Stegmann was formed in 1965. Today, Fick, along with a management team, runs the business with president (and big brother) Mike Stegmann.
"It's in our blood," said Fick, well aware of the conflict that plagues some family-owned businesses. "We all respect each other. We are very blessed to have the relationship inside and outside of work that we do."
Sign up for Waterway Journal's weekly newsletter.
Our weekly newsletter delivers the latest inland marine news straight to your inbox including breaking news, our exclusive columns and much more.
From Wholesale To Handler
Lange-Stegmann began a 30-year foray into the wholesale fertilizer business in 1979. But unpredictable commodity prices often made for less than smooth sailing.
"There were a lot of risks with fluctuating commodity prices. As a small company, those were hard to absorb," she said. After particularly volatile years in 2008 and 2009, "we started questioning whether the wholesale fertilizer business is where we really wanted to be."
Ultimately, the answer was no.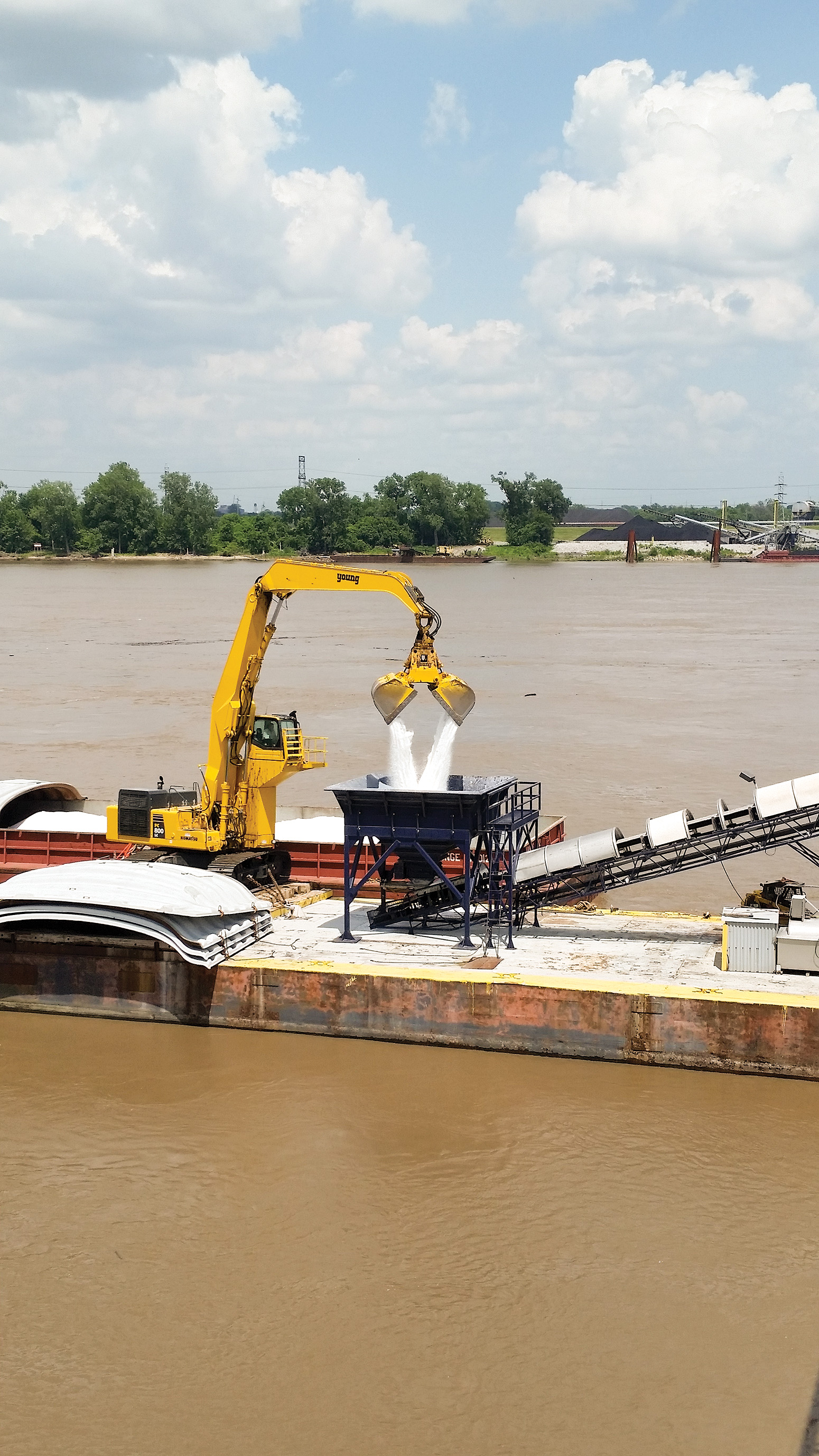 2010 marked a pivotal shift, as the company exited the wholesale fertilizer business to focus exclusively on warehouse and transloading services, taking commodity shipments from river to road or rail.
"We were already warehousing for major players. Recognizing the assets we had, we decided the company would be better served as a service company versus a wholesaler," Fick said.
Today, Lange-Stegmann's warehouse tenants and direct-transfer customers include most of the major fertilizer suppliers in the U.S.
Those customers turn to Lange-Stegmann for barge unloading, dry and liquid bulk storage, and direct transfer from barge to rail or truck. With the exception of road salt, the company continues to focus on fertilizer-related products: urea, phosphates, potash, UAN (a liquid nitrogen product), and aggregate.
The company's 60-acre site includes a barge dock, a rail yard with 23,000 feet of track, three locomotives, and a truck and rail scale—not to mention 143,000 tons of storage capacity. The crown jewel in their warehousing assets is a 63,000-ton-capacity urea center that offers next-level quality control for one of their largest commodities.
A nitrogen source made from natural gas, "urea tends to take on moisture and will start to set up," Fick said. "Our urea center helps ensure a clean, dry, free-flowing product. It's humidity-controlled and dedicated completely to urea. We're not aware of any building like it."
While some fertilizer product is loaded onto trucks, most is transported via rail. Lange-Stegmann specializes in high-volume unit train deliveries where 85-plus cars carry roughly 8,500 tons of product to a single location.
"Unit train rates are very attractive. And we're an attractive place to store because we have enough space to bring in that many cars at one time and we know how to load them efficiently," she said. Especially during the winter busy season, "it's a fast turnaround. We have 24 hours to load, and the receiver then has 24 hours to get it back. We are always at the ready."
Speedy and skilled, Lange-Stegmann workers can also unload up to 500 tons per hour from a barge—up to six barges a day.
The volume of product handled at Lange-Stegmann has increased exponentially over the past decade—and with it, the logistical challenges.
"Product is loaded onto barges in New Orleans, and we have to time the arrival of barges with the arrival of trains for our customers," Fick said. "It takes a lot of planning and flexibility to make all the puzzle pieces fit together."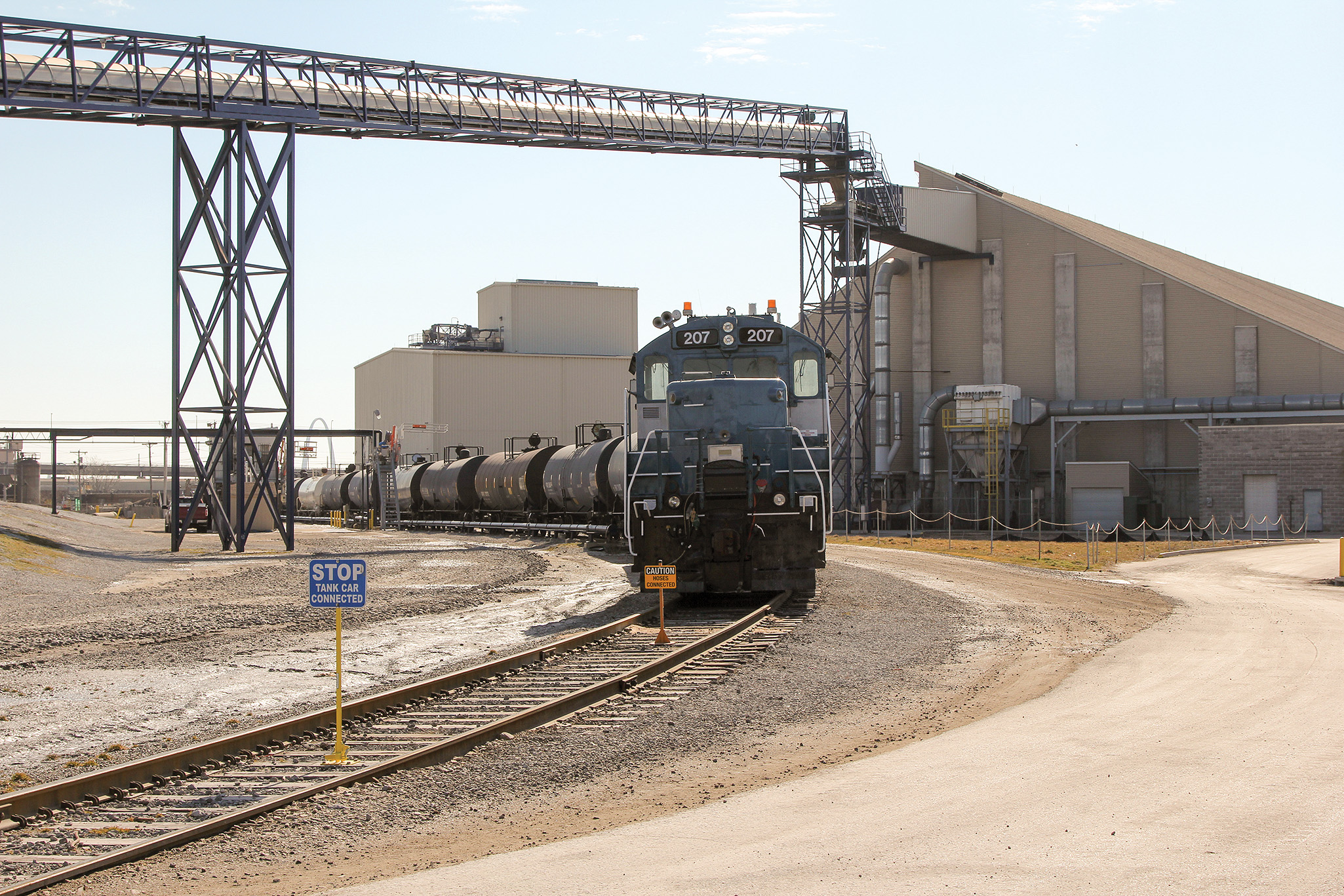 Location, Location, Location
Superior service aside, the company's location in North St. Louis offers an undeniable advantage. Easily accessible by truck, train or towboat, Lange-Stegmann is open to barges year-round and free of locks, unlike other ports.
"We have a very unique location at the northernmost point on the Mississippi River, where we're not affected by weather or locks," Fick said.
Five major interstate systems can be accessed less than 1 mile from Lange-Stegmann. The company also enjoys a direct connection with BNSF Railway and TRRA (the Terminal Railroad Association of St. Louis), a local short line that connects with all Class 1 railroads in St. Louis.
"Our strategic location gives us a great reach to the Midwest, upper Midwest, and Canada," Fick said. "Our location is probably our biggest selling point."
Other selling points include a near-fanatical focus on safety and housekeeping.
"We pride ourselves on our safety and cleanliness standards," she said. "This work is not something you just walk in and do. We are very safety-minded and it's very helpful to have employees who are familiar with the river and railroad industries."
The company actively solicits suggestions on safety policies and best practices from a safety committee consisting of front-line workers, led by the safety manager.
An equally adamant focus on housekeeping helps maintain product integrity, while boosting equipment life span and efficiency.
"Fertilizer can be corrosive and very dirty," Fick said. "We do a lot of cleaning and maintenance, so we are not plagued by unexpected breakdowns. It's a daily focus."
Having found fertile ground, Lange-Stegmann nourishes its niche as a trusted transloader. The company plans to continue investing in infrastructure to better serve existing customers—and attract new ones. For example, in summer 2017 Lange-Stegmann replaced 500 feet of 30-year-old conveyor belt, upgrading from 36 to 48 inches to boost efficiency.
Long part of an industry that helps things grow, Lange-Stegmann welcomes the prospect of growing beyond its comfort zone.
"We are always looking for new opportunities," Fick said. "With the assets we have and the geographic location, we don't have to limit ourselves to fertilizer product."
People And Pride
A number of assets have made Lange-Stegmann a star in transloading, but none is more important than the people.
"We have surrounded ourselves with smart, dedicated people that got the company where it is today. In a sense, leadership has followed our employees," said Fick, who describes 'listening' as their primary management style. "We are very much in tune with our employees."
Lange-Stegmann's workforce, numbering around 35, includes several employees with more than 30 years of service and a small, trusted leadership team.
"We've even retired one 50-year employee," recalls Fick. "We have a lot of longevity—and a lot of fresh ideas, too."
In spite of seasonal fluctuations in work load, the company prides itself on the fact that it has never laid off workers. Instead, during slower times in summer, workers focus on plant maintenance and enjoy much-needed time off.
Fick relishes the people and positive work environment that are part of her family legacy.
"Even if things aren't going as planned, our people make it all work," she said. "We look out for each other and have lots of laughs. That makes it all worth it."
Now 78, Fick's father, Rich Stegmann, has retired from daily duties, but remains chairman of the company and a popular presence at the office.
"He looks at the company with a lot of pride and gratitude for the people who keep it on track," Fick said.
Her father's favorite saying echoes in her ears as Fick helps steer the family business into the next 100 years: "I must hasten to catch up with them, for I am their leader."
(Top photo: Aerial view of Lange-Stegmann's terminal on the North St. Louis riverfront.)