Chesapeake To Build New Tugs For Vane Brothers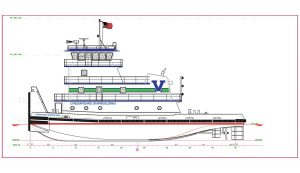 Tugs will be powered by Cat 3512 engines.
Chesapeake Shipbuilding Corporation, Salisbury, Md., announced December 20 that it has signed an agreement with Vane Brothers, Baltimore, to design and build four new Subchapter M-compliant push tugs that are yet to be named.
This new order will bring the total number of tugs to 20 that have been built by Chesapeake Shipbuilding for Vane Brothers since 2007.
Design and construction on the new tugs will begin immediately in Chesapeake Shipbuilding's hull fabrication buildings. The four new vessels will be sister ships.
Sign up for Waterway Journal's weekly newsletter.
Our weekly newsletter delivers the latest inland marine news straight to your inbox including breaking news, our exclusive columns and much more.
The new 3,000 hp. tugs will be equipped with twin Caterpillar 3512 main engines, conventional shafts, rudders and flanking rudders. They will accommodate up to seven crew members and will have large, modern private and semi-private quarters. The Chesapeake-designed tugs will be 94 feet long, with a 34-foot molded beam and a 10.5-foot molded depth.