Scalise Touts Tax Cuts During Blessey Visit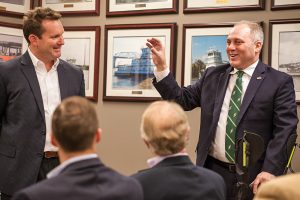 House Majority Whip Steve Scalise (R-La.) was in the New Orleans region earlier this month touring companies that are celebrating the positive impacts from the Tax Cuts and Jobs Act, the tax overhaul bill President Donald Trump signed into law December 22, 2017.
Some highlights of the bill, which was first introduced on November 2, 2017, and takes effect this year, include a reduction in tax rates for both individuals and businesses, a doubling of the standard deduction, the creation of a new family credit, an immediate reduction and eventual elimination of the estate tax, a reduction in the small business tax rate from 40 percent to 25 percent, and the repeal of the alternative minimum tax.
Already, some national companies are passing on a portion of their anticipated windfalls to employees. AT&T was the first company to announce they were giving $1,000 bonuses to employees as a direct response to the tax bill, and Southwest Airlines, American Airlines and Comcast soon followed suit.
But Scalise's January 4 business tour highlighted the fact that the tax bill is also having positive impacts on local, family-run businesses. In and around Louisiana's first congressional district, Scalise visited the Elmwood headquarters of Blessey Marine Services Inc., which operates more than 80 towboats on the inland waterways and has some 751 employees; and Gnarly Barley Brewing in Hammond. Blessey Marine was started in the mid-1970s in Chairman and CEO Walter Blessey's garage, while Gnarly Barley began in 2011 in founders Zac and Cari Caramonta's garage.
Sign up for Waterway Journal's weekly newsletter.
Our weekly newsletter delivers the latest inland marine news straight to your inbox including breaking news, our exclusive columns and much more.
"The good news is we're hearing a lot of local businesses that have benefitted, and not just the businesses themselves, but their employees are seeing direct benefits too," Scalise said. "One of those businesses is Blessey Marine, which for so long has been a leader in the maritime industry nationally but headquartered right here in Elmwood. It's a great success story that's homegrown and locally owned. I'm really proud to call them friends."
Blessey Marine President Clark Todd said the past few years have been lean ones for Blessey as the company struggled against low oil prices and instability in the industry.
"Over the last few years, we have cut back on spending at all budget areas due to the uncertainty of the economic time we are in," Todd said. "President Trump's election immediately invigorated life back into our economy, and his new tax plan has given us confidence that our industry will once again flourish in the years to come."
Todd said the new tax bill has had two immediate and direct impacts on Blessey employees. First, the company is granting cost-of-living raises. Todd said regular cost-of-living raises had been sidelined the past two years due to the sluggish economy. In addition, the company is offering bonuses to all shoreside and office-based employees.
"All of this [is] because of the confidence we have in President Trump, Whip Scalise and their colleagues in Washington, D.C.," Todd said.
Those bonuses and raises, Todd said, will also allow more employees to directly invest in the company itself, an investment opportunity Blessey has long extended to employees.
"With the new tax plan, more Blessey employees will have the additional cash needed to invest in our company, securing their own financial wellness and having a clearer path to future financial security," he said. "That's what it's all about."
Infrastructure Next
Both Todd and Scalise said, now that Congress has passed the tax bill, attention will turn to President Trump's long-awaited, much-discussed infrastructure plan, which the president himself has said will include waterway projects.
Scalise said, in addition to physical structures, he'd like to see organizational structures tackled in an infrastructure bill.
"Any plan that moves through, I would like to see us push for the kind of reforms we need at the Corps of Engineers, because over the years, we've seen cost overruns; we've seen a lot of money spent on projects that, frankly, should happen quicker and cheaper," Scalise said. "It's not just about putting money into building out infrastructure—and the Corps ought to be part of that—but the Corps needs reform so the money we send to them is spent properly and more efficiently."
Scalise said he hopes the tax bill will lift the economy well past the more recent quarterly growth rates of "around 1.8 or 1.9 percent" and into the 3 percent to 5 percent range. If the nation's economy can achieve that, Scalise said the impacts will be significant.
"If you hover in the 3s, you can get to a balanced federal budget relatively quickly, if you control spending at the federal level, which we're going to do," Scalise said. "But you need economic growth, and we're getting it, and it's one of the reasons we passed this bill."
And while Blessey Marine will pass tax savings on to employees through cost-of-living raises and bonuses, Scalise said Gnarly Barley will focus on services the company thus far has not been able to offer employees.
"Because of the tax cut bill, they'll be able to provide health care benefits," Scalise said. "They're going to start a 401k program, and they're going to hire more people."