Mv. George King Catches Fire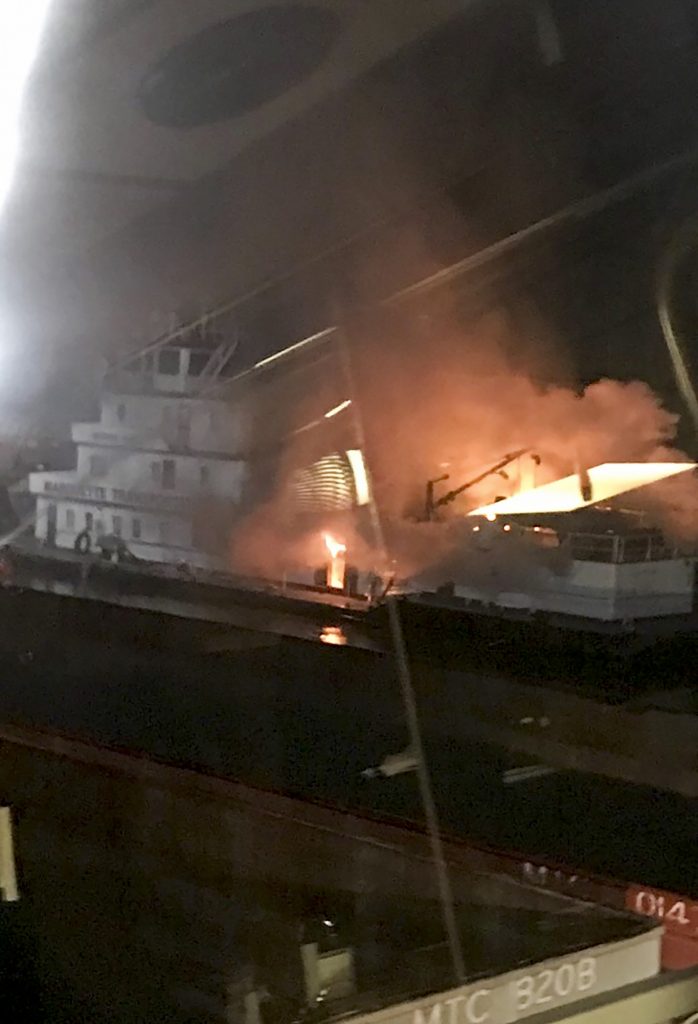 The mv. George King, a towboat in Marquette Transportation Company's fleet, caught fire January 24 at Mile 390 on the Lower Mississippi River near Vicksburg, Miss.
U.S. Coast Guard Sector Lower Mississippi River received the report just before 9 p.m. the night of January 24 of an engine fire aboard the George King. Nine crew members were aboard at the time.
A photo from the Coast Guard, along with others shared to social media, show flames extending out of the engineroom and smoke billowing out a rear window, with the fire extending up to the rear deck.
According to the Coast Guard, the crew abandoned ship and sought shelter in the dry cargo barges the George King was pushing at the time of the fire. The mv. C. Michael Reeves, also part of Marquette's river fleet, was nearby, and that vessel's crew came to the aid of the George King. The C. Michael Reeves pushed the George King and its tow onto the left descending bank of the river, according to the Coast Guard, and the crew helped battle the fire.
Sign up for Waterway Journal's weekly newsletter.
Our weekly newsletter delivers the latest inland marine news straight to your inbox including breaking news, our exclusive columns and much more.
By the next morning, the Coast Guard put in place a waterway restriction between Mile 395 and Mile 380 on the Lower Mississippi River, with nine vessels waiting to proceed upriver and three vessels waiting to move downriver.
The George King reportedly was carrying 65,000 gallons of diesel on board.
Agencies involved in the response included Coast Guard Marine Safety Detachment Vicksburg, the Mississippi Department of Wildlife and Fisheries, Budwine & Associates Inc., and United States Environment Services.
The mv. George King, built in 1977, is a twin-screw towboat with GM-16-645E7B-1042-EMD engines which produce 6,140 hp. The vessel measures 138 feet by 44 feet. Marquette purchased the vessel—originally named Joe P. Gills—in 1994, and renamed it the George King.
As of the morning of January 25, Darin Adrian, executive vice president of Marquette's River Division, said the cause of the fire was still under investigation.
"No reported spill, and most importantly, the crew got off the vessel safely," Adrian said via email.