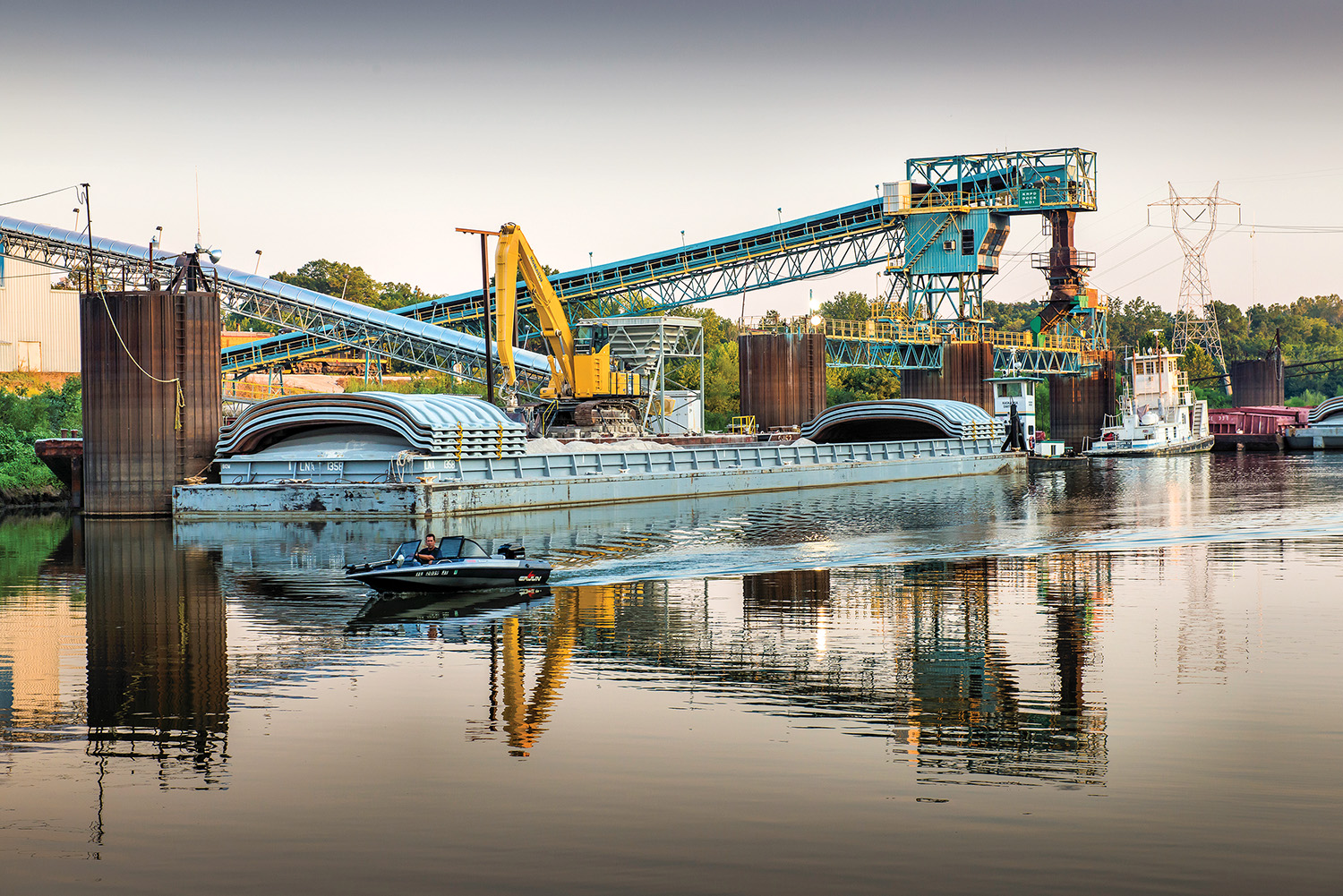 Over the past two decades, the Kaskaskia Port District's leaders have helped transform the Kaskaskia River from a coal corridor to an export corridor that handles significant amounts of grain and an increasing amount of specialty steel coils.
According to Corps of Engineers statistics, the Kaskaskia Port District has "moved up two notches and is now the 71st largest port in the country," Ed Weilbacher, the port district's general manager, told The Waterways Journal.
"We did drop one spot among inland ports, but that's [only] because several other ports moved up. We are now the eighth largest inland port in the country."
Corps Dredges Upper Reaches
In December, the Corps of Engineers addressed a long-standing concern of the port district and its tenants when it performed $800,000 worth of dredging of the upper channel of the Kaskaskia at Fayetteville, Ill. The port district had long claimed that the Corps' own bank cutting practices had contributed to excessive silting in the upper reaches.
Sign up for Waterway Journal's weekly newsletter.
Our weekly newsletter delivers the latest inland marine news straight to your inbox including breaking news, our exclusive columns and much more.
The dredging used "a more efficient dredge for this size of river," said Weilbacher. "When the river was authorized for navigation, there was an annual cost estimate for maintenance dredging. This line item has never been funded on an annual basis. We need to get to that level of support."
The dredging was accomplished with the help of a one-time supplemental $5 million appropriation.
The Corps used most of those funds to flood-proof the system's single lock, located at the mouth of the Kaskaskia River where it debouches into the Mississippi River.
The lock's office will be moved out of the lock itself and into a building above the floodplain. The input/output racks will be moved from the lower levels of the lock to the second floor and out of harm's way. "We are pleased with the Corps with their investment in the lock; it gives us confidence of their commitment to the Kaskaskia River," said Weilbacher.
Fayetteville Terminal Expansion
The port district's Fayetteville Terminal site will not only see more business because of the dredging, but is especially attractive as a possible site for a future grain terminal, said Weilbacher. "This site is a great site since it is not in the 500-year floodplain and is next to high-quality roads. Farmers could cut at least two hours off their trip if Fayetteville had a grain terminal. With the navigation channel [dredged] up to Fayetteville, we can capture a wedge of a grain area from the south and east of Fayetteville."
Planning Grant
In partnership with Randolph County, Ill., the port district also recently benefited from receiving a Phase 2 Hurricane IKE planning grant. The planning grant will look at both Kellogg Dock, operated by Kinder Morgan on the Mississippi River at Mile 125.5, and KRPD 1, located on the Kaskaskia at New Athens, Ill. Both terminals have towing service provided by Southern Illinois Transfer Company (SITCO). The port district has retained Hanson Professional Services to assist with the planning study, which should be completed by June.
Among the port district's top priorities for the coming year is the dock design for its third dock at KRPD 2, also known as Stanley L. Reeble Dock and Industrial Park, at Kaskaskia River Mile 18. The facility is a multi-modal river, rail and road facility for steel, general cargo and bulk products. The terminal, operated and serviced by Southern Illinois Transfer Company, includes a 50-ton overhead electric crane and a 30,000-square foot temperature- and humidity-controlled warehouse. It has barge inbound handling capabilities for steel, fertilizer and palletized goods. Its 50-ton overhead crane can easily handle containers.
"We have submitted a request for planning funds to the Illinois Department of Transportation to assist us with our KRPD 2 Terminal," said Weilbacher. "Due to congestion, we purchased an additional eight acres to the south. This plan would help us not only plan for the third dock but will look at the entire port site at KRPD 2 to determine other needs such as a second entrance, rail extension, and other transportation infrastructure needs."
The port recently closed on an 8-acre tract immediately to the south of its KRPD 2 location. "For years," said Weil-bacher, "we owned the bank, but never the land on the top side. With increasing cargo at KRPD 2, we have had some conflicts with cargo shipments.
"This new tract will give us the opportunity to install a third dock and give us great flexibility and capacity to handle many different products at the same time. This was a long-term goal of the port district 30 years ago, and we are pleased to be able to bring this site into the port," said Weilbacher.
Steel Processor Is Star Tenant
One of the river's star tenants is The Material Works (TMW), an innovative steel processor and holder of 12 patents that has won worldwide recognition for its environmentally friendly Eco-Pickling Surface (EPS) system. TMW is located in Red Bud, Ill., right on the Kaskaskia River. "We are taking advantage of being on the river, as well as having good rail and highway connections," said Fritsche.
Pickling is the process in which the surface rolled steel is treated to inhibit rust and remove other impurities. The traditional method, known as hot oil pickling, used harsh acids and chemicals. TMW's method involves using a slurry of water and fine steel grit instead to remove impurities and properly condition the steel surface.
The EPS method has won numerous metal industry awards, and is now licensed all over the world—in Mexico, Russia, Korea and many other countries. TMW has a joint venture with a Chinese company to process steel in China. TMW is currently upgrading its processing line to what it calls EPS Unlimited. That project should be complete within a year.
TMW is a toll processor, meaning its customers buy steel and send it to TMW to be processed and treated for a fee. Besides EPS, vice president of processing Eric Fritsche told The Waterways Journal, "We slit and cut material to specified widths or cut it into blanks." Steel cut and processed by TMW can end up as fuel tanks, railcars, electrical boxes, restaurant bars, and many other products. "We call ourselves a manufacturing plant for everyone, "said Fritsche, "because we have a lot of equipment that not all manufacturers have."
About 350,000 tons of high-value steel per year moves to and from the TMW plant, about 15 percent by barge. But that percentage is rising, said Fritsche.
Big River Steel
Many of TMW's customers deal with a nearby company that is located not on the Kaskaskia but nearby on the Mississippi River in Osceola, Ark.: Big River Steel.
Big River Steel is the brainchild of John Correnti, the steel industry pioneer who revived and transformed the American steel industry beginning in the 1980s with electric-arc "mini-mills" that produced higher-quality steel from scrap than older plants that used iron ore. Mini-mills not only made high-quality steel more cheaply than the older plants, but the plants themselves were cheaper to build and operate. Correnti continued to innovate in the steel industry up until his death at 68 in 2015.
The $1.3 billion Big River plant—Arkansas' biggest-ever industrial project—opened for business a year ago, in February 2017, in Mississippi County. Its stated goal is to grow by "produc[ing] grades [of steel] that are not fully supported by [other] domestic producers," chief commercial officer Mark Bula told American Metals magazine in a January 4 interview. It hopes to produce roughly 1/3 hot-rolled steel, 1/3 galvanized products, and 1/3 cold-rolled steel.
Domestic demand for the first two is strong, Bula said, but cold-rolled steel faces competition from imported products. By the middle of 2018, the company said, it hopes to produce high-strength steel as well.
Although TMW doesn't deal directly with Big River Steel, it has several customers that regularly send it steel from Big River to be processed. "We got six barge loads in January, including four from Big River; we usually average one or two barge loads a month from Big River," said Fritsche.
TMW has partnered with the Kaskaskia Port District to improve its truck traffic flow and staging areas.
Between this steel traffic, grain movements and the coal and limestone bargeloads that serve the nearby Prairie State clean coal plant, Weilbacher said the port district expects the Kaskaskia River to handle somewhere north of 1.5 million tons of cargo this year.
"There's growing opportunity here for any business," according to George Obernagel, chairman of the Kaskaskia Port District.