Captain Profile: Capt. Steven Fancher, Evansville Marine Service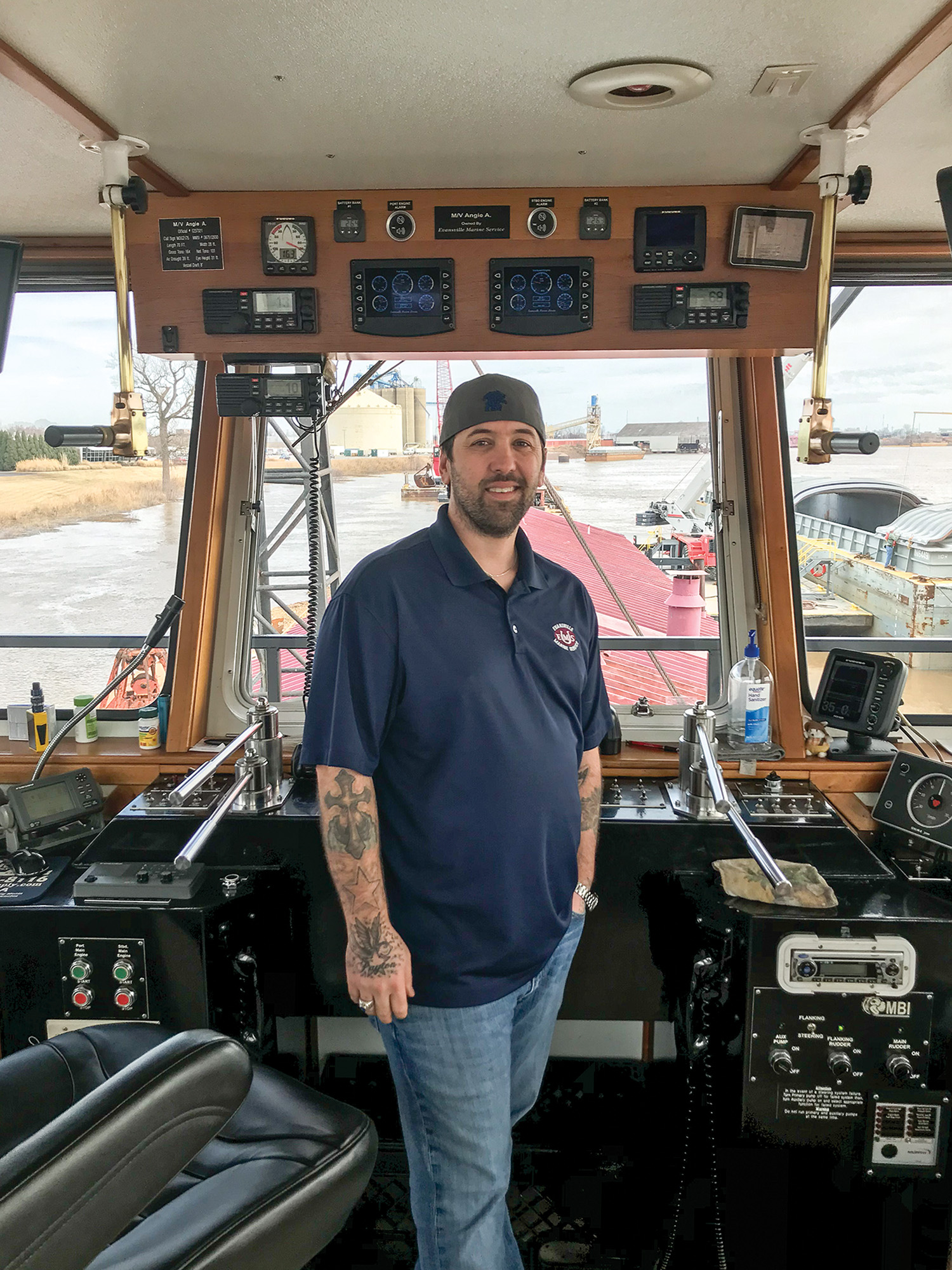 Capt. Steven Fancher started out in the river business cleaning barges and decking, as many do. For more than seven years, Fancher worked on barges until he obtained his pilot's license and eventually a master's license.
Today, the 35-year-old from Clarksville, Ind., pilots the mv. Angie A, a 2,000 hp. twin-screw towboat built in 2011 by Marine Builders Inc. in Utica, Ind., for Evansville Marine Service, where he has worked for 11 years.
Fancher has literally worked his way up on the Angie A, where he started out as a deckhand, became a steersman pilot, relief captain and now the boat's captain. Prior to Evansville Marine, he worked for Mulzer Crushed Stone Inc. and Excell Marine Corporation doing line haul and harbor work.
Despite having advanced his career to captain, Fancher said he wasn't always sure it was the job he wanted. "At first, I wasn't sure I'd stick with it, but I was chosen to receive my license," he said, noting that his father, also a towboat captain, has had his license for more than 40 years. "Now, I just want to keep working and doing the best I can. I'm sure I'll keep training pilots for our company in the future and help the company excel the best that I can."
Sign up for Waterway Journal's weekly newsletter.
Our weekly newsletter delivers the latest inland marine news straight to your inbox including breaking news, our exclusive columns and much more.
Working for Evansville Marine has been a positive experience for Fancher, he said. "I work for a great, family-oriented company, and I have a great crew," he said. "We enjoy teaching and helping new guys or guys that are moving. I've probably trained about six pilots for our company."
As is often the case, with the good comes the not so good. "Being away from my family is difficult," said Fancher. "I miss birthdays, holidays, anniversaries, deaths and stuff most people get to be home for."
To get through long stretches away from home, Fancher and his crew try to stay positive and keep a sense of humor. "I won't go into it too much, because what we think is funny, others might not," he joked, noting that it's not always fun and games onboard.
"One time, my crew and I rescued a jumper off the Dade Park Bridge," said Fancher. "We rescued two other men after their fishing boat sank below the Newburgh Lock and Dam. I've seen boats run aground and bust their tow up and bridges hit. It can get bad out here quickly if you're not careful."
When asked what advice he would give to aspiring towboat captains, Fancher said to pay attention to everything you do and everyone around you. "Pretty much everybody in the wheelhouse has been on the deck, so we know what it's like," he said. "We know what they're dealing with. Everyone hates the rain and cold, but do your best. Being a captain can be stressful and rewarding at the same time. Do your best and be safe, because it's your license and your crews' lives on the line."