Thordon Retrofits Towboat, Unveils New Bearing Portal
Alexis Marine, Belle Chasse, La., has awarded a supply contract to Thordon Bearings for the retrofitting of 6-inch diameter RiverTough bearings to the mv. Kristin Alexis, the 60-foot, twin-screw towboat built by Bollinger Shipyard in 1969.
According to the company, both of the mv. Kristin Alexis' shafts will be withdrawn at New Orleans, La., yard Bayou Fabricators & Machine Works, where the original rubber bearings will be replaced with Thordon's RiverTough tailshaft bearings.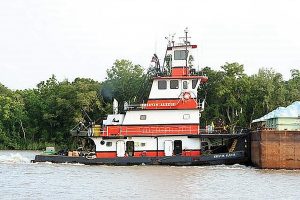 The polymer bearing manufacturer will also supply hard-wearing NiCrB sleeves to reduce the impact of operations in abrasive waters on the shafts.
"It is not our first experience with RiverTough; the bearings have provided trouble-free operation for our fleet of tow/push boats for several years," said Mike Alexis, CEO and founder of Alexis Marine. "We have had a very good experience with all of the installations.
Sign up for Waterway Journal's weekly newsletter.
Our weekly newsletter delivers the latest inland marine news straight to your inbox including breaking news, our exclusive columns and much more.
"Due to the harsh waters in which these shallow-draft vessels operate, we found that with the original rubber bearings, we were drydocking once, sometimes twice a year. We have not had that problem with the Thordon system. Combined with the hard coated sleeves, there has been no sign of wear."
"We are delighted that Alexis Marine has opted to retrofit RiverTough to the mv. Kristin Alexis," said Scott Groves, regional manager Americas for Thordon Bearings. "The U.S. workboat sector is undoubtedly an important market for Thordon Bearings and an order like this from a returning customer is indicative of the commercial, operational and technical advantages our polymer bearings have over traditional rubber bearing types."
"We expect the conversion next month will be a smooth process. Bayou has a lot of experience with Thordon products and has installed RiverTough to a number of workboats, as retrofit and newbuild solutions," added Jim Bright, business development manager for Thordon Bearings' U.S. division.
Alexis Marine operates its vessels as luggers on the inland waterways, serving salt mines around Texas, Louisiana and the Yazoo-Mississippi delta.
Web-Based Portal
Also this month, Thordon Bearings unveiled a new web-based platform to provide information about the commercial, technical and environmental advantages of using grease-free and water-lubricated polymer bearings across a wide variety of applications to industry professionals.
Covering all of Thordon's target market sectors, the new website has been designed to provide shipowners, shipyards and propulsion system integrators, in particular, with the information they need to make more informed procurement decisions, especially with regard to water-lubricated propeller shafts.
"Rather than redesigning a website simply to promote Thordon products, we wanted to provide an information portal for our existing and potential customers, whether they operate in the maritime space, hydro-power or land-based industrial sectors," said Craig Carter, director of marketing and customer service for Thordon. "Visitors to the website are able to home in on the sectors relevant to their operations. For instance, maritime customers can find out about the Thordon solutions specific to the naval, commercial, leisure and workboat segments, download technical papers, design and engineering manuals and view a number of 'how it works' videos."
Other areas of the portal (www.thordonbearings.com) include details of Thordon distributors and service agents, allowing customer to reach out directly to region specific resources for more information.
"There is growing interest in our high-performance polymer bearing systems," said Carter. "This new information portal will allow those considering the move away from traditional bearing materials to better understand the cost-savings such systems can afford."