Pittsburgh Region Welcomes New Commanders For Local Corps, Coast Guard Units
Pittsburgh has new commanders for both its local Corps of Engineers and Coast Guard units, following a pair of change of command ceremonies in recent weeks.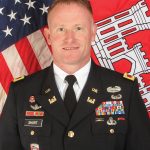 Col. Andrew "Coby" Short became commander of the Pittsburgh Engineer District during a ceremony July 6 at the Senator John Heinz History Center. Brig. Gen. Mark Toy, commander of the Great Lakes and Ohio River Division, presided over the ceremony.
Short replaces Col. John Lloyd, who commanded the district for the last two years. Lloyd will assume command of the U.S. Forces Korea in Yongsan Garrison, Seoul, South Korea.
Short comes to the Pittsburgh District following an assignment at the U.S. Army War College. He is also a graduate of the Army Command and General Staff College, Combined Arms Service Staff School, Engineer Captain's Career Course and the Engineer Officer Basic Course. Additionally, he holds a Master of Science in engineering Management from the Missouri University of Science and Technology, a Master of Science in civil engineering from the University of Virginia and a master's degree in strategic studies from the United States Army War College. Short has served in key command and staff positions at Ft. Bragg, N.C.; and Fort Hood, Texas. He has been deployed to both Eastern Europe as part of Operation Atlantic Resolve and to the Republic of Korea.
Sign up for Waterway Journal's weekly newsletter.
Our weekly newsletter delivers the latest inland marine news straight to your inbox including breaking news, our exclusive columns and much more.
The Pittsburgh Engineer District covers an area of approximately 26,000 square miles. It supports commercial navigation on the upper Ohio, Allegheny and Monongahela rivers, operating and maintaining 23 locks and dams. Pittsburgh's flood-damage reduction mission encompasses 16 multi-purpose reservoirs that have prevented an estimated $36 billion in storm damages in 2017 dollars.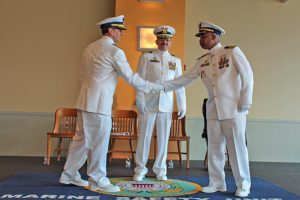 MSU-Pittsburgh
Cmdr. Aaron Demo relieved Cmdr. Leon McClain Jr. as the commanding officer of Coast Guard Marine Safety Unit (MSU) Pittsburgh during a change of command ceremony at the Heinz History Center in Pittsburgh, Pa., June 27.
As commanding officer of MSU Pittsburgh, Demo will assume the responsibilities of captain of the port, officer in charge of marine inspection, federal maritime security coordinator, and federal on-scene coordinator for an area spanning western Pennsylvania, eastern Ohio, and northern West Virginia. Demo previously served at the Coast Guard headquarters as a traveling inspector.
"I am truly honored by the opportunity to serve as commanding officer of MSU Pittsburgh," said Demo. "Protecting our vital inland waterways, the environment, and the people of Pittsburgh will take a team effort. I look forward to working with our partner government agencies and port partners to ensure the safety and security of our port, and this great city."
McClain, who had been the commanding officer since 2015, will report to the Naval War College to earn a master's degree in national security and strategic studies.
"I can't thank you enough for the support I received here," said McClain. "We encountered many challenges during my three years. Our success is due to the hard work of the members of this unit, and the many port partners we work with every day. I will always think fondly of my time here, and the friendships and professional relationships I developed."