If the U.S. inland waterways system has a hub, Paducah, Ky. is it. Sitting near the confluence of the Ohio and Tennessee rivers, just south of the Cumberland River's confluence with the Ohio, and just 50 miles above the confluence with the Mississippi, Paducah truly has "location, location, location" when it comes to water transportation in particular. The region has good connections with all transportation modes. Today, the Paducah-McCracken County Riverport Authority says the region offers access to 60 percent of the U.S. population within a single day's drive.
That location made Paducah a central water logistics hub beginning in the early steamboat days, according to local historian Nathan Lynn of the McCracken County Public Library. (Before that, the Padouca tribe, after whom the town is named, used it as a central trading point as well.) Even before the city was chartered in 1856, a brick factory, drydock, boat-making facility and a factory making locomotive parts were established.
Already by the second half of the 19th century, Paducah had become Kentucky's second largest manufacturing and distribution center. Tobacco, coal, timber and whiskey were all major commodities, but tobacco cargoes were curtailed by World War I and whiskey by Prohibition. Timber cargoes, once abundant, gave way to coal as local forests were cut down.
The city's low point was reached during the floods of 1937, when 95 percent of the city was underwater. The catastrophe resulted in widespread evacuation. Recovery began only during World War II, with the establishment of the Kentucky Ordnance Works in western McCracken County in 1942. After the war, a uranium enrichment plant replaced the ordnance works on the same site, providing good-paying employment.
Sign up for Waterway Journal's weekly newsletter.
Our weekly newsletter delivers the latest inland marine news straight to your inbox including breaking news, our exclusive columns and much more.
The barge industry quickly re-established itself, and today—taken as a whole and including supporting businesses—is the area's largest employer. In 2011, Fortune magazine called Paducah "the heart and soul of the river business." Among many other inland barge or supporting companies, Crounse Corporation, James Marine, Marquette Transportation, Tennessee Valley Towing, Ingram Barge Company, Western Rivers Boat Management, American Commercial Barge Line and Hines Furlong Line are all either headquartered in Paducah or have significant operations there.
Shipyards abound in Paducah, too, including Walker Boat Yard, National Maintenance & Repair of Kentucky and Paducah River Services.
For Jason Strait, vice president-operations of Strait Maritime Group of Western Rivers Boat Management, "Being at the confluence of the four rivers has given us the opportunity for exponential growth since our relocating here in 2008. We have maintained a higher level of customer satisfaction and have been able to access our employees and equipment on a daily basis. If we weren't located in the heart of it all here in Paducah, this would not be possible without staying on the road 24/7. Coming as I do from a long line of rivermen in my family, it is nice for me to go downtown and have the feel of the river town. It was home immediately for me and my family."
Strait notes that his company purchases more than $4 million worth of supplies annually in the Paducah area. His company, along with most of the area's barge companies, makes significant annual contributions to charity organizations in Marshall and McCracken counties.
Riverport Facilities
Cargo handling facilities at the Paducah-McCracken County Riverport include a cargo dock with a 25,000-square-foot staging area on 48 acres of land. Top port commodities include fertilizer, grain, sand, aluminum and steel. At one time, inbound rubber was a significant cargo, but the port lost rubber cargoes when a tire plant relocated away from nearby Maysfield. The riverport has 80,000 square feet of covered storage and an additional 21,500 square feet of inside storage for bulk items. The dock area has a truck dump and conveyor for loading grain from truck to barge.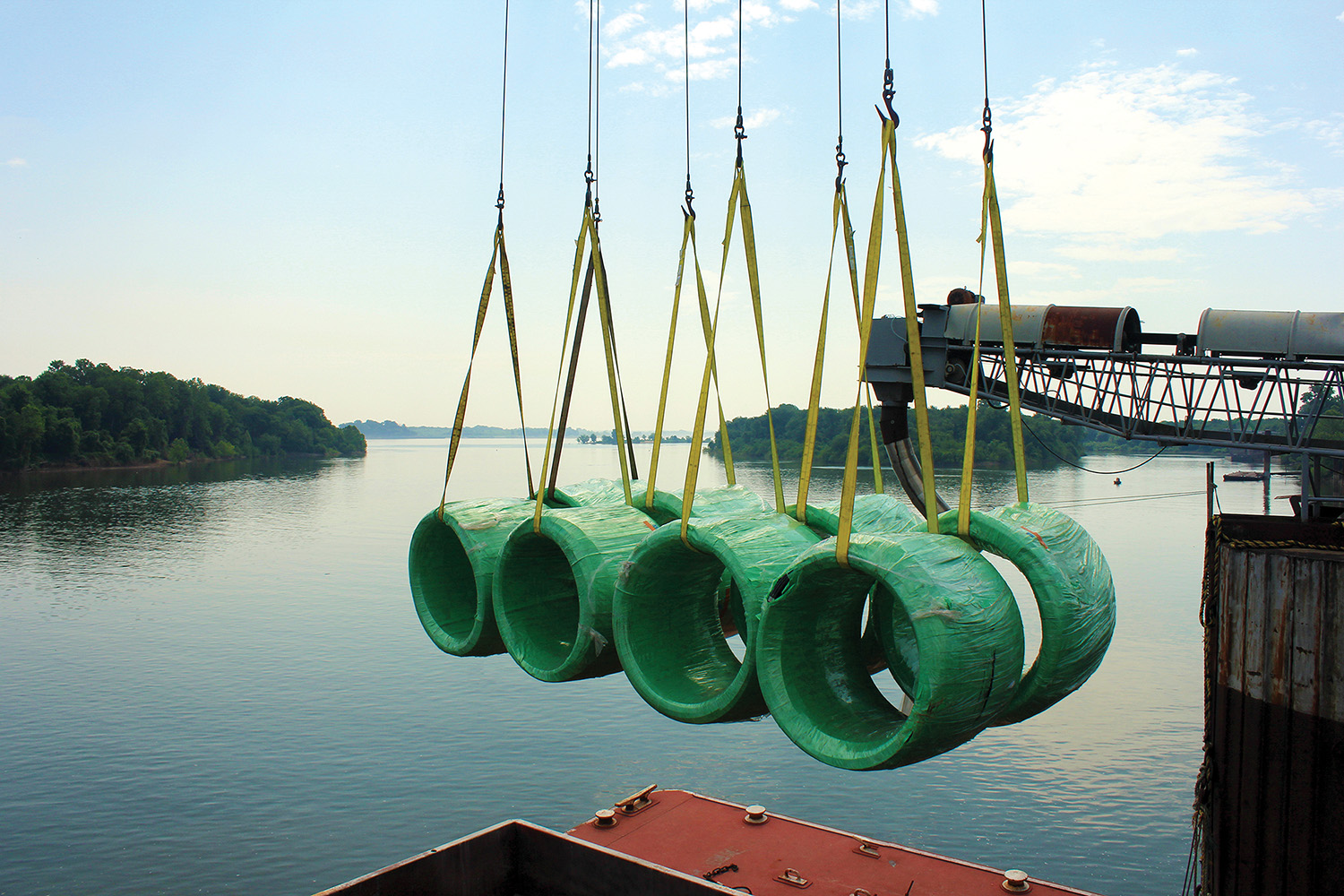 The opening of the Olmsted Locks and Dam project can't come soon enough for Bill Miller, executive director of the Paducah-McCracken County Riverport. Difficulties and delays at Locks 53 and 52, especially, along with market conditions for some of the port's customers, have cost the port some barge trips recently. In the fiscal year ending in June, Miller told The Waterways Journal, the riverport authority moved about 364,000 tons, down from what Miller says is a more usual average of about half a million tons. The 258 barge movements during that period are also down from an average of more than 300.
Despite those issues, Miller said he is "very optimistic about our port and its outlook for the future. We have a tremendous level of support from our stakeholders, the state and the federal government."
After increased funding from Congress sped up work on the Olmsted facility, the port has been anticipating its opening with improvements to enable it to take maximum advantage. In 2014, the port increased its cargo-handling capacity when it replaced its 40-year-old Linden 800 flattop crane with a COMANSA 30LC1450 crane with a maximum load capacity of 53 tons.
At the end of 2015, Paducah received a Foreign Trade Zone designation (FTZ No. 294), which was activated in June 2016. It is one of four FTZs in Kentucky.
The port has dredged the area in front of its bulk terminal and refurbished its conveyor belt system. This September will be the one-year anniversary of the port's installation of a $1.3 million Sennebogen 870 HD material-handling crane.
Big Bet On COB
Since last December, the Paducah-McCracken Riverport Authority has been busy hardening the surface of 27,159 square yards of one of its terminals, replacing asphalt with 12-inch-thick concrete reinforced with rebar. That work is being supported by a Delta Regional Authority grant of $407,000 awarded last October.
The work is part of a project to kick-start Kentucky's first container on barge (COB) terminal, on which the port is placing high hopes. The port is seeking a further Marine Highway grant of $251,927 along with $87,500 from the Kentucky Riverport Improvement fund. The riverport authority is kicking in $87,000 of its own money.
The proposal projects an annual start-up container volume of 2,080 twenty-foot equivalent units (TEUs) from several sources, including chemical companies in Calvert City, Ky. Today, these shipments move to Savannah, Ga., by truck. If they went by barge instead, the switch would eliminate 637,500 truck-miles from U.S. interstates annually. The proposal also says farmers have expressed interest in spot shipments for containerized agricultural products for export, and projects about 200 TEUs "during the start-up period."
The COB proposal is part of a $10.8 million BUILD grant application (the renamed TIGER grants) by the city that includes riverfront development, submitted to the Department of Transportation July 19, according to Paducah Mayor Brandi Harless. The project description envisions a COB service between Paducah; Mobile, Ala.; and New Orleans. After preparing the surface, the port will buy a reach stacker for stacking the containers, a yard hustler for moving individual containers, and related equipment.
Harless told The Waterways Journal, "We want Paducah to become a COB leader." The long-term vision for the Paducah COB operation is to be a "self-sustaining operation driven by economic development in Western Kentucky." The project was already awarded the "America's Marine Highway Leadership Award" from the Maritime Administraiton in July 2016.
Riverfront Development Plans
Like many other towns and cities in the postwar era, Paducah saw a migration away from the town center, then a return to and revival of its now-restored historic districts.
The main obstacle frustrating plans for riverfront development is the very thing that saved Paducah and brought it back from abandonment after the floods of 1937. As a July 19 request for a BUILD grant from the federal Department of Transportation notes, "Paducah lacks a major public link with its riverfront" because "the riverfront is separated from downtown by a flood wall." The town has done its best, decorating it with a colorful series of murals depicting its history. Nevertheless, "The wall leaves limited visual access and, in the minds of many, out of sight [means] out of mind," according to the city's project summary. The city's leaders want residents to have more of a connection to their riverfront.
The project is called Riverfront to Riverport, and it has two components besides the COB plans. The plan for developing the riverfront includes a new public steamboat landing and excursion dock facility, a new marina, a performance plaza, an overlook/observation deck, a new boat launch, and connections to the existing Greenway Trail system and Shultz Park.
To give residents more reasons to visit the riverfront, a "Paducah commons" area would include a "great lawn" performance area, a children's play area, an obelisk and "greater connectivity through the floodwall."
River Industry Ecosystem
As important as the barge industry is to Paducah, the supporting pieces of the river industry "ecosystem" makes the city unique in the country.
Paducah is home to one of two Seamen's Church Institute (SCI) facilities that provide inland mariner training (the other is in Houston). According to SCI spokesperson Naomi Walker, the Paducah Center for Maritime Education has trained more than 15,000 mariners to date. SCI's River Bell Award luncheon, one of the inland barge industry's most prestigious award events, draws more than 400 people each year.
Walker said the SCI facility often hosts public events for the Coast Guard and Corps of Engineers, as it did for a recent press tour organized by Waterways Council Inc. for the Olmsted Lock and Dam on July 25. "We're a neutral ground for the Corps and Coast Guard to meet with the public," said Walker.
Paducah also benefits from a high density of educational programs devoted to transportation and logistics. Besides the SCI, Paducah is home to the West Kentucky Community & Technical College, rated one of the nation's top community colleges. Its Inland Logistics & Marine Institute also trains towboat workers and is a major "feeder" to the area's barge companies. It offers associate degrees in either marine technology or logistics and operations. management. Its Coast-Guard-approved course offerings include electronic charting software, marine fire fighting, marine shipyard competent safety training, and a tankerman dangerous liquids barge course approved that can be taken online.
Murray State University, which has a Paducah campus, offers a degree program in logistics and supply chain management.
The Coast Guard's Towing Vessel National Center of Expertise (TVNCOE) is also conveniently headquartered in Paducah.
Paducah's Propeller Club may be the most active in any port. It has 147 members, and monthly meetings for both membership and its board. It sponsors a hugely popular golf outing each May and has just taken over sponsorship of an annual Christmas party held the day before the River Bell Award luncheon. Last December's event, held at the Paducah McCracken County Convention and Expo Center in Paducah, drew 461 guests and raised a total of more than $300,000.
River Discovery Museum Inspires
Another important institution in the barge industry ecosystem is Paducah's River Discovery Museum, a top attraction. With about 6,000 schoolchildren visiting each year along with more than 40 excursion boat visits, the museum serves as an ambassador of the barge industry—not only to the surrounding population but to the rest of the country and the world.
That role was especially boosted during the 2017 total eclipse, when visitors from all over the world flocked to Paducah, which was in the eclipse's direct path. Executive Director Julie Harris said the eclipse dramatically increased the museum's business. "I had never seen anything like it in my 17 years here," she told The Waterways Journal.
The museum got its first boat simulator in 2008, with the help of a grant. "Ours is a bit more public-friendly than SCI's simulator," said Harris. "Besides a commercial towboat, kids can choose to simulate a speedboat or a Coast Guard cutter." It also has a full-time exhibit called "Skippers" about the barge industry. "We track the kids who come through here, and I know for a fact that some who were first exposed to the industry here are now working in it," said Harris.
The River Discovery Museum hosts an annual Dragon Boat Race in which local barge companies participate. This year's event on September 22 will include teams from Ingram, ACBL, Marquette, Western Rivers Boat Management and Cook Coal Terminal out of a total of about 20 teams.