R.D. James, Reps Focus On Waterway Issues In Illinois
The connectivity of agriculture and waterways transportation was highlighted at the Illinois State Fair, courtesy of U.S. Reps. Rodney Davis, John Shimkus, Mike Bost and Darin LaHood (all R-Ill.).  The Illinois' congressional delegation hosted its annual Ag Policy Forum at the Illinois State Fairgrounds in Springfield on August 14. This year's event featured R.D. James, assistant secretary of the Army (Civil Works), who also toured LaGrange Lock and Dam on the Illinois River that same day.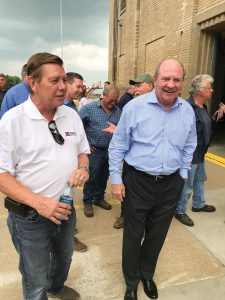 The state was well-represented, as the four members of Congress represent 76 of the 102 counties in Illinois. Davis served as emcee of the panel and Q&A, a discussion which touched on a variety of issues concerning agriculture and rural America.  One focal point for the panel was the status of locks and dams of the state's navigable rivers—the Mississippi, Illinois, Ohio and Kaskaskia rivers.
"As a farmer I know how critical the infrastructure is that allows the food and fiber produced in this country to be shipped all over the world," said James in his opening remarks. "I always appreciate the opportunity to hear directly from growers about the issues they face."
James heard from farmers about the need to have something done to increase capacity, efficiency and reliability of aging river locks.  "When I took this job, I said I wanted to move dirt," James said. "Let's get the Corps to get out of the processes and get to construction, to finish projects faster and cheaper. The original locks and dams on the Mississippi River were built in seven years. Yields are going up. Demand for American ag products is going up. We need our locks and dams."
Sign up for Waterway Journal's weekly newsletter.
Our weekly newsletter delivers the latest inland marine news straight to your inbox including breaking news, our exclusive columns and much more.
The imminent start of the rehabilitation of LaGrange Lock and Dam was forefront to the discussion, as were the 2020 extended closures of locks on the Illinois River for repairs.  Frustration in the crowd over the lack of a start to construction of the seven locks authorized in 2007 under the Navigation-Ecosystem Sustainability Program (NESP) was obvious.
"With the 120-day closures coming in a couple of years, wouldn't it make more sense for the federal government to build the 1,200-foot locks while the river is shut down?" asked Garry Niemeyer, former president of National Corn Growers Association and current board member of Waterways Council Inc. "This fix-as-fail approach isn't working. We can only repair these 80-year-old locks so much."
The event included a surprise visit by University of Illinois at Urbana-Champaign Chancellor Robert Jones and Illinois Lt. Gov. Evelyn Sanguinetti, both arriving with platters of "Silverfin" burgers, also known as Asian carp. "We serve 1,400 Asian carp meals a week in our dining halls, and they are very popular," said Jones.
Among those attending were members of each legislators' agriculture advisory committees and dignitaries such as state legislators, former state agriculture directors and former and current representatives from other state administration departments.
LaGrange Lock Tour
Joining James on the tour of LaGrange Lock and Dam were Davis and LaHood, who facilitated the event. Others on the tour included representatives from various agriculture producer associations, agribusiness, the navigation industry, organized labor and print and broadcast media members, among others.
The participants received a briefing from representatives from the Rock Island Engineer District on the upcoming rehabilitation of LaGrange Lock. The Corps confirmed that a contract bid for the $10 million to start the rehab would be executed before the end of Fiscal Year 2018. The planned lock closures along the Illinois River were also discussed. The closures start next year but ramp up significantly in 2020.
Finally, participants expressed their frustration with the lack of progress moving NESP forward to finish pre-construction engineering and design, let alone a construction start. The Corps received $1 million dollars in FY18 to complete an Economic Re-evaluation Report, which will include updated cost estimates and more. When asked about when NESP would get started, James quipped, "Yesterday."
The following morning, the Illinois River industry got more attention when Rep. Cheri Bustos visited Consolidated Grain & Barge Company in Oquawka, Ill., where she performed various job duties for her "Cheri on Shift" segment. In doing so, Bustos said she hoped to show her support for improving inland river infrastructure.