Inland Marine Service (IMS), the largest inland marine vessel management company in the United States, is celebrating its 30th anniversary in 2018 as a third-generation,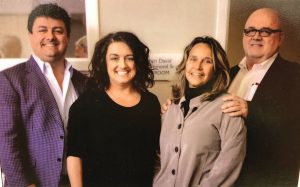 family-owned and -operated business with a long history of growth.
IMS, headquartered in Hebron, Ky., and now headed by President Dave Hammond Jr., offers services including vessel management, planned maintenance, compliance management, harbor services, liquid operations, as well as cruise line operations.
With highly trained and motivated marine crews, 30 years of experience on the river and dedicated safety practices, IMS is committed to providing customers with secure, reliable, timely and cost-effective solutions.
Sign up for Waterway Journal's weekly newsletter.
Our weekly newsletter delivers the latest inland marine news straight to your inbox including breaking news, our exclusive columns and much more.
A Company Born On The River
Inland Marine Service was co-founded by David Hammond Sr. and Cathy Hammond in 1988, and is, in every sense, a company born on the river with a rich history of experience. Long before Inland Marine Service got its start, he lived a "Tom Sawyer-esque" life. From the age of 12, David worked and lived on the water and by 19, he proudly worked as pilot of a harbor tug on the Ohio River and captain on line-haul towing vessels on the Mississippi River System.
When the opportunity arose, in 1988, for him to operate a line-haul towboat under a vessel management contract, he jumped at the chance. He was eager to operate a unique vessel management business—one that firmly valued his fellow mariners. With a deep understanding of what it takes to work on the river, David Hammond Sr. created the foundation of what would become Inland Marine Service. Along with IMS co-founder Cathy Hammond, they worked diligently for years to make a name for their company and to instill a company ethos that is steeped with integrity, honesty, and true pride in the daily work accomplished.
"Inland Marine Service was started in a little two-bedroom apartment with nothing but sheer determination and a love for the work on the river," he said. "My first office desk was a kitchen table.
It took many years, but we were able to grow our business through word of mouth and a strong reputation of integrity and know-how. Eventually we were able to establish an office outside of the home."
In 1992, Cathy Hammond took the helm as CEO. Cathy was tireless in her efforts to contribute to the maritime industry at large by serving on various committees and boards for American Waterways Operators, Towing Vessel Inspection Bureau and others. She also served on the board for the prestigious Towing Safety Advisory Committee (TSAC) for more than 16 years.
One of the differentiators of the business to this day is its integrity and sterling reputation in the industry for transparent communication. From the Hammond family leadership to the close quarters of the boat to the shore-side office, there is a palpable kinship among IMS employees rooted in a long history of genuine concern and trust. "From day one, we were determined to be a good partner for mariners and customers alike," Cathy Hammond said. "For individual mariners, we seek to improve their lives through personal and industry-wide advocacy and support. For customers, we provide risk mitigation and a comprehensive understanding of river culture with access to top talent and mariners of character."
Cathy and David Sr. created a strong foundation for their two children, Dave Hammond Jr. and Holly Hammond Crowe, both of whom worked in the family business for years. Following his father's footsteps, Dave received his pilot's license at age 19 and his master's license by 21, while Holly contributed her expertise as IMS claims supervisor. Following a 12-year stint working as a marine surveyor, insurance underwriter and insurance broker, Dave Jr. returned to the family business in 2002. He is now president of Inland Marine Service Inc.
"Watching our parents build a family business that advocated for the professional mariner, helped us to understand what it means to operate a successful family business—'People First!'" he said.
Vessel Management
Vessel management companies like Inland Marine Service have been around since the beginning of maritime trade. Managing a vessel requires resources, knowledge and experience. Often, vessel owners will hire vessel management companies to operate their vessels. The vessel management company typically assumes HR responsibilities, insurance liabilities for mariners, the vessel, environment programs, maintenance, safety, regulatory compliance, audits, supplies and much more.
Full-service vessel management companies like IMS offer turn-key solutions from simply insuring and managing marine personnel and equipment to more complex operations, in which they manage entire harbor services, line-haul vessels and terminals/docks.
"Our services allow large customers the ability to fix their costs," said Dave Hammond Jr. "At larger companies, their focus is on freight movements. Recruiting, training, onboarding, scheduling and managing a vessel can become very burdensome. Hiring a vessel management company to focus on their core competency (maritime operations), may be the answer. IMS maintains a pool of 700 professional mariners ready to assist their clients."
With new Coast Guard Subchapter M regulations taking effect, Inland Marine Service assists smaller companies by assuming part or all their regulatory requirements. "I receive many calls from small companies that don't have a succession plan and/or do not wish to continue doing business under the new Sub M environment," Dave Hammond Jr. said. "IMS will manage all or part of a customer's harbor fleet and marine equipment or in some cases purchase the business. Our main goal is to alleviate our customers' pain points."
Today, IMS considers itself 30 years young and continues to advance the IMS tradition of finding better ways to serve its boat crews and customers while leading innovation in an ever-changing industry. As an AWO-approved marine management company, IMS leads the industry in compliance excellence. IMS's mariner-friendly compliance programs are immediate, approved and certified in the changing world of Subchapter M, AWO Responsible Carrier Program and TMSA/SIRE.
Building upon the vision of David Hammond Sr. and Cathy Hammond, Inland Marine Service is in its third generation of serving the maritime community and offering valuable waterway services to its customer base, which includes many top players in the industry. With a focus on service, safety, and relationships and with 30 years of consistent growth, it's clear that Inland Marine Service is just getting started.
In addition to Hebron, IMS also has operations in Paducah, Ky.; St. Louis, Mo.; New Orleans, La.; and Houston, Texas.