Dozens of vessels heading upriver or downriver pass Algiers Point on the west bank of the Mississippi River in New Orleans, La., each day. From the classic Steamboat Natchez and slow-moving towboats, to harbor tugs, container ships, and towering cruise ships, passersby watching from the Point see it all.
But a vessel quite out of the ordinary has been tied up at Algiers Point for much of January: a shabby, dented, red and white pontoon houseboat called "Shameless." On board, or else making the rounds in Old Algiers, is the vessel's captain, Kelly Phillips, 51, alongside his pug terrier, Sapphire. Phillips is on the tail end of an epic journey down the Mississippi River that is part folktale, part bucket list, and an inspiration to all who hear of it.
From Hospice To Houseboat
A native of Wisconsin, Phillips had long lived in New Jersey, where he operated industrial laundry and duct cleaning businesses. About three years ago, Phillips' health was deteriorating rapidly.
"I went to the doctor over and over," Phillips said. "Finally, I lost my voice and went to see an ENT [an ear, nose and throat doctor]. She put the camera down my nose, pulled the camera out, and said, 'You've got to go to the hospital.'"
Sign up for Waterway Journal's weekly newsletter.
Our weekly newsletter delivers the latest inland marine news straight to your inbox including breaking news, our exclusive columns and much more.
The diagnosis was grim: Phillips said he had cancer of the sinuses. He underwent radiation, which dealt a serious blow to his health. He went from weighing 265 pounds down to 130 pounds.
"That's how sick I got," he said.
The treatment gave Phillips a stomach ulcer which eventually burst.
"That's what almost killed me," Phillips said.
He was sent home under the care of a hospice nurse. Phillips said, at that time in March 2017, he was given three months to live. As he lay there, he knew he didn't want to die at home. Out of nowhere, he had the idea of spending his last days on the Mississippi River.
Phillips called his brother in Prairie du Chien, Wis., and told him his idea. Amazingly, within a day, he and his brother had found Shameless and Phillips was flying out to Wisconsin.
"I flew out to Wisconsin March 15 and got on the boat March 16, 2017," Phillips said.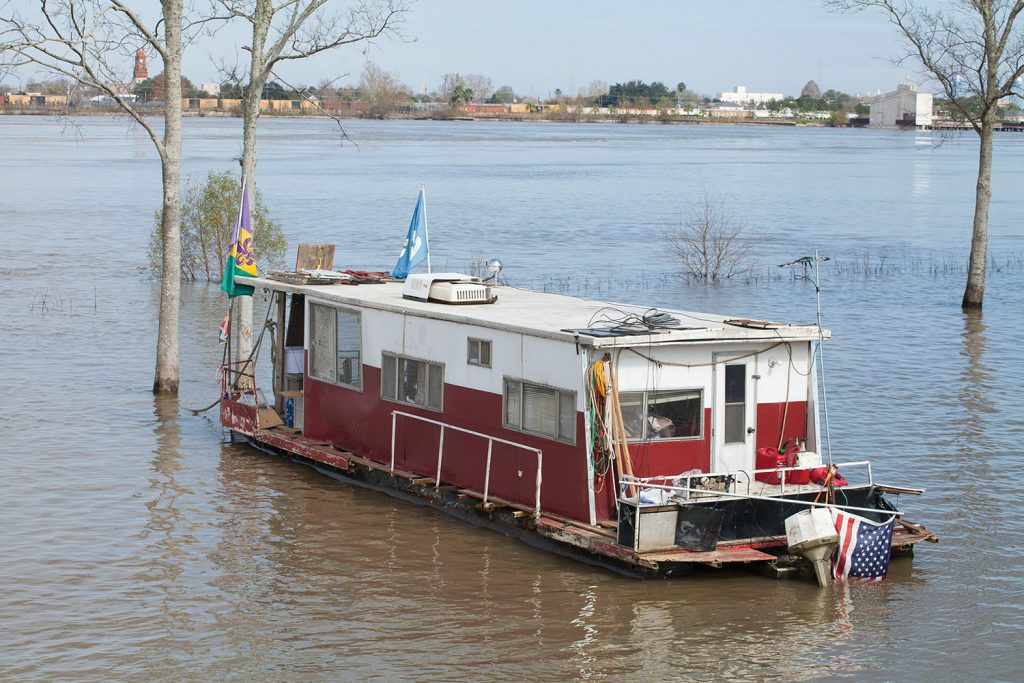 For those first weeks and months on Shameless, Phillips worked his way up the Mississippi toward La Crosse, Wis., and on to Minnesota. One month passed, then two, three and four.
"I thought, '[Well], I lived, now what am I going to do?'" Phillips said. "Because I really thought I was going to die. I decided to go back downriver.
"I left Wisconsin with $214 in my pocket," he continued. "I've just been so lucky. The Mississippi River people have taken care of me the whole way down."
People, Places And Provision
Phillips has a story of friendship and provision for every river town he's visited.
Near the beginning of his trip, in Wisconsin, someone brought him Sapphire. Phillips said they were an instant match, with Sapphire a treasured companion both onshore and along the way downriver. But Sapphire soon surprised him.
"I wound up with seven puppies on the houseboat," he said.
Around the time the puppies turned 8 weeks old, Phillips began giving them away to people he met along the way.
In Fort Madison, Iowa, Phillips returned from running errands to find a stranger aboard Shameless. It turned out to be an Army veteran who was replacing the boat's American flag.
In Chester, Ill., the entire town welcomed Phillips, not only offering him supplies but also embracing him as a friend and inspiration. An editorial from his time there last January concluded, "Phillips is a bastion of what life can be when seen through the right set of eyes. Well done, Chester. And thank you, Kelly Phillips. We have learned a great deal from one another."
There have been challenges along the way, for sure.
"The first day I left Wisconsin, I got hungry," Phillips said. "I have a wood stove, so I grabbed a can of chili and put it down on the wood stove. I forgot about it. It exploded—I had chili everywhere."
Phillips said he's hit his fair share of rock jetties in the river, which have left holes in his pontoons. But those mishaps led him to other friends along the way. In Hickman, Ky., for instance, he met a towboat captain who helped him haul his boat out of the water and fill some of the pontoons with foam.
In Memphis, Tenn., Sapphire went missing for a few days. As it turns out, the dog had found her way downtown, into an office building, and up to the fifth floor, which happened to be a pet-friendly office. Thanks to social media and old-fashioned flyers, Phillips and Sapphire were reunited, and the company even bought him a new generator and phone. Philips' old generator had just quit, and he'd lost his phone.
In Vicksburg, Miss., his boat was hauled out again. To save money, he layered foam and scavenged plastic bottles in the remaining voids of the pontoons.
"That actually worked pretty good," Phillips said. "Now I have barrels underneath it, and that's worked out the best. I'm still floating, so I'm OK."
In St. Francisville, La., this past Christmas, he got to see the pyres atop the river levee lighting the way for Papa Noël.
Just above New Orleans, Phillips had perhaps the most frightening close call of his journey. He lost steerage on Shameless, and the current carried him into the bow of an anchored cargo ship. He bounced off, then scraped the side of the ship and even hit a harbor tug.
"A tugboat came over to get me," Phillips said. "They took me over and pushed me to the shore. I went to tie off on a tree, and there on the next tree was a rosary hanging there. If that's not a sign, I don't know what is."
Phillips said he finds a deeper significance in all these stories. A self-professed Christian, Phillips said he grew up in the Lutheran tradition, but lost his faith some seven years ago when his 21-year-old daughter died.
"'How can you do this?'" Phillips said he asked at the time.
But as the seemingly miraculous happened over and over during his long trip down the river, Phillips said he learned to embrace his faith again.
"There's no way I would've made it without him," Phillips said. "Every time I pull into a place, every time I've needed something, he always puts me with the right people."
And like he has throughout his journey, Phillips has been met with overwhelming care in New Orleans, especially since his story appeared January 9 in the Times-Picayune/NOLA.com. The story featured a picture of Phillips paddling out to Shameless with a scavenged broom because he'd broken his paddle.
Phillips now has five paddles and counting.
On January 13, Phillips watched the New Orleans Saints defeat the Philadelphia Eagles from several places around Algiers Point. At each stop, someone else paid his tab. Also while in New Orleans, he's received a new, larger refrigerator for the houseboat, and someone has given him not only a dinghy to replace his leaky skiff, but a jet ski and outboard motor to go with it.
"The jet ski doesn't run and the boat motor doesn't run, but I'll be able to get them running," Phillips said. "That's going to be cool. A jet ski—I'll take a jet ski."
Looking back over his sickness, near-death experience, and the last 22-plus months on the river, Phillips said he is amazed and grateful. Though he believes his cancer is in remission, Phillips said he's ready for whatever comes his way.
"If I die tomorrow, I have no regrets," he said. "I've had the best years of my life. I've got so many good stories. If you told me four years ago I'd go down this river, I would've told you you were nuts."
But he said the adventure is not quite over.
"My destination was New Orleans—then I found out about Venice," Phillips said.
Venice, of course, is the last town on the west bank of the river in Plaquemines Parish.
Phillips' plan is to leave New Orleans January 21, then arrive in Venice, La., January 23. A party celebrating Phillips and his journey is planned for January 26 at the Cypress Cove Marina.
Phillips said more than 100 people have already indicated they're coming to the party, and he hopes to see people there from Chester, Ill., Hickman, Ky., St. Francisville, La., New Orleans and everywhere in between.
Caption for top photo: Kelly Phillips and his pug terrier, Sapphire, with his pontoon houseboat Shameless in the background. Phillips planned to continue his trip down the Mississippi River by going all the way to Venice, La. (Photo by Frank McCormack)