In addition to the command change at the Great Lakes and Ohio River Engineer Division July 12, a number of Corps of Engineers districts and Coast Guard units along the inland and Gulf Intracoastal waterway systems have held change-of-command ceremonies in recent weeks. Here is a rundown of some of the changes:
Vicksburg Engineer District
Caption for photo at top of page: Col. Robert Hilliard assumed command of the Vicksburg Engineer District June 26. (Corps photo by Jared Eastman)
Col. Robert Hilliard assumed the duties of commander of the Vicksburg Engineer District June 26. He came to the district after serving as the deputy commander for the Mississippi Valley Engineer Division.
He relieved Col. Michael Derosier, who had served as district commander since July 2016. Derosier will start a new assignment at the U.S. Africa Command, headquartered in Stuttgart, Germany.
Sign up for Waterway Journal's weekly newsletter.
Our weekly newsletter delivers the latest inland marine news straight to your inbox including breaking news, our exclusive columns and much more.
A native of Georgia, Hilliard graduated from Auburn University in Alabama, where he received his commission in the U.S. Army Corps of Engineers in 1996.
In addition to the Mississippi Valley Division post, Hilliard also served as secretary of the Mississippi River Commission, senior engineer observer/controller at the U.S. Army's National Training Center, Fort Irwin, Calif.; commander, 4th Engineer Battalion, Fort Carson, Col.; brigade operations and executive officer, 555th Engineer Brigade; executive officer, 14th Engineer Battalion; chief of plans, I Corps Engineer Section, Joint Base Lewis-McChord, Wash.; project manager, Wilmington Engineer District; commander, C Company, 70th Engineer Battalion, Fort Riley, Kan.; and platoon leader and company executive officer, A Company, 40th Engineer Battalion, Baumholder, Germany. Hilliard served two tours supporting operations in the Balkans, two tours in Iraq supporting Operation Iraqi Freedom and two tours in Afghanistan supporting Operation Enduring Freedom.
His civilian education includes a bachelor's degree in civil engineering from Auburn University, a master's degree in engineering management from the University of Missouri-Science and Technology and a master's degree in civil engineering from Montana State University. Hilliard's military education includes the U.S. Army Command and General Staff College and the U.S. Army War College.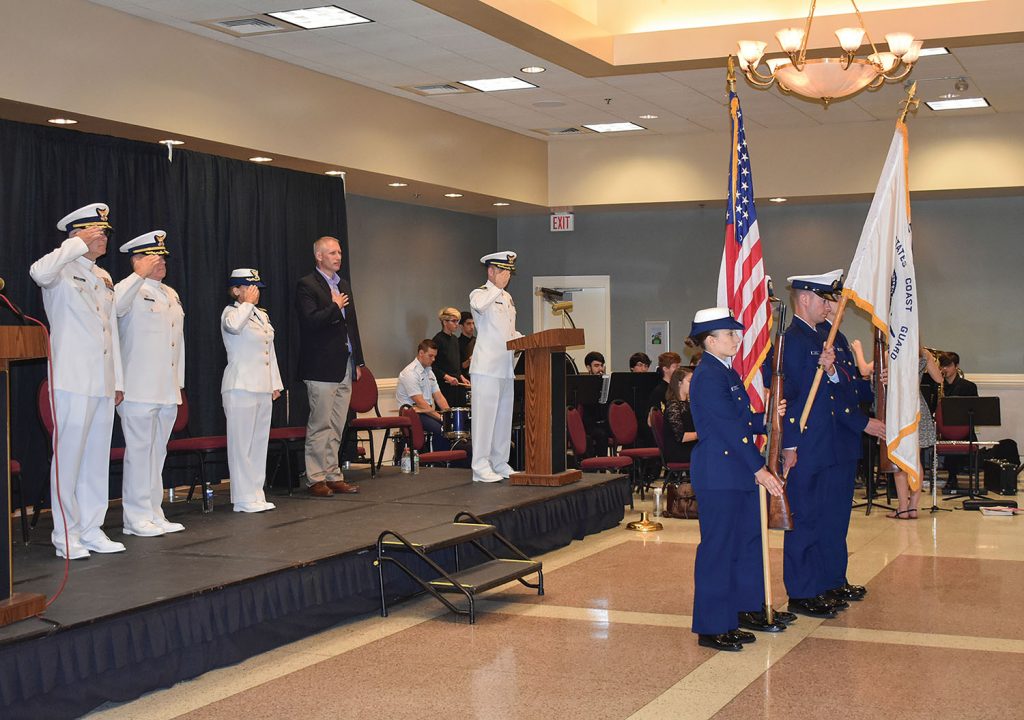 Coast Guard MSU Houma
U.S. Coast Guard Marine Safety Unit Houma, La., is now under the command of Capt. Jerrel "Wade" Russell, following a June 27 change of command ceremony.
Russell comes to Houma from the Coast Guard Training Center in Yorktown, Va., where he had served as marine safety training branch chief since July 2015. In that post, Russell oversaw inspections and investigations, port operations, preparedness and emergency response, the marine science technician "A" school, the container inspection training and assist team, and the National Strike Force Center of Expertise.
MSU Houma's outgoing commander, Capt. Blake E. Welborn, who assumed command of the unit in June 2017, won't have to move far for his next assignment. Welborn will now serve as director of western rivers with the Eighth Coast Guard District, located in New Orleans.
"I would like to thank the maritime community and our sister agencies of South Central Louisiana for their support during my tenure here," Welborn said. "You have been tremendous partners and friends of the Coast Guard. I would also like to wish Capt. Russell the very best as he assumes command."
As commander of MSU Houma, Russell has the roles of captain of the port, federal maritime security coordinator, federal on-scene coordinator, the officer-in-charge of marine inspections, marine investigations, and port safety and security in the Houma area, which includes waterways shared by both commercial and recreational vessels.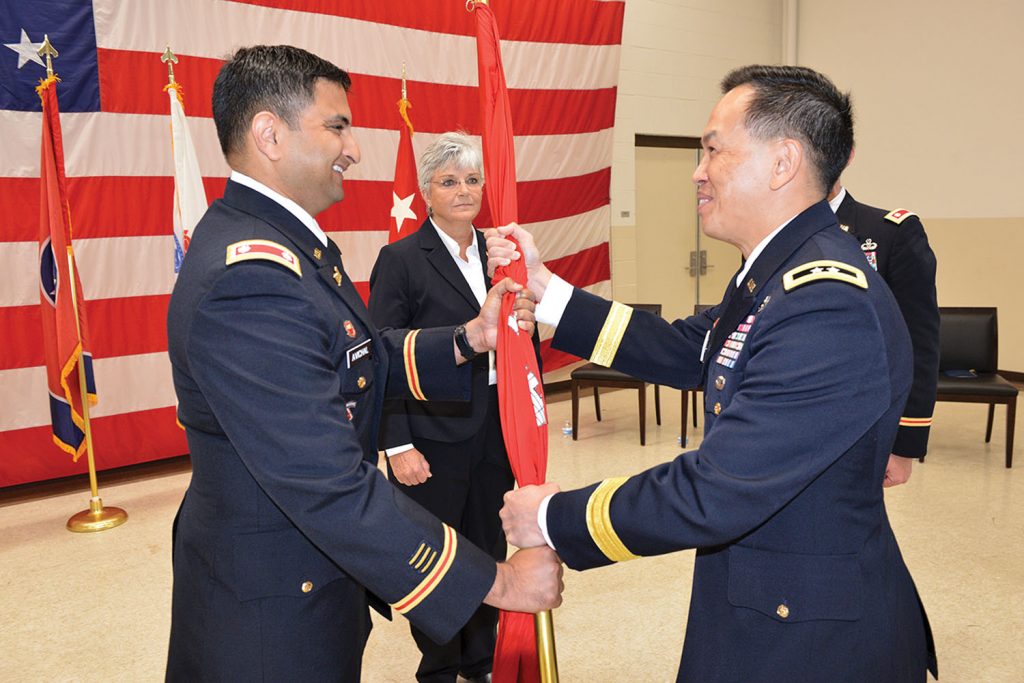 Nashville Engineer District
Lt. Col. Sonny B. Avichal took command of the U.S. Army Corps of Engineers Nashville District June 28 during a change-of-command ceremony at the Tennessee National Guard Armory. He becomes the 66th commander of the "twin rivers" district. Brig. Gen. Mark Toy, Great Lakes and Ohio River Engineer Division commander, officiated the change of command.
Avichal comes to the Nashville District from the New England District in Concord, Mass., where he served as deputy commander. As commander of the Nashville District, he assumes responsibility for managing the water resources development and navigable waterways operations for the Cumberland and Tennessee River basins covering 59,000 square miles, with 42 field offices touching seven states and a work force of over 750 employees.
Avichal received his U.S. Army commission in 2002 and has served in leadership and staff positions in Iraq, South Korea and multiple locations in the United States during his Army career. During his previous assignment with the New England District, he deployed to San Juan, Puerto Rico, in support of Hurricane Maria recovery efforts, and to Erbil, Iraq, where he served as deputy commander of the Mosul Dam Task Force.
His awards and decorations include the Bronze Star Medal, Meritorious Service Medal (with three oak leaf clusters), the Army Commendation Medal (with one oak leaf cluster), Joint Service Commendation Medal, Army Achievement Medal (with one oak leaf cluster), Iraq Campaign Medal (with three campaign stars), Korea Defense Service Medal, Ranger Tab and Parachutist Badge. He is a recipient of the Army Engineer Association's Bronze De Fleury Medal.
Avichal holds a Bachelor of Science degree in Civil Engineering from the United States Military Academy and a Master of Arts degree from Webster University. He is a licensed professional engineer in the state of Virginia.
Toy lauded the outgoing commander, Lt. Col. Cullen Jones, and noted how Jones had mentioned that his opportunity to command provided him the privilege of listening to, learning from and leading great teams through challenging times in the pursuit of worthy causes.
"Cullen has done an excellent job. His experience, leadership and his high standards, his push to get the best from his staff, contributed to the great success that the Nashville District has enjoyed," Toy said.
Jones is now slated to attend the U.S. Army War College at Carlisle Barracks in Carlisle, Pa.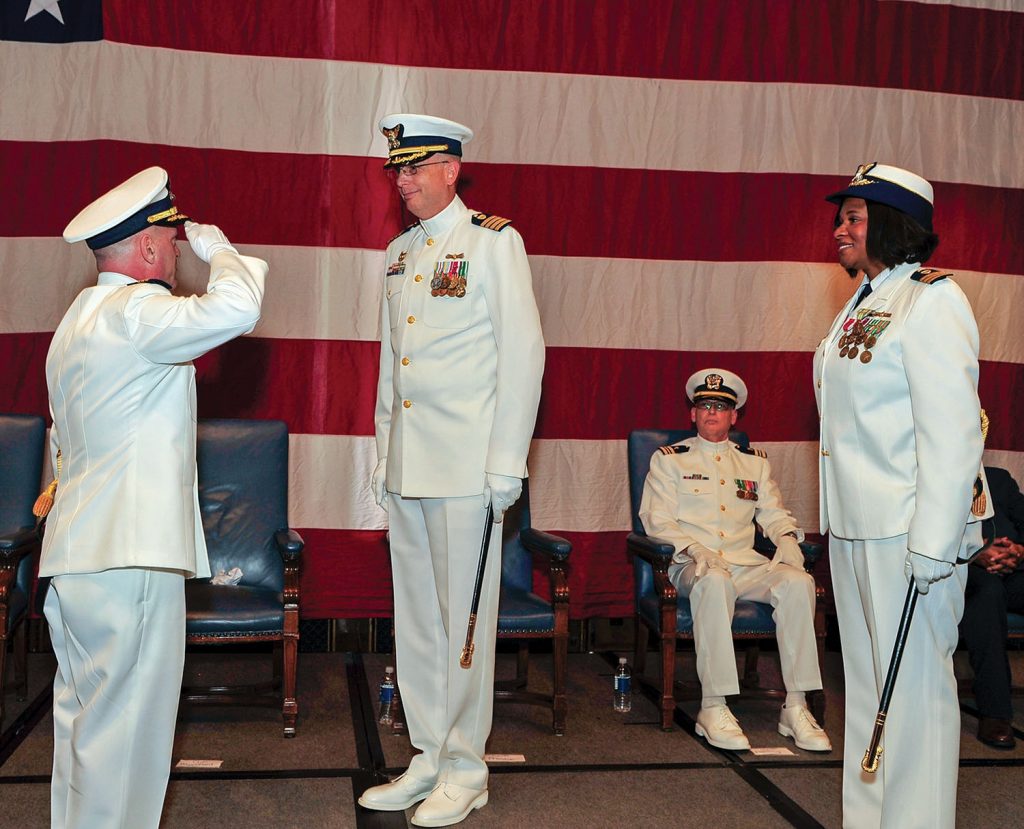 Coast Guard MSU Chicago
Cmdr. Randy Preston relieved Cmdr. Zeita Merchant as the commanding officer of the Coast Guard Marine Safety Unit Chicago in a ceremony held June 28 at the Union League Club of Chicago.
Capt. Thomas Stuhlreyer, commander of Coast Guard Sector Lake Michigan, presided over the event.
Preston arrived in Chicago from New Orleans, where he was the chief of the Coast Guard Investigations National Center of Expertise. Bringing 14 years of operations ashore experience, his previous tours include supervisor of Marine Safety Detachment Lewes, Del.; prevention department head of Marine Safety Unit Pittsburgh; and chief of the Inspections Division at Marine Safety Unit Galveston.
Merchant will transfer to Harvard University where she will serve as a National Security Fellow at Harvard Kennedy School's Belfer Center for Science and International Affairs.
Marine Safety Unit Chicago's area of responsibility includes a fleet of 201 inspected vessels and 118 regulated waterfront facilities on the Lake Michigan shorelines of Illinois and Indiana, as well as 186 miles of the Illinois Waterway System including seven locks and more than 250 bridges.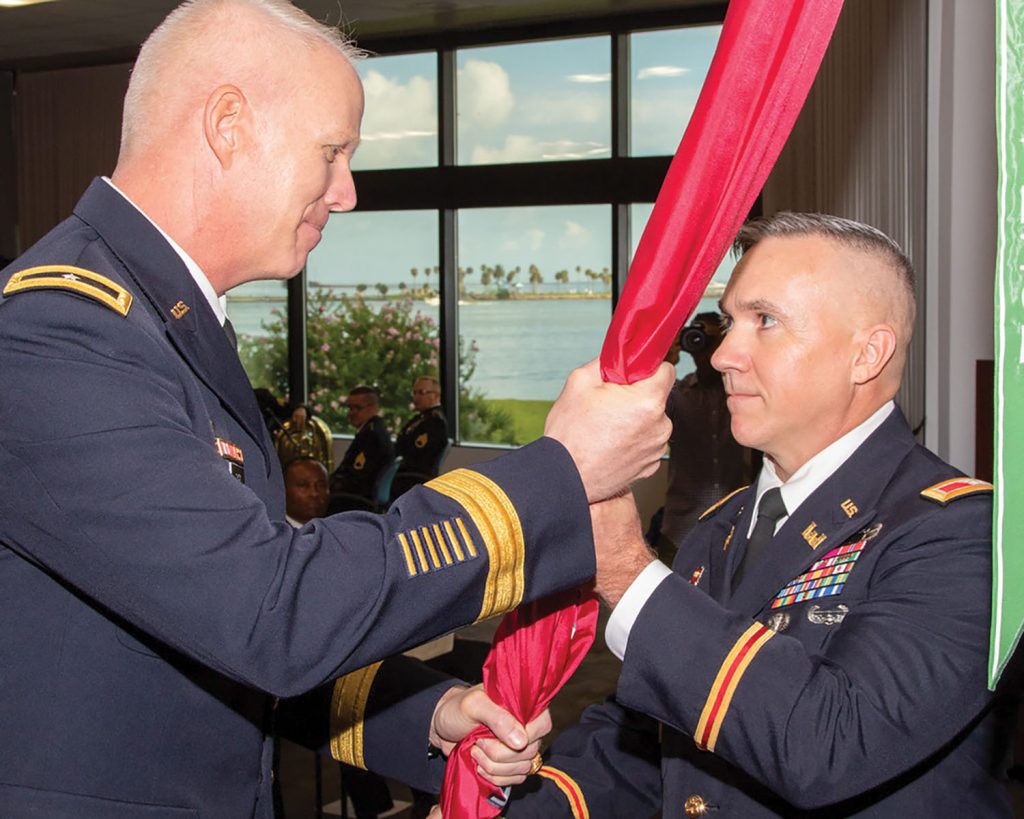 Galveston Engineer District
Col. Timothy Vail relieved Col. Lars Zetterstrom as commander of the Galveston Engineer District July 2 during a ceremony at the district's Jadwin Building.
Vail was commissioned in the U.S. Army in May 1997. He earned a Bachelor of Science in engineering and environmental sciences from the University of Notre Dame, a Master of Science in environmental engineering from Missouri University of Science and Technology, a Master of Science in construction management from Texas A&M and a Master of Arts in national security and strategic studies from the U.S. Naval War College. In addition, he is a graduate of the Army Force Management Course, Command and General Staff College and Engineer Officer Advanced and Basic courses.
Vail's previous assignments include: platoon leader, company executive officer and battalion logistics officer, 588th Engineer Battalion, and detachment leader, Engineer Support Detachment, 204th Forward Support Battalion, 4th Infantry Division, Fort Hood, Texas; assistant operations officer, 44th Engineer Battalion, 2nd Infantry Division, and later commander of A Company, 44th Engineer Battalion, at Camp Howze, Republic of Korea.
He served as a trainer and evaluator at the National Training Center, Fort Irwin, Calif., and deployed as the Corps deputy Arabian Gulf engineer for construction operations in Kuwait, Qatar, Oman, United Arab Emirates, Yemen and Bahrain. Later, as operations officer of 2nd Engineer Battalion, White Sands Missile Range, N.M., he deployed to Afghanistan during Operation Enduring Freedom. Upon redeployment, he was assigned to the RAND Corporation Headquarters, Santa Monica, California, as an Army research fellow.
Following his fellowship, Vail was assigned to the Pentagon's Office for the Deputy Chief of Staff for Programs, (G-8) in the Force Development Directorate, Full Dimension Protection Division. He then was selected for command of the U.S. Army Corps of Engineers Walla Walla District, where he oversaw the district's mission for hydropower production, inland waterways navigation, flood risk reduction, environmental stewardship and recreation from Oregon to Wyoming across the entire Snake River Basin.
Following command, Vail was selected by the assistant secretary of the Army for civil works to serve as her military assistant, supporting her execution of oversight duties over the entirety of the Corps' civil works mission. Vail assumed duties as the chief of the Requirements Determination Division, Maneuver Support Capabilities Development Integration Directorate for U.S. Army Futures Command in 2018.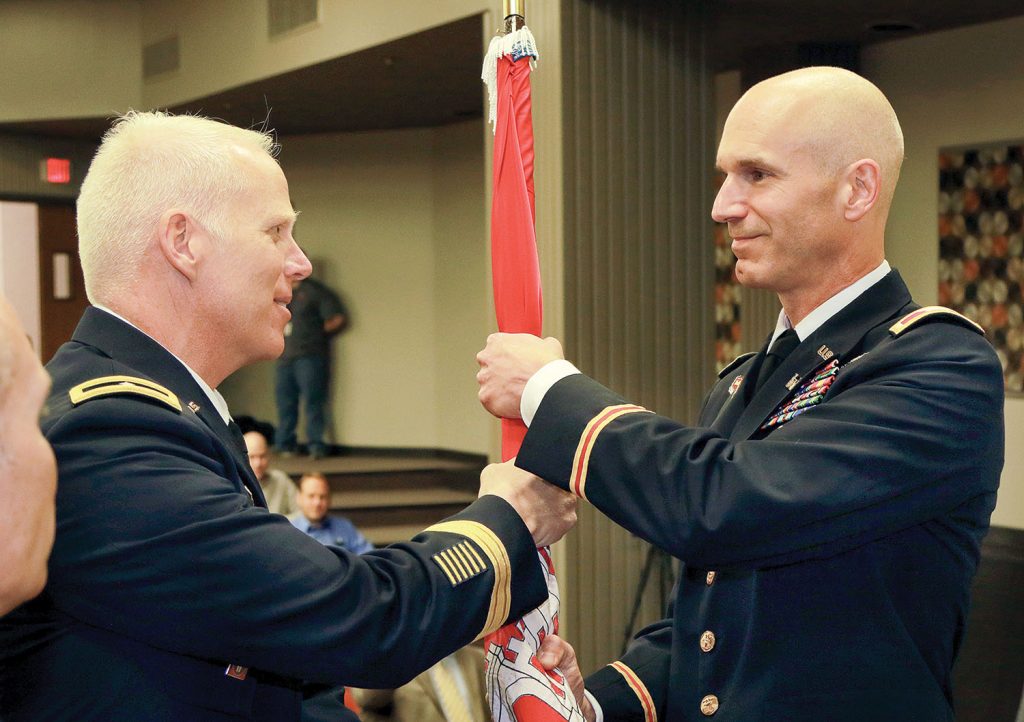 Tulsa Engineer District
The Tulsa Engineer District welcomed a new commander during a change-of-command ceremony July 8 presided over by the Southwestern Engineer Division Commander.
Brigadier Gen. Paul Owen, Southwestern Division Commander, received the Corps of Engineers flag from the outgoing commander, Col. Chistopher Hussin, and passed it to Col. Scott Preston during the ceremony at the Tulsa District headquarters.
Preston comes to the Tulsa District after graduating from the Marine War College at Quantico, Va. He hails from Liberty, Mo., where he is a licensed Professional Engineer in Missouri and a Certified Project Management Professional.
"The Tulsa District's reputation is well-known," said Preston. "When I was in [Washington] D.C., everyone I talked to about the Tulsa District talked about the great reputation, and I'm looking forward to being part of this team."
Hussin presided over the Tulsa District during one of the heaviest floods in the Tulsa District's 80-year history and provided leadership during a time of intense rainfall in Kansas and eastern Oklahoma. He thanked members of his family and "Team Tulsa."
"As bittersweet as this is, I can't help but smile thinking about what's ahead for Scott," said Hussin. "I've coined a new phrase over the last couple of weeks; I've called this the 'Heart of Awesomeness.' Welcome to the 'Heart of Awesomeness' but I know the workforce and our support communities in Oklahoma, Kansas and Texas will welcome you with open arms."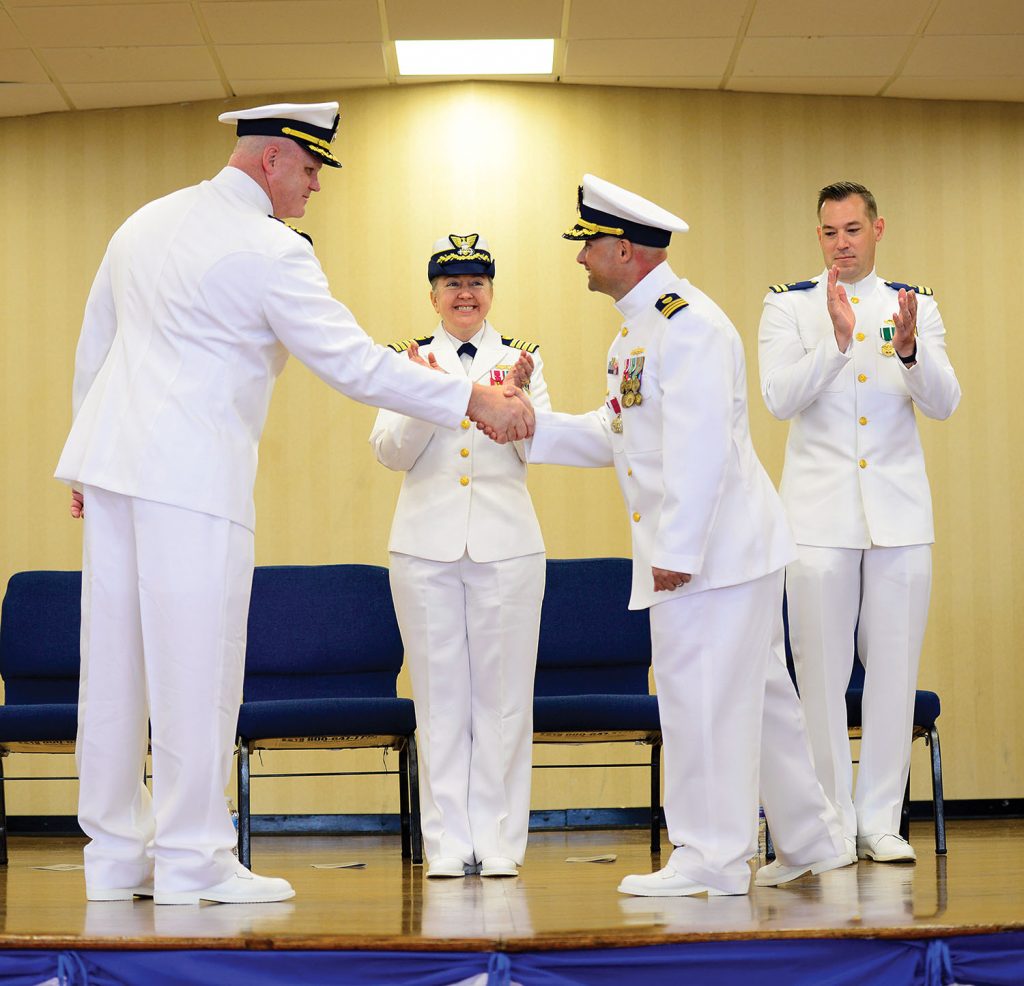 Coast Guard MSU Lake Charles
Coast Guard Marine Safety Unit Lake Charles held a change-of-command ceremony at the Lake Charles Civic Center July 10.
Capt. Jacqueline Twomey, commanding officer of Marine Safety Unit Port Arthur and captain of the port for Southeast Texas and Southwest Louisiana, presided over the ceremony as Cmdr. Darwin Jenson relieved Cmdr. Daniel Cost.
Cost has served as the commanding officer of the unit since July 2016. During that time, he led the Coast Guard's maritime safety, security, and environmental protection missions throughout an 8,400-square-mile area of responsibility in southwest Louisiana, the 11th busiest tonnage port in the nation. Most notable has been the Coast Guard's instrumental role in managing the rapidly expanding marine transportation system as the area prepares to lead the nation in the export of liquefied natural gas.
"It's been an honor to serve our country here in Southwest Louisiana," he said. "I'm truly humbled by the strong partnerships the Coast Guard has with this amazing community."
Cost and his family are moving to the Washington, D.C., area, where he'll be the executive officer of the Marine Safety Center, the Coast Guard's technical center of expertise for the safety and security of commercial vessels and floating offshore facilities.
Jensen is arriving from Coast Guard Sector Puget Sound, where he served as the chief of prevention. During his over 20 years in the Coast Guard, Jensen has served as program manager at Coast Guard Headquarters for Waterfront Facility Safety, a senior investigating officer at Sector Honolulu, chief of the inspections division at Sector Juneau, and marine safety team supervisor in Maui, Hawaii.
He is a distinguished graduate from Boise State University with a Bachelor of Science degree in biology. His personal awards include the Coast Guard Commendation Medal (three awards), Coast Guard Achievement Medal (three awards), Military Outstanding Volunteer Service Medal, and the Coast Guard Marine Safety Pin.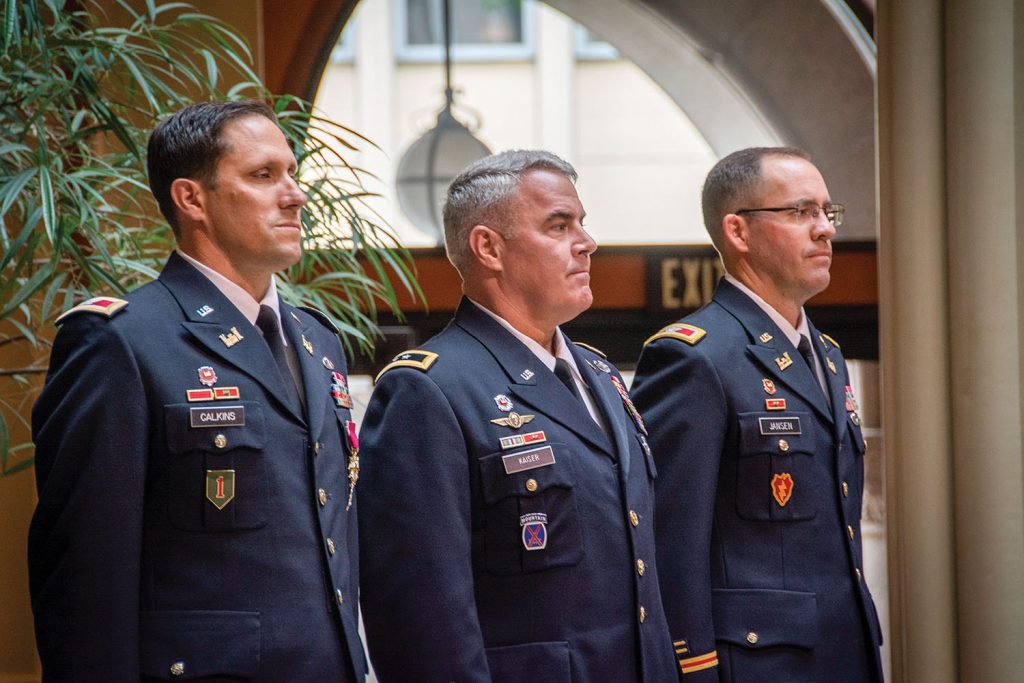 St. Paul Engineer District
The St. Paul Engineer District hosted a change of command ceremony at the historic Landmark Center in St. Paul, Minn., July 10.
Col. Karl D. Jansen assumed command of the St. Paul District from Col. Samuel L. Calkins. Jansen became the district's 66th commander and district engineer.
Prior to assuming this command, Jansen most recently served as executive officer to the commanding general of the U.S. Army Corps of Engineers in Washington, D.C.
A Colorado native, Jansen earned his commission from the United States Military Academy at West Point in 1997. His prior assignments include 72nd commander of the Corps' Buffalo District and tactical assignments at Fort Polk, Louisiana; Schofield Barracks, Hawaii; and Fort Stewart, Georgia.
Jansen is a registered professional engineer and certified project management professional. He holds a master's degree in civil engineering from the University of Washington and a master's degree in strategic studies from the U.S. Army War College.
The St. Paul District covers most of Minnesota, the western half of Wisconsin, the northeastern half of North Dakota and small portions of northeastern South Dakota and northeastern Iowa. It has missions in the area of flood risk management, navigation, environmental management, regulation, disaster response and recreation.
The district traces its origins to 1866, when Congress authorized the Corps of Engineers to establish a 4-foot navigation channel on the Upper Mississippi River. Maj. Gouverneur K. Warren, a West Point graduate widely acclaimed for his leadership at the Battle of Gettysburg, was tasked with establishing the district and conducting preliminary surveys of the Mississippi River and its tributaries. Warren arrived in St. Paul and opened the first district office in August 1866.