Obituary Notice: Capt. Elliot Crochet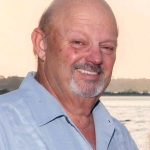 Capt. Elliot Crochet, 69, of Jasper, Texas, died in Biloxi, Miss., on August 2, 2019. "Captain Elliot" was born in Montegut, La., in 1950; as the eldest of five children and only boy, his world was immersed in the mystery of the canals, lakes and bayous of Terrebonne Parish. His youth was spent on a motorized skiff where he would explore the wonders of the southern Louisiana waterways from sunup to sundown; catch his weight in fish in a matter of hours; and challenge summer squalls as if he was dueling pirates intent on conquering his boyhood domain.
After years of helping his father, Merlin Crochet, manage his business aboard a wooden-hulled single screw pushboat, Crochet earned his captain's license in 1981 and eventually bought out his father. Later in life, as his daughters started their own families, he relished the opportunity to show his grandchildren how to fish, hunt and never lose one's bearing in some of the more impenetrable waterways.
Just as the yearning for the sea played a pivotal role in his career, so did his creative bent to build businesses drive his many and varied ventures. In 2008, after over three decades of navigating tows to offshore platforms in the Gulf of Mexico or pushing inland barges on the narrow reaches the intracoastal waterway, Crochet founded a fleeting and towing business that prospered on the banks of the Sabine-Neches waterway. He took the first initials of the names of his three grandchildren, Christina, Lauren and Maverick, to come up with the CLM Marine & Towing name.
As his career came to a close, he sold his various marine holdings and settled in Jasper, where he established an equipment rental business.