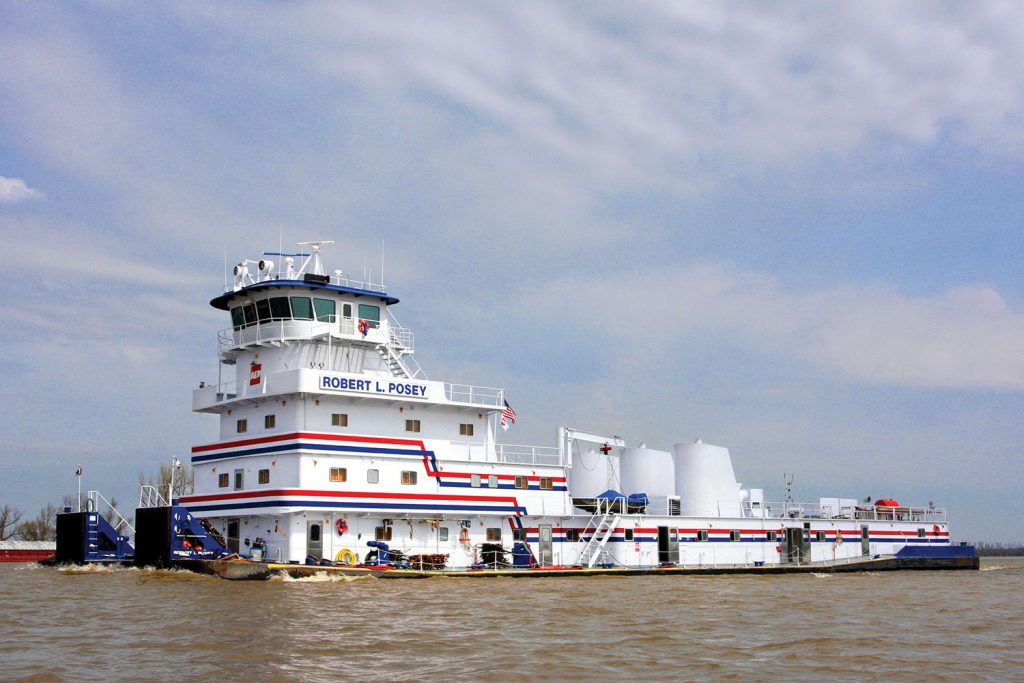 Forty-five years old and one of the most powerful towboats on the river, the mv. Robert L. Posey is about to receive some major new equipment that is anticipated to significantly improve its age-old performance. The triple-screw boat, owned by American Commercial Barge Line, is currently at JMI Paducah, where workers are installing new nozzles and rudders.
The project consists of inserting three St. Louis Ship-style Rice nozzles plus relocating the rudder stocks and steering system to accommodate new slow-speed Becker rudders behind each propeller. The driveline is being converted from its original strut aft design to a conventional shafting configuration.
The Posey was built by Dravo Corporation at Neville Island, Pa., in 1974 as the W.J. Barta for the former Valley Line Company of St. Louis. It is one of three 190-foot, triple-screw towboats capable of producing 12,000 hp., although they are typically run at 11,100 hp. The other two are the Ron W. Callegan, built as the Lily M. Freidman, and the Jeffrey G. Stover, built as the Miss Kae-D. Owned by ACBL, the three titans are powered by EMD 16-710G7C engines that were installed in 2010 as part of a renovation by James Marine that included gutting and rebuilding the entire deckhouse.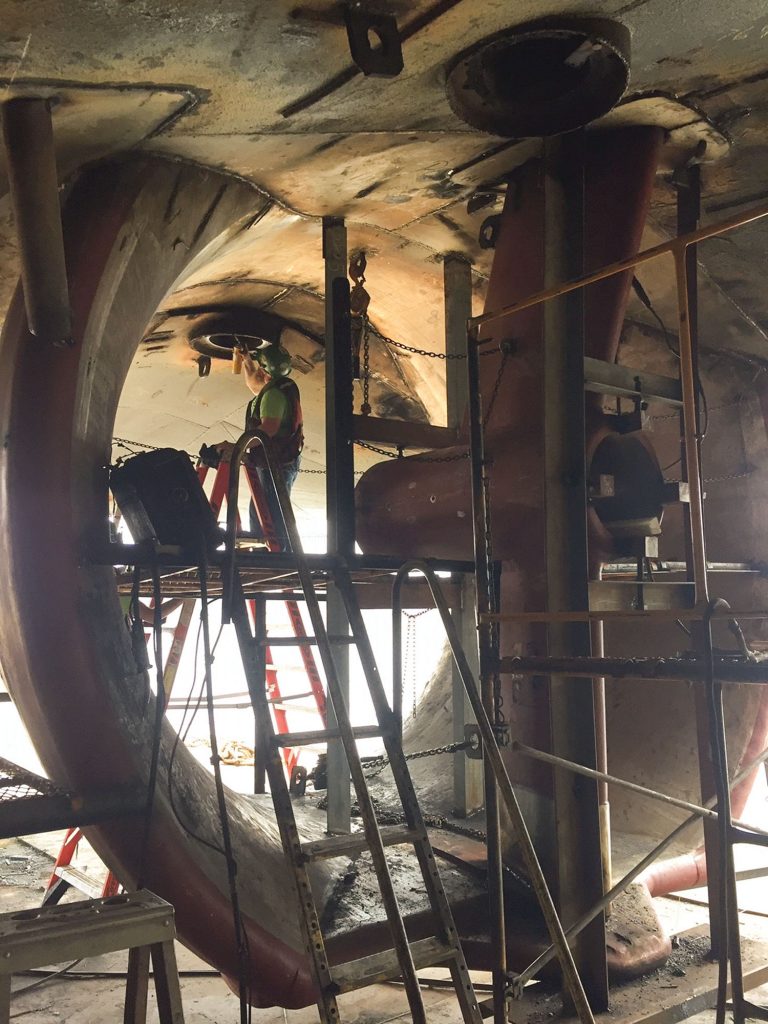 Long the project of ACBL's engineering department, the Posey is scheduled to have its latest upgrades completed around the middle of October. The first major rehab was in 2010. As of mid-July, JMI Paducah had installed the three nozzles, which were manufactured by Rice based on a St. Louis Ship design, for Posey's 120-inch wheels.
The shipyard was also in the process of installing the new steering rudder trunks to accommodate the new rudders, which represent the first installation of Becker Marine Systems' "Late Separation" models on a towboat.
"The new rudder is designed to enhance steering at slower RPMs, which saves fuel and increases maneuverability," said Joe Brantley, who is heading up the project with Ron Schneider and Ron Culp.
"Because the old propeller shafts were strut aft design, it requires the new Becker-designed trunks to be relocated farther aft in order to accommodate the new driveline," said Brantley. CT Marine was involved with the planning of the driveline upgrades and worked closely with Rice and Becker to ensure the design met all ACBL's requirements.
The latest upgrades on the Posey are expected to greatly enhance the overall performance of the vessel, Brantley told The Waterways Journal. Longtime ACBL employee Capt. Greg Smith—whose input is highly valued, said Brantley—will be navigating the vessel on its maiden voyage once the project is completed.
From the early stages of planning through the physical installation, the ACBL engineering team has worked closely with the ACBL operations team on this project, said Brantley. "With a project this size, it takes many people and their input to make it happen. Due to the collaboration of the port engineers and port captains, several adjustments have been made along the way to assure ACBL is getting the best possible finished product."
Caption for top photo: ACBL project managers Ron Schneider and Ron Culp flank James Marine superintendent Raymond Willingham. (Photo courtesy of ACBL)