Maritime Partners LLC, the Metairie, La.-based owners of more than a combined 350 towboats and barges on long-term charter, christened the mv. Ouizee October 4 at John Bludworth Shipyard in Corpus Christi, Texas.
The vessel is the second of six towboats the shipyard is building for Maritime Partners. The first, the mv. G. Brooks Sperry, debuted in late July. The Ouizee is the shipyard's 60th new vessel. John Bludworth Shipyard also handles close to 450 repair jobs each year.
The 2,600 hp. mv. Ouizee measure 84 feet by 32 feet with a mold depth of 11 feet. The vessel is named after Louise Brooks, the mother of Bick Brooks, Maritime Partners co-founder and chief executive officer. Speaking at the christening, Brooks explained the origin of his mother's nickname.
"My sister had her first kid three years ago," he said. "The name 'Louise' is a mouthful for a toddler to pronounce, so my sister's son just shortened the name to 'Ouizee.' The name ended up sticking, so my nephew and nieces all refer to my mother as 'Ouizee.'"
Brooks' mother is an award-winning architect. He said her hard work and dedication instilled in him the courage and determination to pursue his passion for boats and barges by starting Maritime Partners just four years ago.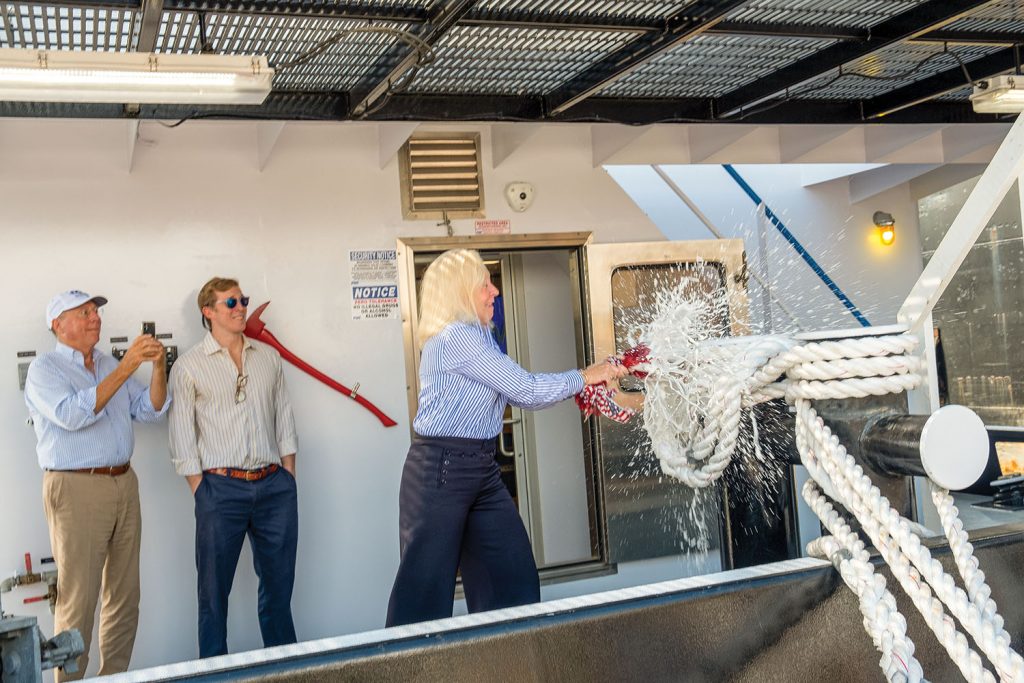 "I remember taking the bus home from elementary school each day and walking in the door to see my mom working away at our dining room table with drafting papers as she worked on her first architecture projects," Brooks said. "Her first office truly was our dining room table and she worked while she could, designing homes in our dining room for the first few clients who believed in her. It wasn't easy for her. She sacrificed time with her young family to focus on her architecture projects, but it was a sacrifice she made in the pursuit of her passion."
The mv. Ouizee, like the G. Brooks Sperry, is a John L. Bludworth III-designed vessel. The vessel's two Cummins QSK38 M1 Tier III main engines from Cummins Marine produce a combined 2,600 hp. and are mated to Reintjes WAF 665 reduction gears (5.95:1 ratio) with internal shaft brakes from Karl Senner LLC. The engines and gears drive a pair of four-blade stainless steel Sound propellers (82-inch diameter and 62-inch pitch) from Texas Wheel Works. R.S. Schmidt & Sons Machine Shop supplied the vessel's propeller shafts and rudders. Rio Controls & Hydraulics supplied the mv. Ouizee's steering system.
The vessel's service power comes courtesy of twin Cummins 99 kw. generators, also from Cummins Marine. Karl Senner also provided the Aventics Controls aboard the Ouizee, while Premium Electronics supplied the radar, radios, AIS and GPS aboard the vessel.
The mv. Ouizee has tankage for 38,143 gallons of fuel, 14,367 gallons of potable water, 350 gallons of lube oil, 150 gallons of gear oil, 500 gallons of slop oil and 100 gallons of hydraulic oil.
M&M Bumper Service supplied the vessel's laminated rubber fenders. Also on deck, the mv. Ouizee features a pair of 40-ton Patterson galvanized deck winches, two Quincy 325 air compressors and a full-width fleet deck forward of the main deck house.
Inside, the Ouizee features four staterooms and accommodations for up to six crew members. The vessel's galley features custom oak cabinetry, granite counter tops, a granite tabletop, and a spacious pantry and interior utility room.
As with the G. Brooks Sperry, the Ouizee features a "double chine" hull design, which streamlines water flow to the propellers and boosts the vessel's efficiency.
"The Ouizee is state-of-the-art equipped and follows the tried-and-true design of Mr. Johnny Bludworth," said Raymond Butler, new construction vessel representative for Maritime Partners.
At 2,600 hp., the Ouizee is well-equipped for pushing 600-foot tows on the open reaches of the Gulf Intracoastal Waterway or 900-foot tows on the Mississippi River, Butler added.
Maritime Partners is a privately-held company that provides tailored leasing solutions to the maritime industry in the United States. As a private company, Maritime Partners enjoys the freedom to offer customized leasing services to operators across the full spectrum of credit quality. Maritime Partners can provide financing for a wide array of assets, including towboats, tugboats, tank barges, hopper barges, deck barges, ATBs, dredges and other specialty vessels.