Tuscaloosa, Ala.-based Parker Towing Company christened a pair of towing vessels November 15, naming them for longtime friends and business associates Normond McAllister and the late George Hampton "Hamp" Uzzelle III.
The ceremony was held at the GulfQuest National Maritime Museum of the Gulf of Mexico, along the west bank of the Mobile River in Mobile, Ala., on a brisk, breezy and cloudless fall day.
"We're renaming these boats after two people very special to Parker Towing who have helped us over the years, advised us, kept us out of harm's way, and really been great friends to Parker Towing Company," said Tim Parker III, president of Parker Towing, welcoming the crowd gathered for the christening.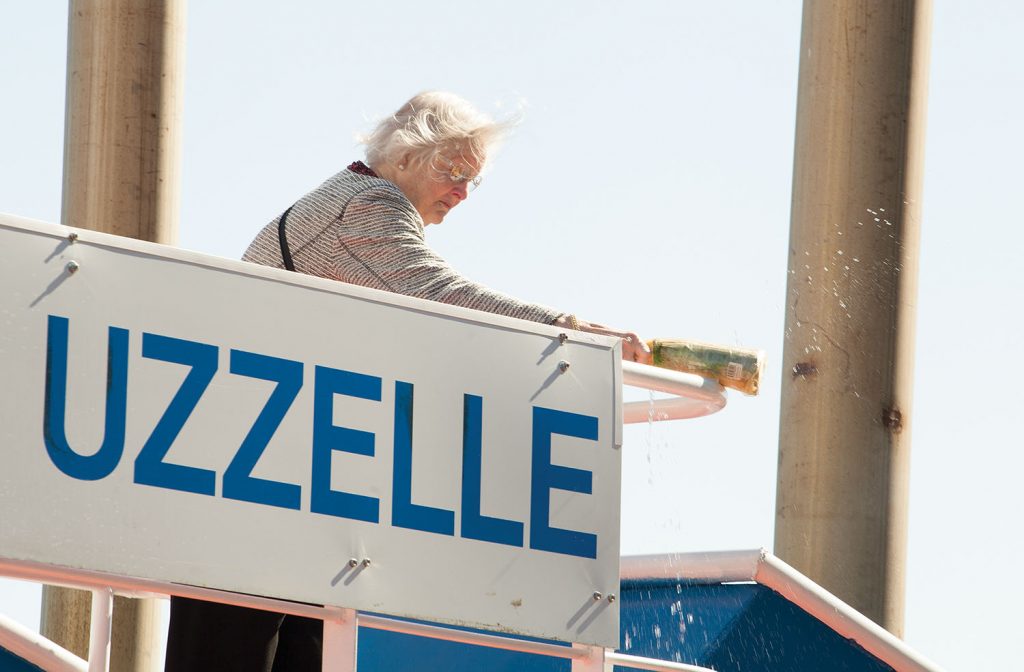 Hamp Uzzelle
Tim Parker Jr., chairman of Parker Towing, then introduced the two namesakes, both of whom are old personal friends and maritime industry leaders as well. Uzzelle, who died in late 2013, was a graduate of both the University of Virginia and Tulane University Law School. He spent six years as a naval aviator and captain in the United States Marine Corps. Following his service to the country, he spent 44 years as a maritime attorney with Hand Arendall in Mobile. During that time, he served as Parker Towing's admiralty attorney.
"In his office up there, the corner office, there was always a telescope," Parker said. "Looking out on Mobile Bay, he could identify all the boats and the barges and ships. Hamp was a lawyer's lawyer. He knew when to hold 'em, and he knew when to fold 'em. He was a great advocate and a dear, dear friend."
Uzzelle's wife of 50 years, Kathie, surrounded by her family on the deck of the mv. Hamp Uzzelle, ably christened the vessel into the Parker Towing fleet. Speaking after the ceremony, Uzzelle said it was an honor to see her husband's name on a Parker Towing vessel.
"It was thrilling," she said. "My husband was their attorney, and he was crazy about this family too. This was very much a special thing for him. He was a maritime attorney and loved the water and loved the boats, particularly these types of boats."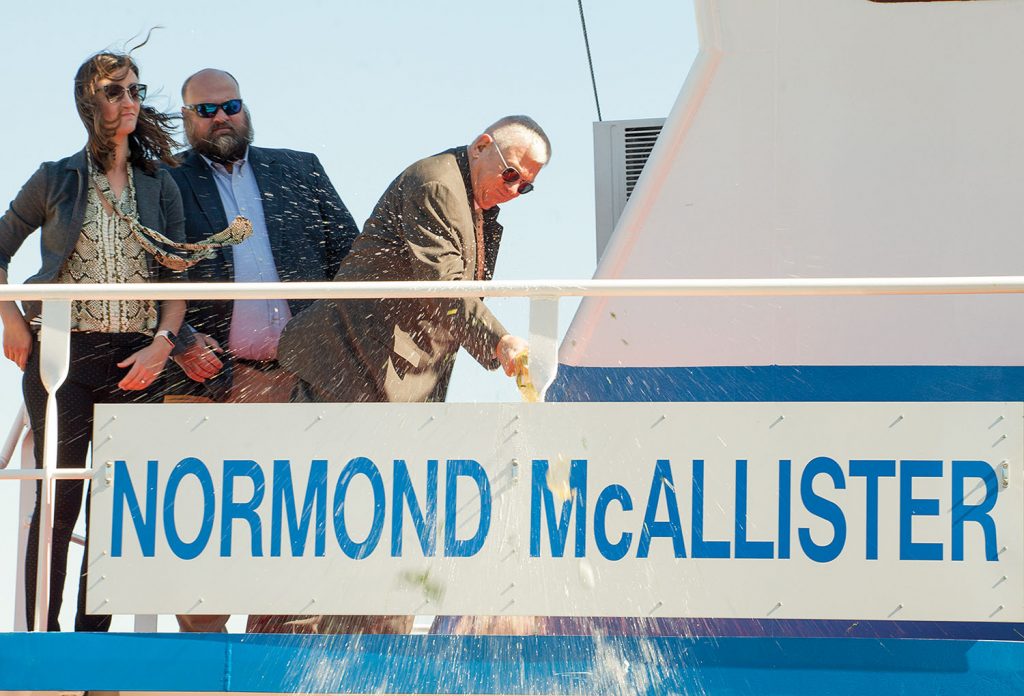 Normond McAllister
Parker actually met McAllister while serving with the U.S. Army in Vietnam in the 1960s. McAllister said he actually already knew Parker's father, often simply referred to as "Capt. Tim."
"My mother's first cousin was married to one of Warrior & Gulf's captains," McAllister explained. "He and Capt. Tim had been friends since the early '40s. So when we'd go with him to Tuscaloosa, we'd go by and see Capt. Tim and Mrs. Thelma."
McAllister said he'd not been in Vietnam long when he was told, "We got a guy named Tim Parker from Tuscaloosa, Ala., coming into the company out of Germany."
"When they told me Tim Parker was coming, I thought it was Capt. Tim, and I was thinking, 'Boy this war is getting real serious to bring somebody of that age over here,'" McAllister said. "I didn't know Capt. Tim had a son."
The two proved fast friends. After the war, McAllister worked primarily in the maritime industry, including stints as an electrician in several major shipyards, an engineer in the U.S. Merchant Marine, and marine construction manager for George Engine Company. In 1980, Parker and McAllister together formed American General Transportation, which grew into American General Oil Corporation and Gulf Terminal Corporation. The last related asset, a liquid asphalt terminal in Panama City, Fla., was sold in February 2019. Now, McAllister serves as a reserve Alabama State Trooper and flies his Navy SNJ and Army U8-F airplanes any chance he gets.
"His word is his bond," Parker said of McAllister. "He's the type of guy you always want. We've been honored to call Normond a friend."
"To me, it's such an honor to have a boat named after me that's in the Parker fleet, because every one they have, the person it's named after is somebody that I knew," McAllister said. "From Capt. Tim to the Thelma to the Cullen Landolt, all of those are people I knew and associated with."
McAllister then climbed aboard his namesake vessel and shattered a bottle over its railing, officially christening it into the Parker fleet.
Rev. James Flowers, rector of All Saints Episcopal Church in Mobile, offered an invocation and prayer of blessing for the vessels and crews. Following the christening ceremony, guests gathered for a reception inside the GulfQuest Museum.
The Boats
The mv. Hamp Uzzelle and mv. Normond McAllister were two of five vessels Parker Towing acquired in early fall 2018 when the company purchased the assets of Henry Marine Service Inc. The vessels were formerly called the Natalie H and the Beverly H, respectively.
The mvs. Hamp Uzzelle and Normond McAllister both received an extensive refurbishment at Blakely Boatworks in Mobile. The Hamp Uzzelle was originally built in 1960 by Hawkings Towing & Barging Co. in Beaumont, Texas. The vessel measures just over 64 feet by 24 feet. Repowered with twin Mitsubishi S6RY3 main engines from Laborde Marine, paired with Twin Disc 5222 reduction gears at 6:1 ratio from Sewart, the Hamp Uzelle offers 1,368 hp. The hydraulic-over-electric steering system was provided by Hydra Force. The Hamp Uzzelle is assigned to Parker Towing's Mobile/Gulf Operations division, where it will serve as a fleeting vessel in the Mobile area.
The mv. Normond McAllister was built in 1981 by United Shipbuilding & Repair in Vinton, La. Measuring 60 feet by 22 feet, the Normond McAllister was repowered with the same engine package and reduction gears as the mv. Hamp Uzzelle. The Normond McAllister also joins Parker Towing's Mobile/Gulf Operations fleet, where it will serve the James F. Crist power plant in Pensacola, Fla.
Caption for top photo: The Normond McAllister and Hamp Uzzelle are the newest additions to the Parker Towing fleet. (Photo by Frank McCormack)
For more pictures from the christening ceremony, see the slideshow below:
From left, Chas Haun, executive vice president of Parker Towing; Alison Phillips, recruitment manager and director of communications for Parker Towing; Normond McAllister, longtime maritime industry leader and close friend of Tim Parker Jr.; Kathie Uzzelle, wife of the late Hamp Uzzelle, Parker Towing's longtime admiralty attorney; and Tim Parker III, president of Parker Towing Company. (Photo by Frank McCormack)