The Kentucky Department of Fish & Wildlife Resources (KDFWR) has increased staff and is employing innovative new methods to try to reduce the number of Asian carp already in the state's rivers and lakes.
The agency gave an update on carp eradication efforts during the Outdoor Life Field & Stream Expo January 17–18 in Paducah, Ky.
Jessica Morris, fisheries biologist from the KDFWR critical species investigation branch, led the discussion.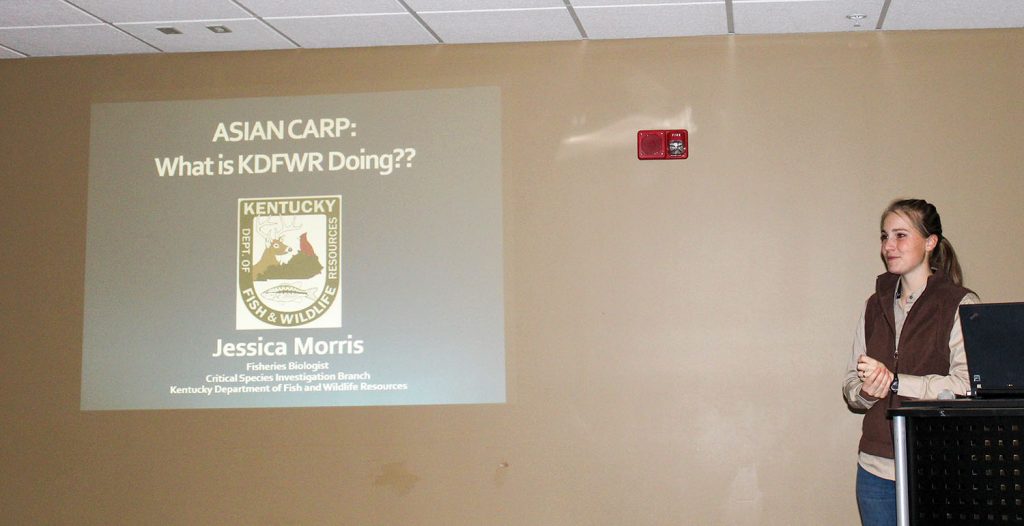 "There are actually four kinds of Asian carp in Kentucky, but only one of those species jumps out of the water," she said before talking about the problems caused by not only the jumping silver carp but also grass carp, black carp and bighead carp.
Sign up for Waterway Journal's weekly newsletter.
Our weekly newsletter delivers the latest inland marine news straight to your inbox including breaking news, our exclusive columns and much more.
All four species compete with shad for food and compete with all other fish for space, Morris said.
The KDFWR has increased its staffing to respond to the increase in Asian carp. From one initial staff member in 2015, the critical species investigation branch has grown to nine full-time staff members, with five people in the far western Kentucky city of Murray and four more in the state capital in Frankfort. That includes employees who are out on the rivers and lakes daily, Morris said, interviewing commercial and recreational fishermen, attaching transponders to carp and native fish species and conducting surveys of native fish communities.
Studies have shown the tailwaters of Kentucky and Barkley lakes have some of the highest densities of Asian carp in the state, but they also have a high density of native fish varieties, Morris said. Most of the Asian carp documented currently living in both lakes were spawned in 2015, Morris said. That is the only year the young carp have been documented in the lakes, she said. However, biologists still don't know what caused the massive spawn that year. Carp are open-water spawners that successfully reproduce in free-flowing river channels more frequently than in lakes, she said. Most of the carp in the lakes other than those spawned in 2015 swam in through the locks, she said.
Eradication Methods
Along with continued support of carp harvest subsidies of 5–10 cents a pound paid to commercial fishermen, free licenses for those signed up with the state's carp harvesting program and free ice to keep carp fresh during hot weather, KDFWR is testing new technology to try to eliminate the carp, Morris said. That includes the recently deployed Bio-Acoustic Fish Fence at Barkley Dam. Over its test period, scientists will monitor the movement of carp and other fish to see if the lights, sounds and bubbles crossing the lock chamber approach have any effect on the fish. Encased in a concrete shell installed below the sill of the lock chamber, the BAFF should have no affect on navigation, although noises may be audible through vessel hulls, and lights may be visible during low water, she said. The U.S. Fish & Wildlife Service is paying for the operation of the BAFF for three years. The University of Minnesota found it to be 97 percent effective against Asian carp in a lab setting, she said.
A newer method for removing Asian carp to be tried in two bays of Kentucky Lake in February is called the unified or modified method, and it, fittingly, comes from Asia, Morris said. The process uses nets, electro-fishing and sound to block off the mouths of the bays and systematically corral the carp into a small area for removal with nets and a marine fish pump. Thousands of pounds of fish can be removed from a bay in a single event, she said, while game fish don't respond to the sounds and, largely, are not harmed.
The harvest technique will be compared with traditional commercial fishing methods, which should not be underestimated, Morris said. "Some of them can pull in 10,000 pounds a day with just three guys," she said. She noted that commercial fishers harvested more than 6 million pounds of Asian carp from Kentucky waters in 2019, setting a new record.
Morris asked those who noticed large schools of carp or spawning activity to contact the state's western district fisheries office by calling 270-759-5295 or sending a message on the district's Facebook page at facebook.com/westerndistrictfisheries. The informant should report the date they spotted the fish, the precise location and a screenshot from their electronic equipment, if possible.
Caption for photo: Silver carp jump on the Cumberland River just below Barkley Dam during a Kentucky Department of Fish and Wildlife Resources electrofishing expedition in July 2019. Electrofishing typically stuns fish for a few seconds before they regain mobility and swim away, but silver carp are known to jump from the water when startled by the electrical current. The electrofishing is one of a variety of ways KDFWR is trying to remove the invasive carp that can pose dangers for people and equipment.