Roughly 80 river industry professionals gathered February 13 to hear about the future of container on barge service during a panel discussion at the Central Ohio River Business Association's (CORBA) winter meeting.
Marine Highway Project
The meeting, held at the BB Riverboats complex in Newport, Ky., also featured a surprise announcement.
Timothy Pickering, operations development manager for the U.S. Department of Transportation Maritime Administration (MarAd), presented a certificate formally designating a new short-haul service along the M-70 marine highway route as a marine highway project, making it an approved project eligible for potential federal grant funding.
The project uses barge transportation to replace trucks connecting Nucor Steel's manufacturing facility in Gallatin, Ky., with customers in the Cincinnati to Louisville Marine Highway Route on the M-70. The concept employs a regularly scheduled barge service instead of flatbed tractor-trailers to transport steel coils, transporting 60 coils at once instead of one per tractor-trailer rig. According to the application, the new service is already replacing 500 tractor-trailer loads a month with barge transportation on the central Ohio River. Arriving at the Port of Louisville, the coils can either find an efficient railroad connection or go out by truck for local delivery to customers.
Sign up for Waterway Journal's weekly newsletter.
Our weekly newsletter delivers the latest inland marine news straight to your inbox including breaking news, our exclusive columns and much more.
The project sponsor was the Ohio, Kentucky and Indiana Regional Council of Governments, and project partners are Nucor Steel, the Central Ohio River Business Association and the following ports: Cincinnati and Northern Kentucky, Louisville, Brandenberg, Indiana-Clarke Maritime Center and Paducah.
Marine highways aim to promote projects that relieve traffic congestion by moving more cargo by barge. Once marine highway routes are designated, state and local government agencies are eligible to apply for designations for specific projects. Only designated marine highway projects are eligible to apply for marine highway grants.
Pickering said the project is the 35th designated project in the country.
"This is only the second service that's operating on the Ohio," he said. The Ohio River is designated as Marine Highway 70 or M-70.
Pickering said approved projects have been proven again and again to both reduce congestion and improve safety.
Container On Barge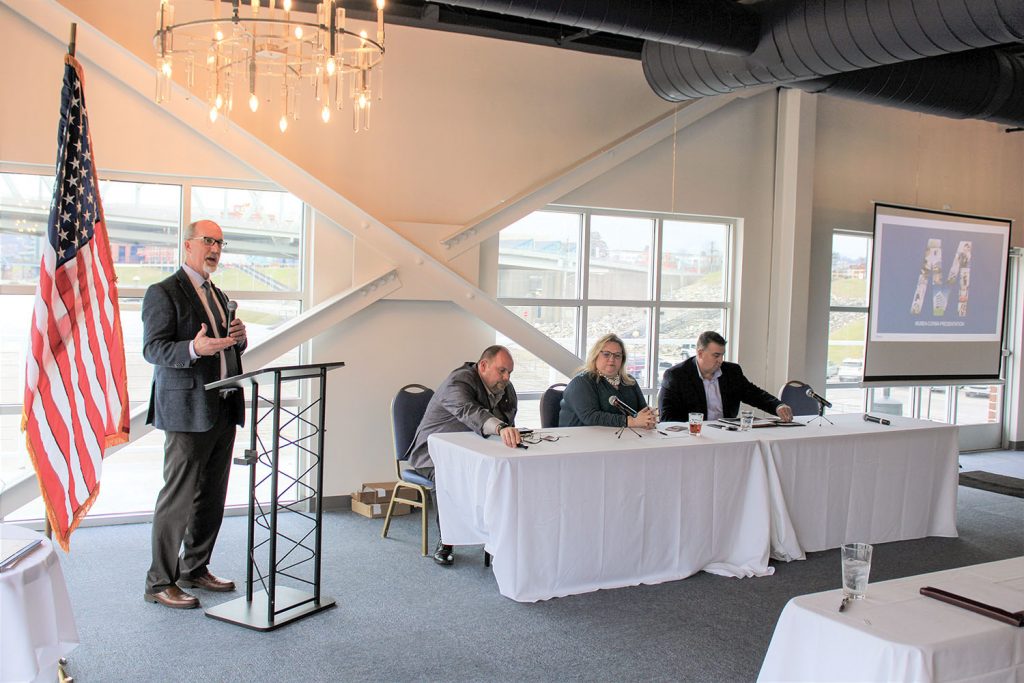 Mike Leopold, transportation/logistics manager of Mubea North America, Nicole Favorite of Horizon Freight System Inc., and Rich Teubner, vice president of SEACOR AMH LLC, led the panel discussion about container on barge.
SEACOR AMH LLC currently provides a container-on-barge shuttle service between Baton Rouge and New Orleans in Louisiana. He showed a photo of an eight-barge tow as he talked about the potential for growth. "That's what we would like to see," he said. "We do this once a week, sometimes twice a week."
SEACOR also moves empty containers from Memphis, Tenn., to Port Allen, La. The service has also moved containers in Houston, Texas, and Mobile, Ala. SEACOR AMH keeps about 800 containers, enough for two to three weeks of service, at its slackwater terminal in Port Allen, Teubner said.
Beginning later this month, Teubner said, SEACOR AMH will also begin moving containers in the St. Louis, Mo., area.
He said he would like to see container on barge used at smaller ports as well, but noted that the service is highly dependent on the establishment of larger customers with a regular need to move their products in order to keep the services economically feasible.
So far, he said the interest has been along the Mississippi River, "But we'd like to explore doing that," he said when asked about feasibility along the Ohio River, if customers are interested.
Container-on-barge service could also see potential growth from metropolitan areas possibly metering or creating a congestion mitigation tax on commercial vehicles. Such plans are under consideration in municipalities both on the East and West coasts, Teubner said.
One thing that will have to change for container-on-barge service to be largely successful is that there will have to be some flexibility created in the system, Teubner said. Attitudes have often been '"Get me my cargo. I need it today,'" Teubner said. "Barge traffic just doesn't support that."
Favorite said she sees container on barge service as part of a solution to problems such as a shortage of drivers and congestion at seaports and rail terminals.
"Globally, 95 percent of all manufactured goods at one point are moved by container," she said.
Leopold talked about how container-on-barge service could be part of a solution for businesses like Mubea, a global market leader in the development and manufacturing of key automobile parts, such as coil/suspension springs. Mubea has its headquarters in Attendorf, Germany, but it has one of its main North American facilities in Florence, Ky., just south of Cincinnati.
"I think containerized cargo opens up a whole new world of potential," Leopold said, saying he was cautiously optimistic about the service.
He noted aging roads and bridges throughout the United States and congestion along the rails as reasons more companies might want to move their freight by water.
"It seems like the only infrastructure improvements going on are at the seaports and the airports," he said.
Challenges he saw as key to overcome include a container shortage in Europe, chassis shortage and uncertainty over tariffs and trade agreements.
"Costs are rising, and we need to figure out a way to reduce our costs," Leopold said. "I don't know if container on barge is a solution for Mubea, but I know it's a solution for someone."
Caption for top photo: Tim Pickering (third from right) of the U.S. Maritime Administration presents a certificate designating a Nucor Steel's hauling of steel coils by barge from Gallatin, Ky., to customers via the Port of Louisville as a marine highway project. The Ohio, Kentucky and Indiana Regional Council of Governments was the project sponor. Partners included Nucor Steel, the Central Ohio River Business Association and several ports in Kentucky, Indiana and Ohio. (Photo by Shelley Byrne)