In March, C&C Marine & Repair, a Belle Chasse, La.-based full-service marine fabrication and repair shipyard, wrapped up construction on the fifth and final boat in a series of 6,600 hp. triple Z-drive towboats for Marquette Transportation. It's the ninth overall triple Z-drive inland towboat from C&C, with a four-vessel series built previously for SCF Marine.
To mark the end of the series, Marquette offered C&C owner Tony Cibilich the chance to name the last vessel. Cibilich said he immediately knew what name deserved to be on the vessel: Randy Mauer, the shipyard's manager of boatbuilding who oversees new vessel construction.
"Randy's pretty much the heart of C&C's boatbuilding program," Cibilich said. "We'd started building offshore supply vessels before Randy got here, but once Randy got here, he made everything go better. The amount of practical experience Randy brought to the table was very helpful to the company."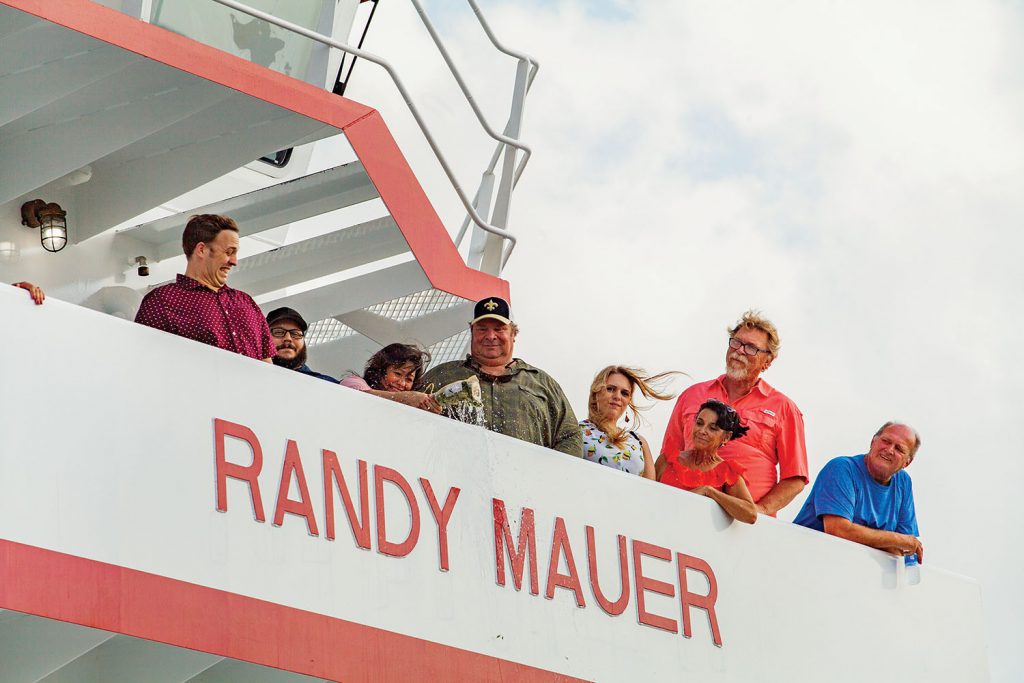 Mauer got his start in the maritime industry at age 16 with Zito Companies, doing barge repair. He went on to work at Louisiana Dry Dock (now National Maintenance & Repair), Triangle Fleet and Elmwood Shipyard, along with more than five years doing shipyard work in South America.
Mauer admitted that the repair side of things, especially when he started out more than 40 years ago, was a hard line of work.
"It was a tough life when I first started, you know," he said, adding that repair work on the Mississippi River was an especially dangerous environment. "I told Tony every year my New Year's resolution was to find a new job, until I came to work for him. Then I had to change my resolution."
But those years worked together to give Mauer the training to excel in his role as new construction manager: the first new construction job he's ever had.
"It was a learning experience," Mauer said. "That's where you get all your experience from because you see different projects on a daily basis, so things that the engineering department's not aware of or they don't have experience in, at least I have a little knowledge of it that can maybe help them out a little bit. Field engineers, that's what we are."
That's putting it lightly, according to Mauer's colleagues. C&C does all its engineering in-house with a team of naval architects. If there's ever an issue or question with the design of a vessel, the engineers will conclude "That's a Randy question" and call Mauer.
"He's got the institutional knowledge, the experience, and he knows how things work," Cibilich said.
Mauer said much of that success is due to the team at C&C, particularly the longevity of many of the shipyard workers.
"All my core fitters are the same guys; there's no turnover," he said. "We have highly-trained guys. Having the so-called 'A' team is a good thing."
He also said the enormous success of the shipyard can be attributed to the way Cibilich has set up the company for success. C&C does almost all its work under roof and invests heavily in technology and equipment, from transporters and heavy-lift cranes to its expansive, automated blast and paint facility.
That investment has translated into a rarely seen efficiency in the shipyard world. The 6,600 hp. triple Z-drive boats took only about eight months from start to finish, Cibilich said. C&C is also in the midst of a 15-boat series of 2,600 hp. vessels for Maritime Partners LLC. The first boat in that series, the mv. Paula M. Sperry, was completed in about 4-1/2 months.
Also in the queue for C&C are three 6,000 hp. towboats for Hines Furlong Line, a 4,400 hp. vessel for Parker Towing Company, and two as-yet-unassigned 2,000 hp. towboats.
A Family Christening
C&C Marine & Repair rarely holds christenings. In fact, in the 22 years prior to the mv. Randy Mauer, the company only had three, all for OSVs. That was set to change March 28, when C&C planned to hold a double christening for the mv. Randy Mauer and mv. Paula M. Sperry at Mardi Gras World in New Orleans.
Then came stay-at-home orders to blunt the spread of COVID-19, the disease caused by the novel coronavirus. The company was forced to cancel the event.
Mauer said he had planned to make a speech at the formal christening, during which he was first going to thank his wife, Cindy Mauer.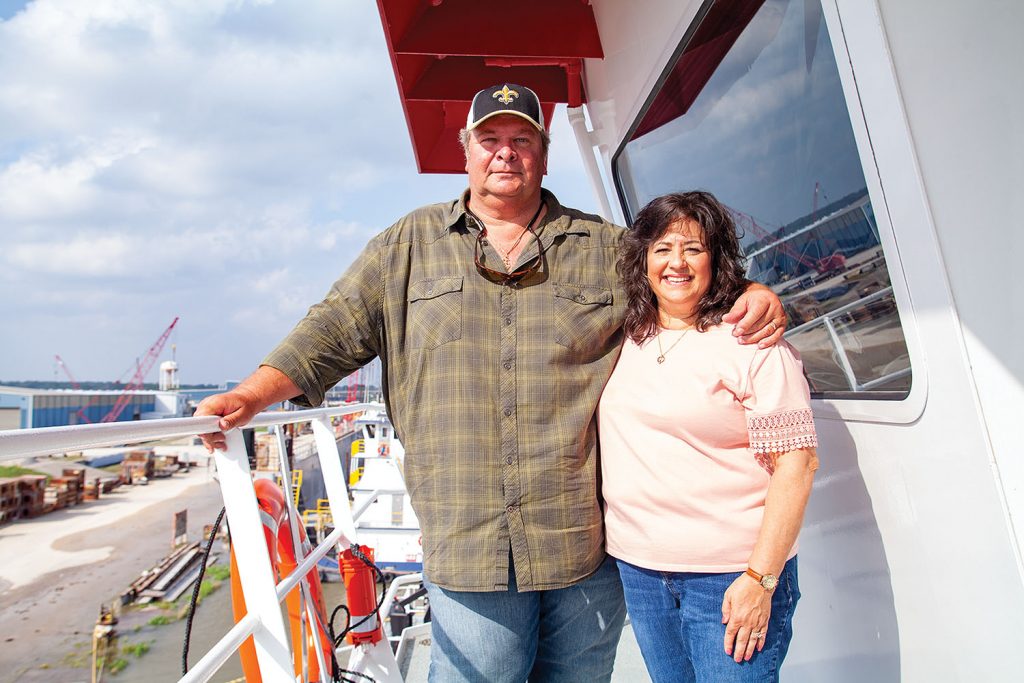 "My wife didn't know it, but she was going to break the bottle," Mauer said. "I was going to say that, when I went down to Venezuela for those years, every time she'd drop me off at the airport she'd say, 'I can't take this any more. When is it going to get better?' And I was going to say, 'Didn't it get better?' and then hand her the bottle."
Mauer was then going to recognize all the workers that make up C&C, starting with the 58 who work for him and extending to every department.
"This is for every man and woman that works at C&C, not just me, because this is representative of what they do," he said.
And though C&C had to cancel its formal christening, the mv. Randy Mauer was nonetheless christened March 28 in a private event involving just Mauer, his family and a few close friends. The whole group climbed aboard the vessel and gathered around the nameplate. Surrounded by friends and family, Cindy broke a bottle of champagne over the rail of the towboat, just as Mauer had envisioned.
Asked how they reacted when Cibilich announced the boat would be named the mv. Randy Mauer, Cindy said, "I was so surprised. We started crying."
"What? Not me," Mauer said, denying he shed any tears.
He added his thanks especially for Cibilich: "You work on these things, and you never think you'll ever get your name on one of them. It takes a guy like Tony to give you that opportunity. He's very generous."
More About The Mv. Randy Mauer
The mv. Randy Mauer measures 160 by 50 feet, with a moulded depth of 11.5 feet. The vessel's design is by Portland, Maine-based CT Marine. The vessel features three Cummins QSK60-M main engines from Cummins Mid-South. The engines drive three Steerprop SP25D azimuthing Z-drive thrusters from Karl Senner LLC. The vessel features Cummins X15-DM500 generators. Versatech supplied the engine alarms. Herbert Hiller supplied the vessel's fire suppression system.
The Randy Mauer has accommodations for a crew of 13. The main house is built on a bed of springs to minimize vibration and boost living conditions for crew members. The Randy Mauer also features a soft-core joiner system in crew spaces by Marine Interior Systems LLC (MIS). The system, made up of modular, non-progressive panels of mineral wool sandwiched between galvanized steel sheets and with a thin PVC veneer, are non-combustible and reduce noise. MIS also supplied steel-insulated doors, fire-retardant furniture, vinyl plank floors, seating and granite countertops aboard the Randy Mauer.
The Randy Mauer is equipped with keel coolers from Fernstrum. On deck, the vessel features a capstan and six 60-ton deck winches by Wintech. Laborde Products supplied the Randy Mauer's sanitation system. Wheelhouse Electronics supplied the vessel's electronics package.
Founded in 1997, C&C Marine & Repair covers 80 acres along the Gulf Intracoastal Waterway near Algiers Lock and the Mississippi River. The company designs and builds towboats, offshore supply vessels, dredges and barges, along with vessel and barge repair services. All new construction and barge repairs take place onshore and under roof.
Caption for top photo: Marquette Transportation offered C&C Marine & Repair the opportunity to name the last vessel of a five-boat series that C&C built for Marquette. The vessel will carry the name of Randy Mauer, C&C's manager of boatbuilding. (Photo courtesy of C&C Marine & Repair)