Devall Towing & Boat Service of Hackberry LLC took delivery of a new towboat March 18 from Southwest Shipyard. The boat is the mv. Kathryn Louise and it is the last of four vessels that Southwest built for Devall. The first, the mv. Ryder James Devall, was delivered last year along with the mv. Velle Devall, while the third was the Anna Frances.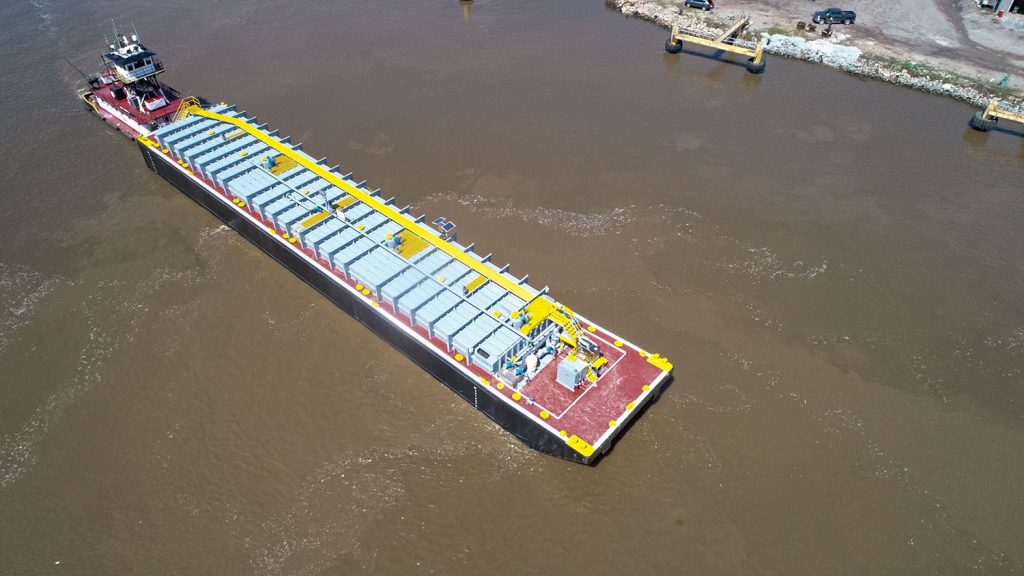 On top of that, the company took delivery of the third of five new tank barges April 20 from Vessel Repair, Groves, Texas. The barges all measure 200 by 35 by 12 feet and have a capacity of 11,500 barrels with a psi. pressure rating of 6. State-of-the-art, the barges have externally framed, stainless cargo tanks that are chem-lined and heated via a serpentine steam channel. The barges are furnished with diesel engines from Devall's engine subsidiary and have digital float gauges.
The new towboats and tank barges will work mostly on the Gulf Intracoastal Waterway towing petrochemicals. Devall's fleet now numbers nearly 40 boats and 110 owned barges. It operates some 150 barges total.
The Kathryn Louise is 64 feet long by 27 feet wide with a 10-foot draft. Its 1,500 hp. is from two Tier 3 Cummins QSK-19 engines supplied by family-owned Devall Diesel Service. The engines turn Sound 76- by 56-inch propellers from Texas Wheel Works through Sewart Twin Disc MG5222 gears at a reduction ratio of 7:1. Crumpler's Machine Shop made the 6-inch Aqua Met shafts. The Wartsila shaft seals are from Dale's Welding & Fabricators.
Custom Hydraulics Components designed and installed the mechanical-over-electronic steering system. Devall Diesel supplied the two 65 kw. John Deere generators. They and the main engines are cooled by fresh water circulated through keel coolers from East Park Radiator.
The Kathryn Louise has tankage for approximately 10,000 gallons of fuel, 5,000 gallons of potable water and 600 gallons of lube oil. Engine alarms were furnished by Rio Marine. Fire prevention is a product of Hiller.
Provided for the six-man crew are comfortable quarters, consisting of four bunkrooms and two full baths insulated with three inches of mineral wool. The FRP interior paneling is backed with half-inch plywood. Cabinets are birch plywood and solid red oak, which is also used in interior trim and joiner doors. The galley countertops and pilothouse dash console are granite. Dale's Welding provided the aluminum exterior doors, windows and pilothouse windows.
The pilothouse offers a 30-foot eyelevel and is equipped with a complete Furuno electronics package furnished by D&G Electronics. Deck equipment includes two 40-ton Nabrico winches.
The Kathryn Louise, like the others, was designed by Advance Fabricating and built at the Brady Island extension of Southwest Shipyard under the supervision of Maurice Leblanc.
The new towboat is named for the daughter of Kenny Devall, the company's port captain-barges.
Caption for top photo: The mv. Kathryn Louise has 1,500 hp. from twin Tier 3 Cummins QSK-19 diesels. (Photo courtesy of Devall Towing & Boat Service of Hackberry LLC)