By Nelson Spencer
and Frank McCormack
Metal Shark, a vessel designer and builder with shipyards in Jeanerette and Franklin, La., and Bayou La Batre, Ala., recently delivered its first-ever steel new build and first inland towboat to Mandeville, La.-based Florida Marine Transporters Inc. (FMT).
The four-decked, welded-steel mv. Stephanie Pasentine, designed by John W. Gilbert Associates Inc., measures 120 feet long by 35 feet wide by 11.5 feet deep. With tankage for 56,000 gallons of fuel, 12,000 gallons of potable water, 1,000 gallons of lube oil and 2,000 gallons of slop oil, the vessel draws nine feet. It has a pilothouse eyelevel of 33 feet.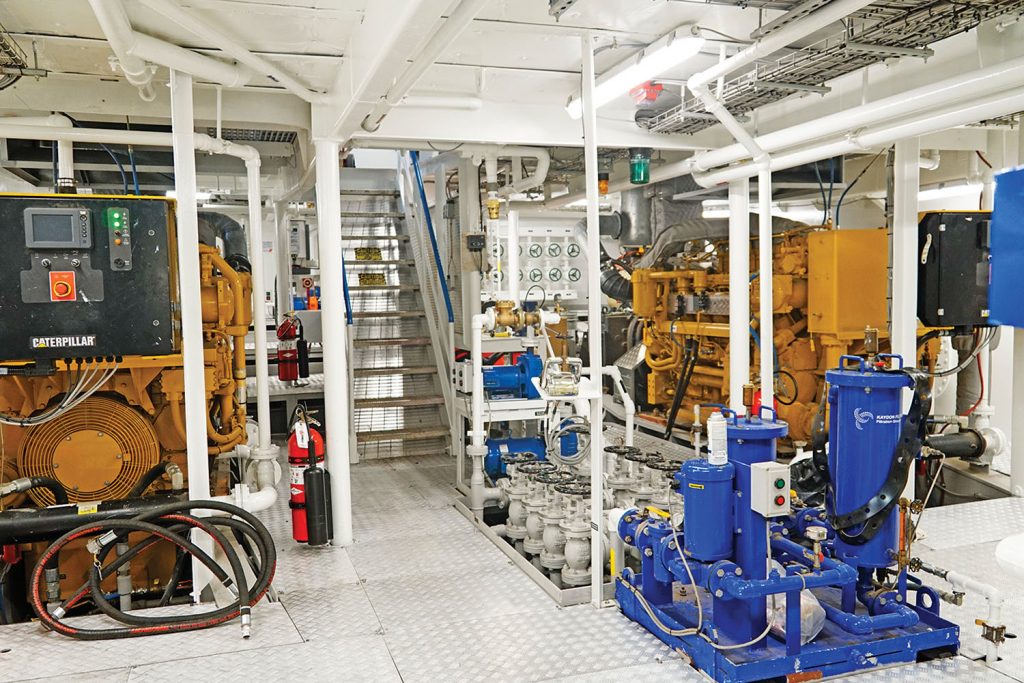 Two Caterpillar 3512 mains provide a total of 4,022 hp. at 1,600 rpm. The engines are mated to Twin Disc 6.56:1 reduction gears from Sewart. The 100-inch Sound propellers have 9.5-inch shafts with Wartsila seals and Cutlass bearings. The engines are cooled by Duraweld coolers from Eastpark Radiator. Ship's service power comes from two John Deere 200 kw. generators. EMI supplied the engine alarms.
The fully redundant, electro-over-hydraulic steering system is also by EMI. Herbert Hiller supplied the vessel's fixed fire protection equipment. Fendering is by Schuyler. Deck equipment includes two Patterson 65-ton winches, two Patterson 40-ton winches and a 10 hp. Schoellhorn-Albrecht capstan.
The Stephanie Pasentine has accommodations for a nine-person crew, housed in three two-person staterooms and three single staterooms. Each stateroom has a full head. There is a Mitsubishi split air conditioning and heating system, and heavy mineral wool insulation throughout for the crew's comfort. The galley, adjacent to a fully furnished lounge, features all stainless-steel appliances and granite countertops.
The mv. Stephanie Pasentine is named for the wife of Dennis J. Pasentine, president of Florida Marine Transporters, and the daughter-in-law of FMT CEO Dennis A. Pasentine, who founded the company in 1993. The Stephanie Pasentine is one of about 14 vessels in the queue for FMT from multiple shipyards. The forthcoming vessels will swell the total number of towboats in FMT's fleet to close to 105.
The new towboat is the first in a three-vessel contract between Metal Shark and FMT. The contract was first announced in late 2018 after Metal Shark entered the inland towboat market by acquiring the assets of Horizon Shipbuilding. With that purchase, Metal Shark, up to that point known as a builder of welded aluminum vessels, took over the fully developed, 35-acre Alabama shipyard and began to expand into steel shipbuilding.
Since that time, Metal Shark has grown the Alabama yard from an "original 23" employees to more than 150 employees today.
"Looking back, yes, I guess that seems quick, but we're used to doing things fast at Metal Shark," said Metal Shark CEO Chris Allard, who formed Metal Shark with business partner Jimmy Gravois in 2005. "That attitude, that comfort with aggressive growth, plus some underlying factors, made it possible."
Allard said there was a strong foundation of shipbuilding already in place when Metal Shark acquired Horizon in 2018.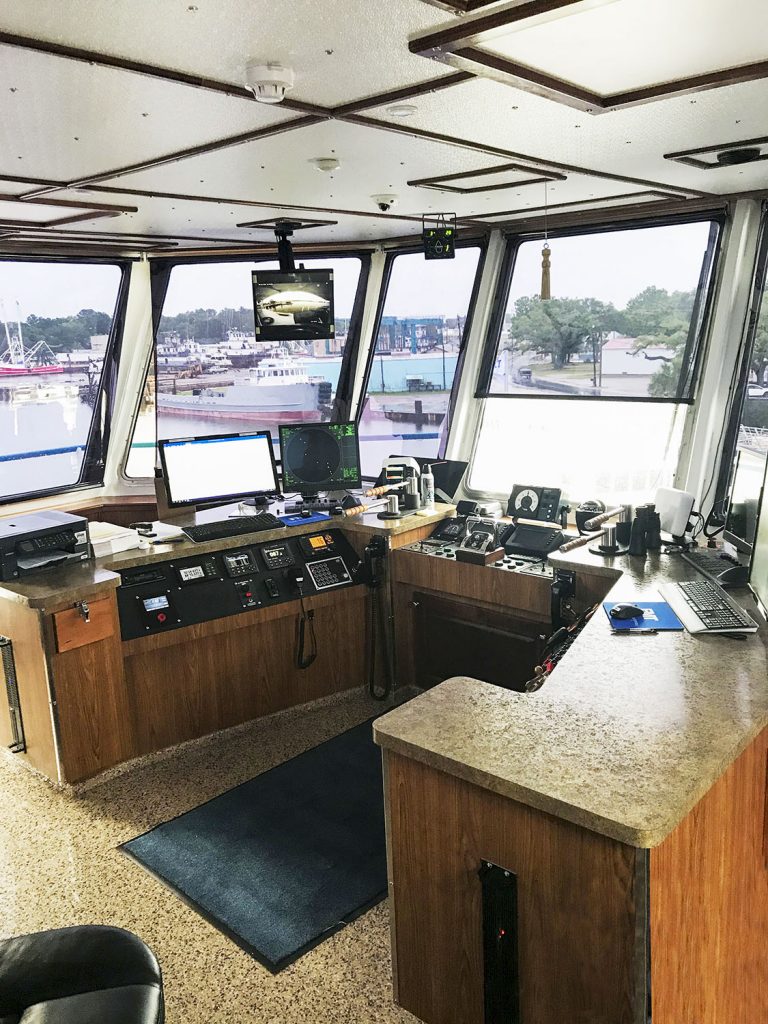 "While the head count was low when we acquired the yard, there was some built-in history in the way of clients and workforce that soon came into play," he said. "Florida Marine Transporters choosing to come back and build at the yard was pivotal for us. FMT had a long history with Horizon, and Dennis Pasentine's willingness to give the yard a fresh shot gave us the baseline to reconstitute a work force with repetitive builds. We will forever be in his debt for that opportunity."
Allard also pointed to Doug Barrow, vice president of Metal Shark, and O.W. Brown, new construction manager, for positioning the Alabama shipyard for success.
"In my career, I have found education to be the result of a series of interactions, and I have been thrilled to watch and learn from Doug and O.W.," Allard said.
Allard also thanked Mickey Cook and Steve McKnight, both formerly with Horizon.
"I first crossed paths with Mickey almost 20 years ago, and I continue to smile and learn while he quietly provides words of wisdom," Allard said. "Steve faced a tough job too, with a bunch of young engineers from Metal Shark bringing their new ideas into a construction material and market where we had little experience. His willingness to be openminded, patient and a team player have made all the difference."
Besides the remaining vessels for FMT, which are both scheduled for delivery this year, Metal Shark Alabama is also working on a 70-foot steel Z-drive tugboat for the North Carolina Department of Transportation, along with refit and repair work at the yard.
"We are impressed with the growth in that area," Allard said of the repair work at the Alabama yard. "New construction gives us the long-term planning ability and allows us to grow the workforce, so we can accommodate multiple simultaneous refit and repair jobs, often on short notice. I see more opportunity in that area going forward."
Allard said, for now, construction for Metal Shark is divided among small aluminum new construction at the Jeanerette yard, large aluminum new construction projects in Franklin, and steel construction in Alabama.
"That said, if in the future the need for additional aluminum capacity increases, we could certainly add it in Alabama," he said. "The yard and the workforce have the capability and experience to do it."