When Mike Mitchell, captain aboard Wood Towing's mv. Harold Ancar, heard the company was planning to add a new towing vessel to its fleet, he immediately requested to be part of the crew to bring it down to the New Orleans area.
"I said I'd like to go get the boat, just because I'd never been," Mitchell said.
Before the trip to retrieve the mv. Ashley Marie from Imperial River Transport of Belle Vernon, Pa., though, Mitchell learned of another, more personal reason for making the trip: the company was planning to rename it the mv. Mike Mitchell.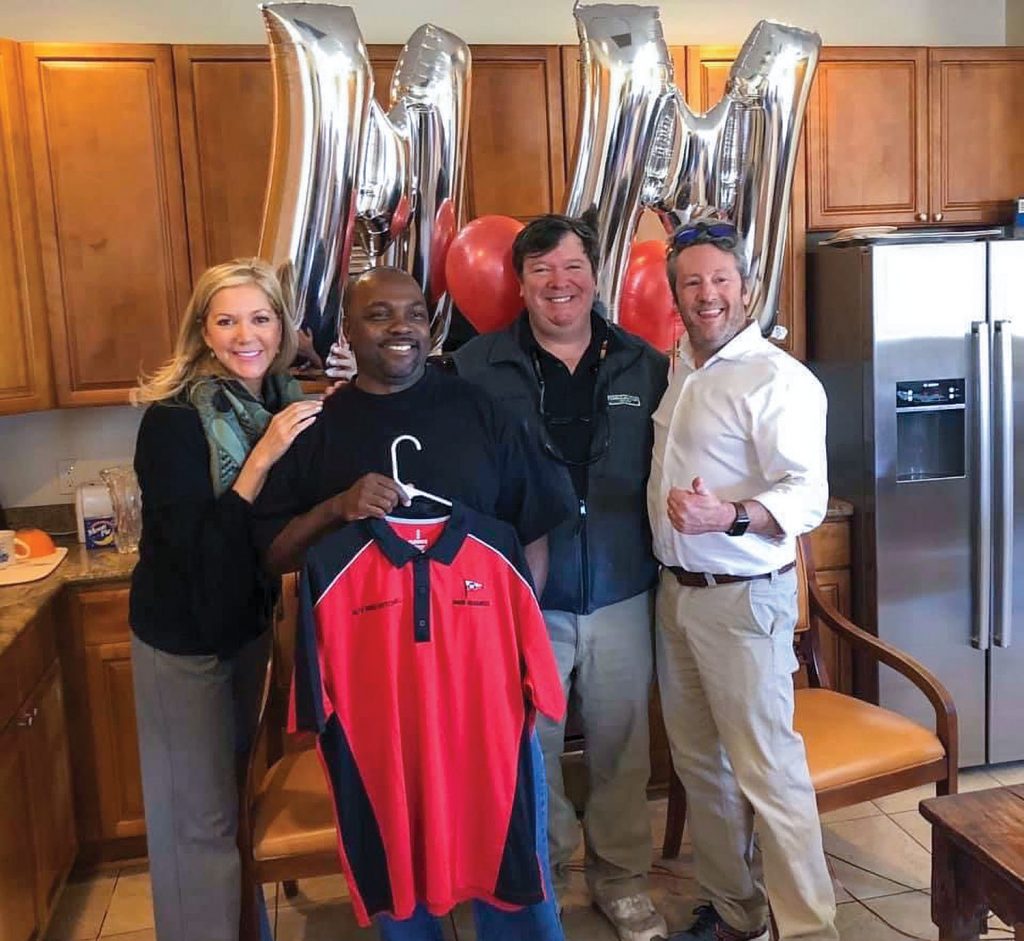 "They tricked me into coming into the office for a yearly eval," Mitchell said, recalling a March 6 call from company leaders. "They asked me would I mind coming in at 2 o'clock, before I went into work that evening."
When Mitchell stopped by Wood Resources' headquarters along the river road in Avondale, La., on the west bank of the Mississippi River that day, he first saw Wood Resources CEO Sarah Louise Wood Ham. Then, Wood Towing General Manager Patrick McNeill met him at the door.
"He said, 'Come on in, I've got to get something out of the kitchen,'" Mitchell recalled. "I said, 'Alright,' and we're walking and talking. We pulled into the kitchen, and someone hands him a shirt. He turns around and hands me a shirt, the shirt I have on, as a matter of fact. I'm like, 'You can keep it. I've got one just like it.'"
It was one of Wood Towing's vessel branded shirts.
"Ms. Sarah says, 'No, you don't have one like that. Trust me, read it,'" Mitchell said. "That's when I pulled it back, read it, and saw it said ' mv. Mike Mitchell.' My first response was, 'Y'all are joking.'"
McNeill and Ham said naming the new vessel—Wood Towing's 10th—after Mitchell was an easy choice. Besides serving with excellence since joining the company in 2012, Mitchell is known as an outstanding trainer for the company's younger crew members.
"He's always our most enthusiastic teacher, so everyone who can wants to work for and learn from him," McNeill said.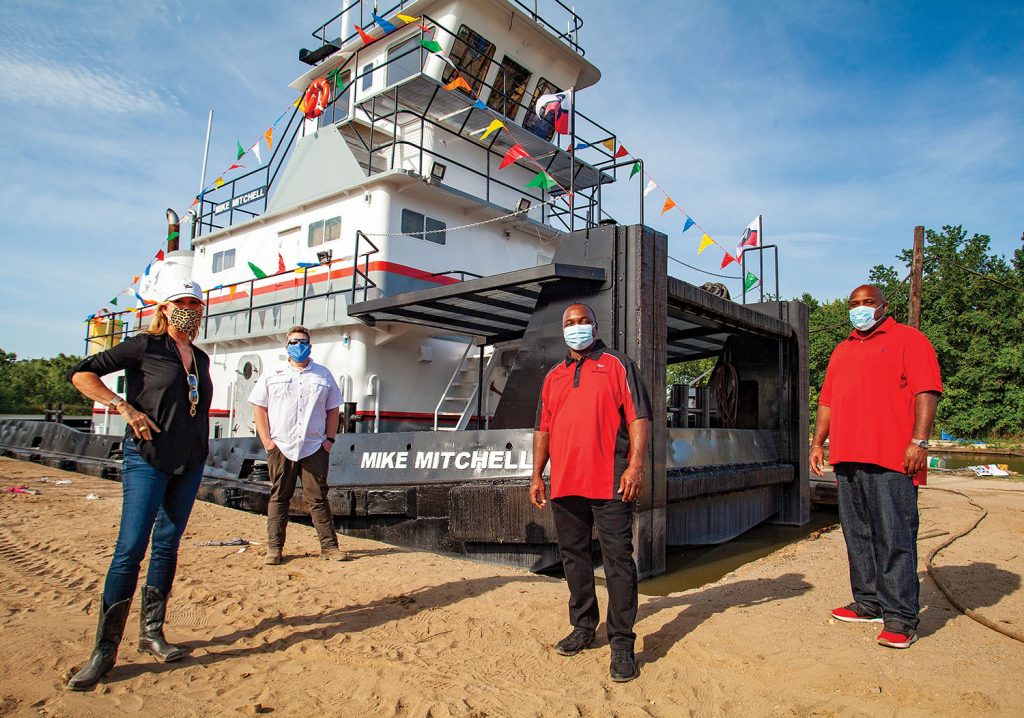 Mitchell said that dedication to mentoring is a reflection of the elder mariners who trained him, specifically Capts. Ellis Pitre and Thomas Inman, the latter better known as "Tin Man."
"They were the type of captains that they'd show you hands-on," Mitchell said. "They weren't scared to get in the engineroom, and they weren't scared to get their hands dirty. I feel like I mimic a lot of that."
Mitchell said one of the keys to being a good captain is first being a good deckhand.
"You gotta know how to deck first," he said. "If you don't know how to deck, you're not ready for the wheelhouse. Know your craft on the deck, and it makes it easier to learn your craft in the wheelhouse."
Mitchell, a native of Ironton, La., started out as a deckhand at International Marine Terminal (IMT) on the Mississippi River near Myrtle Grove, La. He got his captain's license in 1998 and began serving as a lead captain in 2000. Mitchell and his brother, Joaquim, attended a local maritime academy together. Joaquim, also a captain with Wood Towing, serves aboard the mv. Ben Nolan.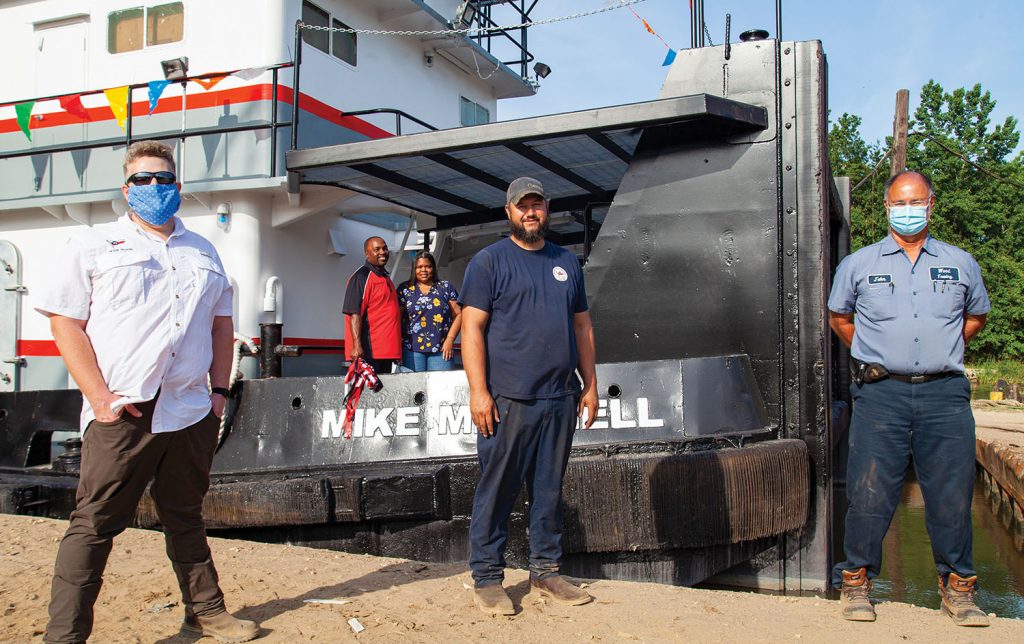 Mitchell and a Wood Towing crew left March 15, bound for Mt. Vernon, Ind., where they met McNeill and Wood Towing port engineer Jerry Bruce. A Campbell Transportation Company vessel brought the mv. Mike Mitchell down to Mt. Vernon from Pennsylvania. Mitchell and his crew left Mt. Vernon, bound for Hardrock Marine Services in Lafitte, La., March 17. They arrived at the shipyard the morning of March 21.
"When we came down with it, she purred like a kitten," Mitchell said. "Quiet, quiet, quiet all the way down."
The former Ashley Marie, built in 1980 by Orange Shipbuilding, measures 75 feet by 28 feet and offers 1,800 hp. from a pair of Caterpillar 3512 diesel main engines. McNeill said, while the mv. Mike Mitchell was at Hardrock, Wood Towing upgraded the vessel's electronics, overhauled its main engines and generators, repiped the fuel and water systems and installed new pumps, along with exterior upgrades. The mv. Mike Mitchell, which already carried a Coast Guard certificate of inspection, will work for American Commercial Barge Line, primarily on the Gulf Intracoastal Waterway in a line-haul capacity. Mitchell, though, said he'd love to see how the boat performed in the fleet.
"That's old-school steel right there," he said. "Thick steel, so that boat's got some weight."
Christening Ceremony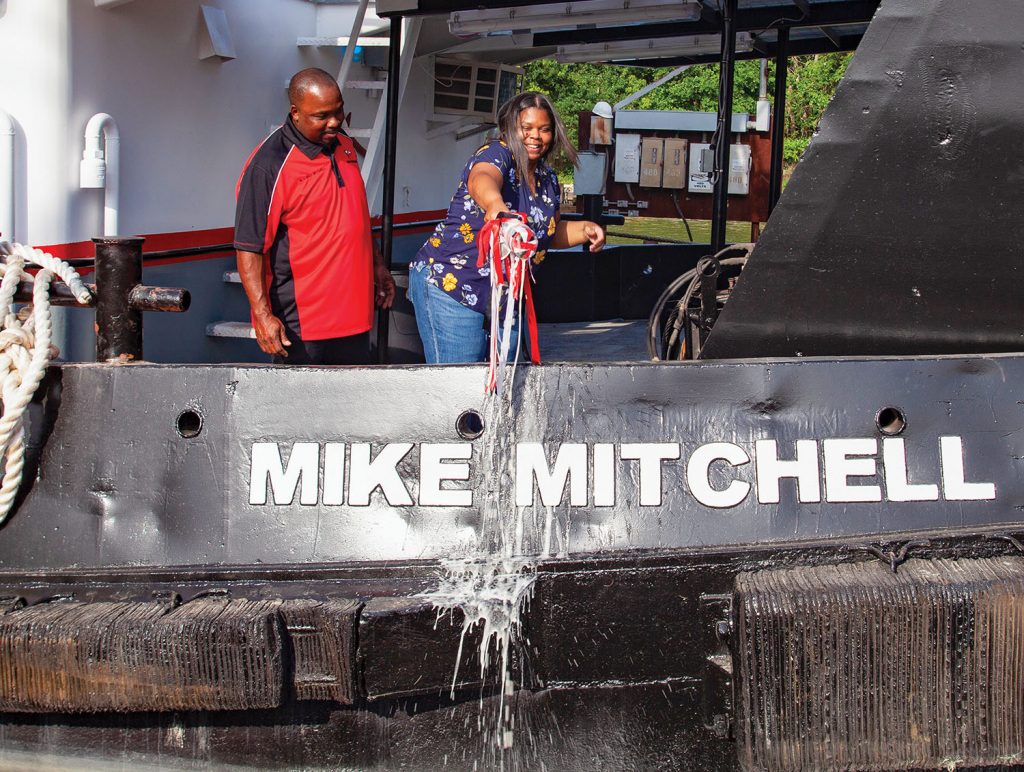 Wood Resources held a small, socially distanced christening ceremony to officially rename the mv. Mike Mitchell on May 12 at the shipyard. Mitchell and his wife, Natasha, climbed aboard the vessel, with Natasha breaking a bottle of champagne over its starboard gunwale, just above the nameplate. Throughout the event, in keeping with COVID-19 measures, those in attendance wore masks and maintained distance from one another, in deference to the mv. Mike Mitchell's crew.
Ham and McNeill both said the company has taken steps at the office, at fleets and aboard vessels to minimize the potential spread of the virus, while continuing to fulfill the company's essential service to the country.
"We weren't surprised to see their work deemed essential, because when you work in the maritime industry, you're moving products that feed and fuel the world," Ham said.
Standing at the shipyard, looking at his name painted on the sides of the vessel, Mitchell said the reality of the honor was finally setting in.
"It definitely touches me that they think that of me," he said. "I'm just another wheelman trying to do his job, and for the company to think that of me, it really means a lot."
Caption for top photo: The mv. Mike Mitchell moored at Hardrock Marine Services in Lafitte, La., May 12. The Mike Mitchell is the newest vessel in Wood Towing's fleet. (Photo by Frank McCormack)