Corps Holds Change Of Command Ceremonies For South Atlantic, Mississippi Valley Divisions, Louisville District
The South Atlantic Division of the U.S. Army Corps of Engineers held a change of command ceremony June 22, during which Maj. Gen. Diana Holland relinquished command to Col. Jason Kelly. The Corps, though, was not without Holland in command of one of its divisions for long. On June 30, Maj. Gen. Mark Toy transferred command of the Mississippi Valley Division to Holland.
Holland led the South Atlantic Division, which covers much of the southern United States and the Corps' mission in the Caribbean and Central and South America, through three pivotal years, said Lt. Gen. Todd Semonite, commanding general of the Corps, who spoke at the ceremony. In addition to the division's annual dredging and construction program, Holland's time as commander of the South Atlantic Division involved the responses to hurricanes Irma and Maria in 2017 and hurricanes Florence and Michael in 2018. The division has also seen significant harbor deepening projects get underway, including ports along the east coast of Florida; Charleston, S.C.; Savannah, Ga.; and Mobile, Ala.
Semonite said one of the most difficult assignments undertaken during Holland's command of the South Atlantic Division was that of rebuilding the power grid of Puerto Rico following Hurricane Maria in 2017. The devastating storm left more than 3 million Puerto Ricans without power.
"Diana directly led Task Force Power for the Puerto Rico power grid restoration," Semonite said. "In coordination with the Puerto Rico Electric Power Authority, SAD was tasked to restore the power grid to pre-storm conditions. This resulted in a mission assignment of over $2 billion in deployment of 3,000 utility workers and the installation of over 66,000 power poles."
Other tasks in Puerto Rico involved installing blue roofs, temporary power, debris removal throughout the island, and the effort to prevent failure of the Guajataca dam.
"Under her direction, SAD provided outstanding support, leading our response and recovery team in Puerto Rico, the Virgin Islands and Florida following the catastrophic hurricanes," Semonite said. "The division planned and executed 82 emergency response and recovery mission assignments issued by FEMA, executing both military and civil missions.
"It was an all-hands-on-deck effort," he added. "More than 4,000 USACE employees deployed under Diana's command in response to hurricanes Irma and Maria recovery efforts. The Corps of Engineers South Atlantic Division's accomplishments under her leadership were extraordinary."
A native of Santa Barbara, Calif., who was commissioned as a second lieutenant in the Corps of Engineers in 1990, Holland now commands the Mississippi Valley Division, which oversees a 370,000-square-mile area covering parts of 12 states and stretching from Canada to the Gulf of Mexico. She will also serve as president of the Mississippi River Commission, the group tasked with leading flood risk management for the Mississippi River and Tributaries project. The division also includes the Mississippi River Ship Channel between the Gulf and Baton Rouge, La., the largest continuous port complex in the world.
The significance of that task was not lost on South Atlantic Division Chief of Staff Bob Prince, who as emcee of the ceremony presented the commanders' spouses with both welcome and farewell gifts. To Kelly's wife, Stephanie, Prince gave a bouquet of yellow roses. To Holland's husband, Jim, he gave a red Berkley Dredger fishing lure.
"Please note that this gift is symbolic of the dredging requirements for the Southwest Pass, a situation that Maj. Gen. Holland has promised to correct in her next assignment as commander of the Mississippi Valley Division," Prince said.
Addressing the small group gathered for the change of command ceremony, Holland heaped thanks on her team.
"Thank you for what you do every day in support of USACE and its amazing mission," she said, later adding, "General Semonite often says, and I'm slightly paraphrasing, the power and value of USACE is not measured by concrete and steel. It is measured by the passion and the hearts of our people. The 3,500 employees of this region have proven that sentiment over and over again. They do remarkable things because they work together, inspired by a remarkable purpose."
That sense of teamwork will, no doubt, continue under the leadership of Kelly, who comes to the South Atlantic Division from the Pentagon, where he previously served as director of the Office of the Chief of Engineers. Prior assignments include command of the Corps' Afghanistan and Norfolk Engineer Districts. He has also served in Asia and the Middle East. A native of Flint, Mich., Kelly attended the U.S. Military Academy at West Point, N.Y., graduating in 1994 as a commissioned engineer officer.
Kelly thanked Holland for her leadership, example and openness to share experiences and advice as he prepared to assume command of the division.
"Command demands decisiveness, action, adherence to high standards, learning from mistakes, being a little better tomorrow than you were today," Kelly said. "Commanders honor commitments. They do what they say they're going to do. They walk the talk. They ensure their audio is in sync with their video. Gen. Holland, you have done this, and I will.
Kelly continued: "Commanders are accountable. They take ownership in their work. They're always in search of a better way, thinking differently, challenging convention. They reject 'how we've always done this.' Gen. Holland, you've done this. To the teams in Wilmington, Charleston, Savannah, Mobile and Jacksonville, do know that I will."
Toy Relinquishes Command To Holland
Speaking at the June 30 change of command ceremony for the Mississippi Valley Division, Toy, who will now serve as chief of staff of the United Nations Command in South Korea, said, when he looks back on his time with the Vicksburg, Miss.-based division, one word comes to mind: grateful.
"Grateful is most certainly the prevailing sentiment as I reflect on the past year with the Mississippi Valley Division," Toy said. "To our 54th chief of engineers (Semonite), thank you so much for the opportunity to command the most valuable division."
Toy thanked his team on the Mississippi River Commission and the Mississippi Valley Division for the support and partnership over the past year, while he looked to the future with confidence.
"While the Toys are departing, never fear, because the Army keeps rolling along," Toy said. "For all our MVD teammates in the valley, you get to serve with the Hollands. Diana and Jim Holland are great Americans. I've known Diana a long time. In her, you are getting a technically and tactically competent engineer. Even more so, you are getting a wonderful person."
Highlighting the expansive Mississippi Valley Division, Holland recognized each district, including the St. Paul, Rock Island, St. Louis, Memphis, Vicksburg and New Orleans districts. Holland said the effectiveness of the division is built on districts partnering together and with others, both government groups and non-governmental partners.
"I look forward to continuing this tradition of teamwork and partnership," she said.
Louisville Change Of Command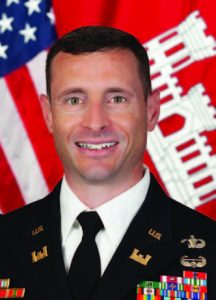 Col. Eric D. Crispino assumed command of the Louisville Engineer District during a ceremony June 25 at the McAlpine Locks and Dam in Louisville.
Col. Antoinette R. Gant passed the district colors to Crispino, symbolizing her relinquishment of command after serving three years as commander. Maj. Gen. Robert Whittle, Great Lakes and Ohio River division commander, served as the presiding official. Whittle spoke of Gant's accomplishments and wished her well as she transitions to serve as commander of the South Pacific Border Engineer District.
Prior to the change-of-command ceremony, Whittle awarded Gant with a Legion of Merit, Silver de Fleury and the Military Outstanding Volunteer Service Medal for her efforts in leading the Louisville district.
"Thank you again, Louisville, for a job well done," Gant said. "Continue to lead from the front, never becoming complacent, always looking to serve greater than yourself, executing and delivering for the region and our nation as a whole. I've been truly blessed to serve with some of the most innovative, inspiring and hardworking individuals in all of the U.S. Army Corps of Engineers."
Crispino recently served as the Corps engineer for III Armored Corps at Fort Hood, Texas. In this assignment, he deployed to Camp Arifjan, Kuwait, where he led the Combined Joint Engineer Directorate for Operation Inherent Resolve, enhancing force protection within a combined joint area of operations spanning across Iraq and Syria.
Crispino is from Southington, Conn., and he was commissioned as a field artillery officer in 1998. He later transferred to the Engineering Branch. He has held several command and staff positions and has been stationed at various times at Fort Carson, Colorado, Fort Drum, N.Y., Fort Bragg, N.C., and at the Department of Civil and Mechanical Engineering at the United States Military Academy, where he taught courses in civil engineering as part of the faculty.
Crispino holds a bachelor of science degree in civil engineering from the United States Military Academy, a master of science in civil engineering from Virginia Tech, and a master of strategic studies from the U.S. Army War College. His military education includes the Army War College, Command and General Staff College, Combined Arms and Staff Services School and the Field Artillery Officer Basic and Captains Career courses. He is a licensed professional engineer in Connecticut and a certified project management professional.
He is married and has two children.
"Maj. Gen. Whittle, thank you for your confidence and trust in me to take on this tremendous responsibility of command in the Army Corps of Engineers," Crispino said. "It is evident I am joining a very special team that leads the way not only in the Great Lakes and Ohio River Division, but across all of USACE."
As commander of the Louisville Engineer District, Crispino will provide strategic direction and command and control for the district's $1 billion workload, including civil, military, environmental and interagency and international services programs.