Port NOLA Holds COVID-19 Memorial Service
The Port of New Orleans hosted a memorial service June 30 in honor of friends, family members and maritime community colleagues who have died due to COVID-19, the disease caused by the novel coronavirus.
With masks on and adequately distanced, port employees and others from the maritime industry, along with family members, gathered along the riverside at the port's administrative building to reflect, read Scripture and pay tribute to those lost since the virus began spreading in the region in March.
Port NOLA President and CEO Brandy Christian said, tragically, loss during the pandemic too often comes in solitude.
"When I heard about an employee who had lost a family member to the disease, the worst part was learning that she had been unable to say goodbye in person," Christian said. "Then another employee had a similar experience. Others in the maritime community have experienced this pain as well.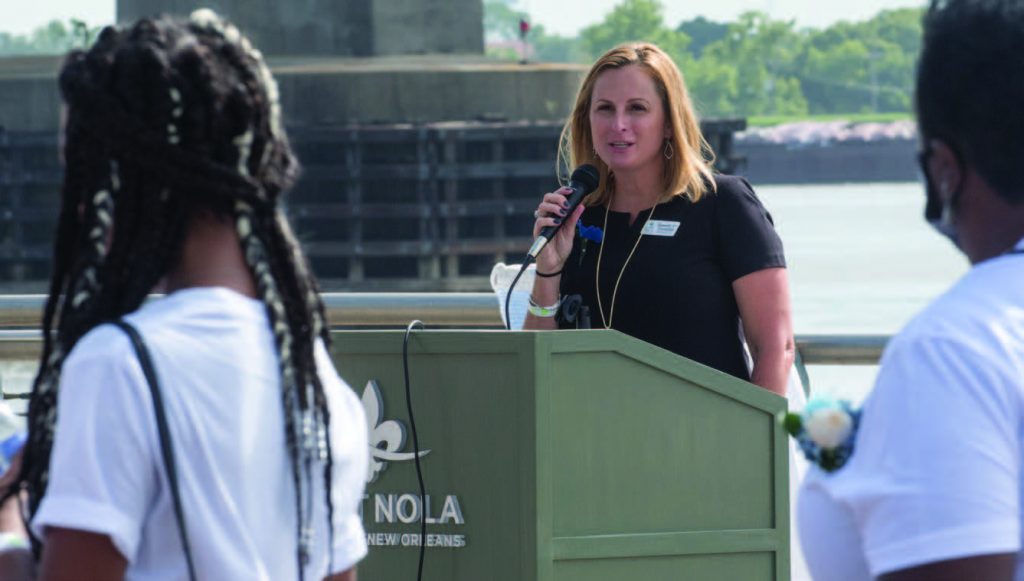 "For too many people, this has been a time of great loss, complicated by the need to quarantine," she added. "Words are often inadequate when people are hurting. Now we can't even hug or sit closely in solidarity. So we are here today to show we care and to honor the family members or friends we have lost. We recognize your strength and your sorrow and grieve your loss with you."
Rev. Robert Roussel, port chaplain and director of Global Maritime Ministry's Reserve, La., center, then read Psalm 23 aloud and offered a word of reflection.
Capt. Will Watson, commander of U.S. Coast Guard Sector New Orleans, and Gina Sabine, ministry coordinator with Global Maritime, cast a wreath into the river and family members of those who have died due to COVID-19 tossed flower petals into the river in remembrance, while Amazing Grace was played on the bagpipes.
"I hope you find comfort and support in the people that surround you and the wonderful memories you carry in your mind and in your heart," Christian said. "We stand with you as a port family in solidarity, and we honor your loved ones today."
The service concluded with a hymn and the playing of Taps.