Safety Reminder: Be A Thinker Not A Sinker—Wear Your Life Jacket!
My company, American Commercial Barge Line,  pushes safety every day.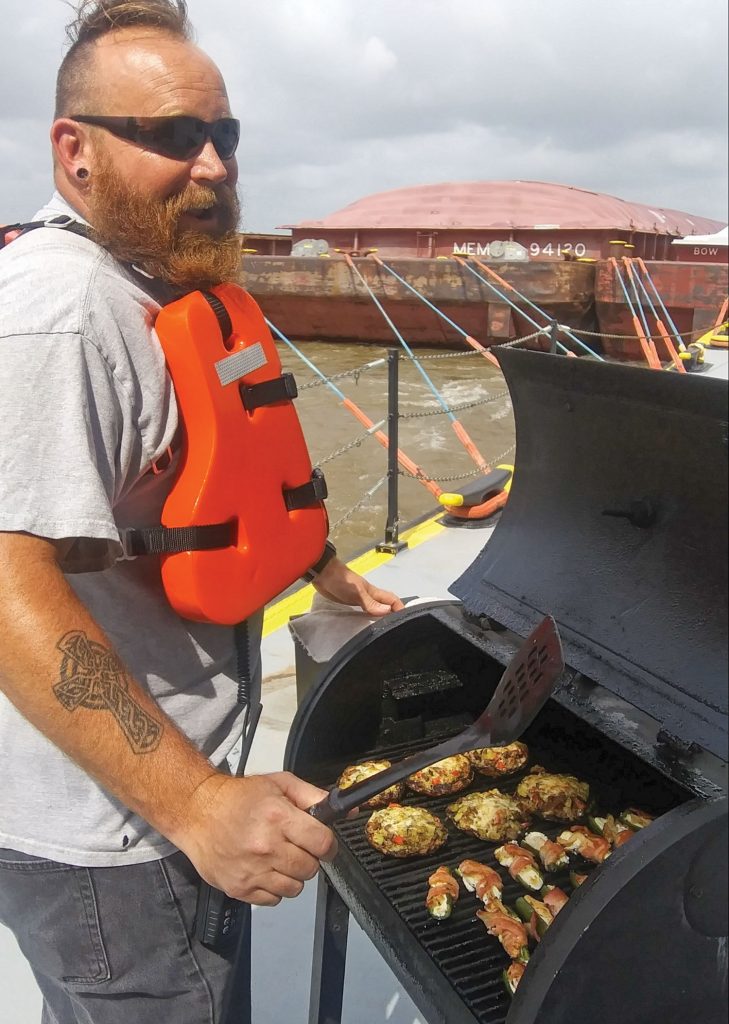 Life jackets are a requirement for all barge line employees and maritime workers. Your life jackets must be U.S. Coast Guard-approved. So follow the rules; safety is a must! Keep yourself safe and your crew mates safe.
It is also important that I follow all safety guidelines set forth by my company when I grill food. When I go outside to turn on my grill, I wear my vest. My captain has me turn the grill so that I face the water. Thus, my back is against the boat. This is important so I may see the river while grilling in case of an incident. My grill is also close to the galley door. I put my life jacket on every time before I ever turn on the grill. Even if the grill is close to the galley and only two steps outside, I still put my life jacket on.
Speaking of grilling, there are many wonderful things to grill, such as stuffed mushrooms, jalapeños loaded with chicken and cream cheese, shrimp kabobs, cauliflower cut into steak slabs, and even whole bologna sticks with barbecue sauce.
My latest side dish is to grill fresh vegetables. I will grill a medley of peppers, mushrooms, red onions, tomatoes and zucchini. For the vegetable medley I simply cut up my vegetables in large chunks and pop them into a container with a lid. For flavor, I mix soy sauce, olive oil, Italian seasoning and a bit of sugar (no more than a teaspoon). After mixing this together I pour it over the vegetables, attach the lid and gently shake.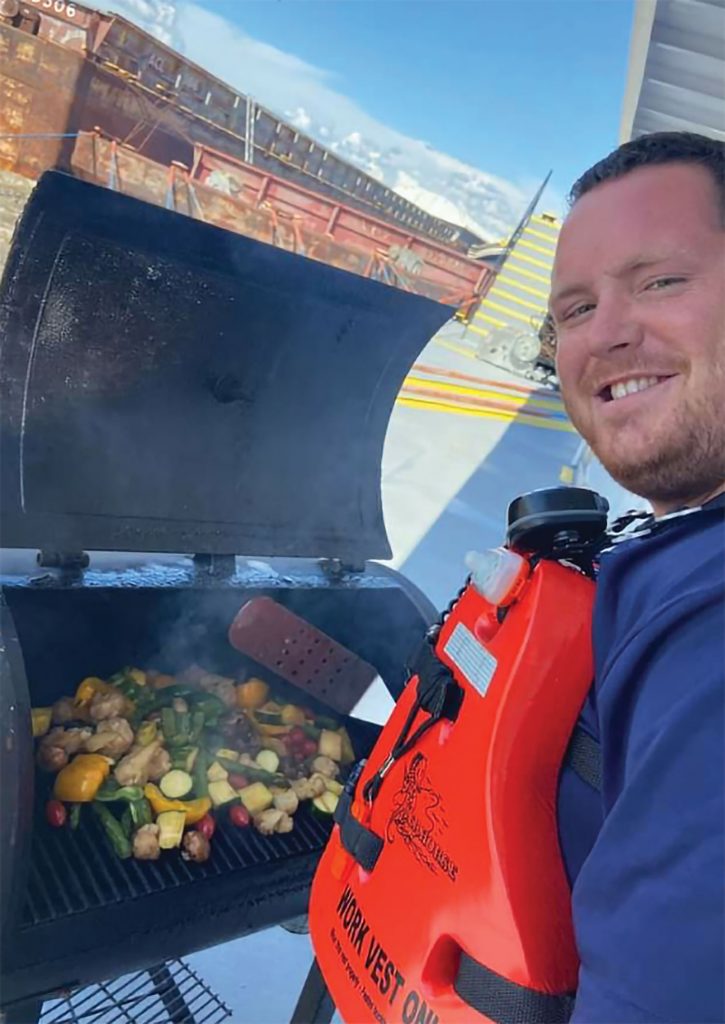 Now it is ready to grill. Just grill them long enough until your vegetables have grill marks on them and they are al dente. Al dente means that they are cooked long enough that they are not raw, but tender and firm when bitten. If you're worried about your vegetables falling through the grill, you can always purchase a grill mat or use aluminum foil.
Two more recipes I have submitted are for stuffed portabella mushrooms and stuffed jalapeno peppers. My crew members often share recipes with me. It is always fun to try other recipes. These recipes have been tried several times and perfected just by asking others' opinions.
The stuffed mushrooms and jalapenos may be changed around to your taste. Sometimes I just use whatever vegetables I have in my refrigerator. You can also use any leftovers you have in your refrigerator such as chicken, shrimp or pork instead of the sausage. Have fun in your galley and be creative.
Shown here in these pictures are Brandon Branning grilling vegetables and Matt Brewer grilling stuffed mushrooms and jalapenos. Enjoy these recipes and make them your own!
Stuffed Portabella Mushrooms
Ingredients:
6 large portabella mushrooms (gills cleaned out with a spoon)
Mushroom stems from cleaned portabellas (chopped)
½ cup browned sausage
1 small green zucchini
1 small yellow summer squash
1/2 red bell pepper
½ green bell pepper
½ small sweet onion
½ jalapeño (optional)
½ cup chopped spinach (optional)
½ teaspoon Italian seasoning
1 teaspoon garlic powder
Salt and pepper to taste
¼ cup parmesan cheese (for sprinkling on top)
¼ cup mozzarella cheese (for sprinkling on top)
Directions:
Start your grill.
Lightly rinse mushroom tops and sides. Do not over rinse mushrooms as they are porous and soak up lots of water. With a spoon, gently scrape out the gills from the portabella mushroom. Cut out stems. Rinse any dirt off stems and chop into small bite size pieces. Place your clean mushrooms on a cookie sheet. Salt your mushrooms. This will help draw extra water out of mushrooms. Brown your sausage and set pan aside with grease from sausage still in pan. Clean your zucchini, squash, peppers and onions. Chop vegetables into small, bite-sized pieces. Add your chopped vegetables to pan with sausage. Heat vegetables to al dente. The grease from the sausage will keep your vegetables from burning. Add Italian seasoning, garlic powder and salt and pepper to taste. Mix well. Using a paper towel, wipe any excess water out of mushroom. Stuff your mushrooms evenly. Sprinkle cheeses on top of mushrooms. Place your mushrooms on grill and cook for about 20-25 minutes or until mushroom looks cooked through.
Chicken Stuffed Jalapeno
Ingredients:
10 large jalapeno peppers
8 ounces cold cream cheese
1 cup pre-cooked chicken cut into strips
10 thin slices bacon
Directions:
Start your grill.
I suggest wearing gloves to cut the jalapenos. Cut off the tops and stems of each jalapeno. Cut the jalapeno in half lengthwise and clean out seeds and ribs with a spoon. If you like your jalapenos on the hot side, keep the ribs in and just clean out the seeds. Set the jalapenos on a cookie sheet. Open your brick of cold cream cheese. Place your cream cheese on a small cutting board. Cut the brick of cream cheese crosswise into 20 slices. You may have to shape your cream cheese to get your 20 slices. You will have enough. Shape the cream cheese like short French-fries. This will make it easier to work with. Fill each jalapeno half with the cream cheese slice. Place a piece of your pre-cooked chicken on top of the cream cheese jalapeno. Cut the slices of bacon in half crosswise. Lay one of the half sliced bacon across your cutting board. Now press the bacon and stretch it. Wrap each stuffed pepper tightly with the bacon. The reason you stretch your bacon is so that when it cooks it will shrink and not fall off the pepper. Arrange the peppers on the grill. Grill for about 20-25 minutes or until bacon is done. While grilling, you may have to put your stuffed peppers on the side and close the lid. This is because the grease from the bacon  may create a fire in your grill.