Life on a towboat was difficult prior to COVID-19, with the dangers of the job combined with time away from home. But the virus has brought new restrictions and stresses, like extended hitches, heightened sanitation and health protocols, and limited outside access to vessels.
Under normal circumstances, river chaplains like those with Seamen's Church Institute (SCI) would be able to make vessel visits, offering pastoral care and counseling for mariners struggling to balance stresses at home and on the boat. Unfortunately, COVID-19 has also restricted many chaplains' ability to visit crews.
In the midst of the virus, Rev. Tom Rhoades, Baton Rouge, La.-based river and gulf chaplain for SCI, wanted a way to personally reach out to mariners, while also maintaining a safe distance to do his part to ensure their health. He found inspiration in a long-held practice of Rev. Kempton Baldridge, SCI's senior river chaplain and one of Rhoades' mentors in the chaplain ministry.
"He has a practice that he doesn't go to a boat without taking something," Rhoades said.
Sign up for Waterway Journal's weekly newsletter.
Our weekly newsletter delivers the latest inland marine news straight to your inbox including breaking news, our exclusive columns and much more.
Many times, Rhoades said, Baldridge might just bring a stack of books: something small to show that, even before his visit, he had the mariners on his mind. But Rhoades had one main challenge in replicating the same practice. He had no books and, with the virus, there's limited ability to find any.
Then, late in the spring, Rhoades received a surprise donation through a friend: a huge collection of 500 or 600 books.
"And that's what started it," Rhoades said. "I had a few other people give me books as well."
Unable, because of the virus, to personally take books along with him to vessels, Rhoades set out to make "morale boxes" to send to crews. Besides the books, Rhoades also included some homemade cookies.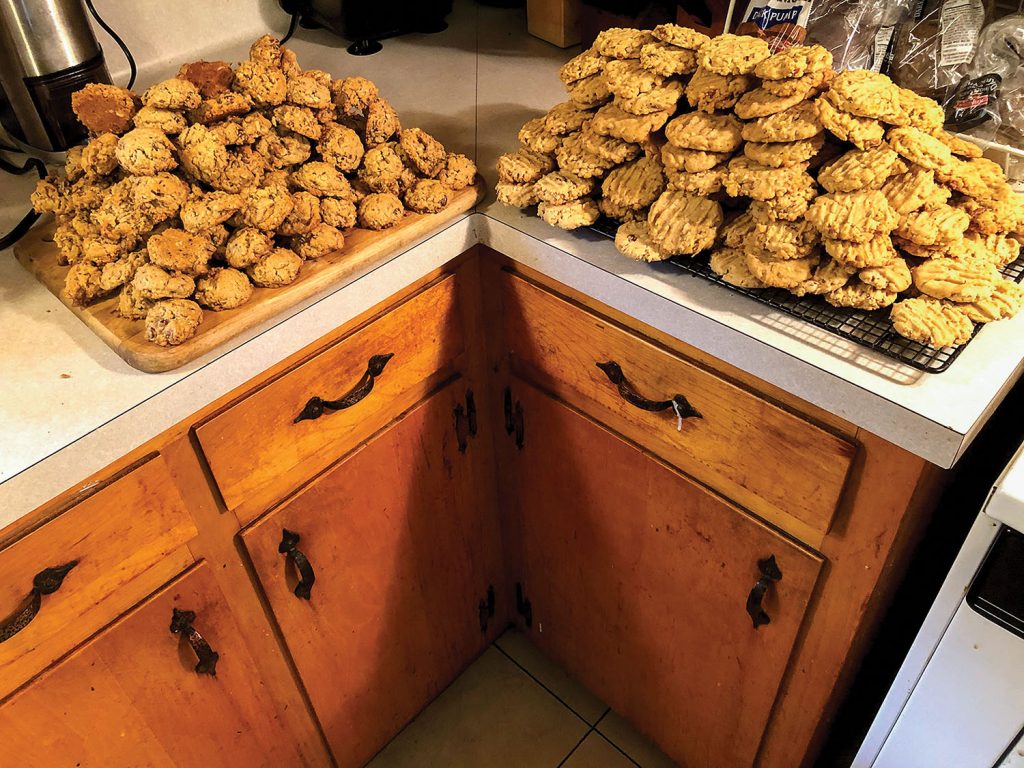 "I'm a cook, and that's my gift," said Rhoades, a former towboat cook. "Gosh, I must've cooked four or five thousand cookies, and others cooked, too."
Rhoades also partnered with St. Luke's Episcopal Church, Ingleside United Methodist Church and Lutheran Church of Our Savior in Baton Rouge and with Holy Trinity Episcopal Church and Christ Episcopal Church in Vicksburg, Miss., in the collection of books and cookies. Together, the team marshaled about 900 books and baked 5,400 cookies for vessel crews. Rhoades said he would pack individual boxes with five books, ample cookies, two bags of candy, some information from SCI and a handwritten note of encouragement and support. In all, Rhoades and his team packed 180 morale boxes bound for 180 boats.
Rhoades then partnered with Shamrock Marine and Benedetto's Market, both Baton Rouge-based service companies that deliver groceries and supplies to towboats in the area.
"I'd pack the boxes and take them to Shamrock every once in a while for them to distribute," Rhoades said. "I'd take boxes to Benedetto's, and they'd distribute some, too. Down in Vicksburg, Sam Godfrey (rector of Christ Episcopal Church and a river chaplain associate there) wanted to do something there, so he distributed boxes to 50 boats."
Rhoades said, by his count, 900 to 1,000 mariners were served, with boxes delivered between May 28 and July 29. Rhoades said he's grateful for the partnerships in the effort to bless mariners employed in such an essential service during this difficult time.
"I sure do thank the church people who helped with this project, as well as Shamrock Marine and Benedetto's, who were enthusiastic to be able to make the deliveries," Rhoades said. "It is hard on us chaplains to only be able to deploy to emergencies and not make regular boat visits.
"I just hope this outreach makes a little difference to our mariners, because they are making a huge sacrifice leaving home, especially those with children and whose spouses have careers, with children not able to be in school," he continued. "It is tough to be away from home when our families are stressed."
As in his "Dear crew" letters, Rhoades reiterated his message to mariners to care for one another and to know that he's praying for their health and the safety and wellbeing of their families as well.