During the summer months, I like to make more sandwiches and burgers for my crew. They are fun and easy to eat.
Well, sometimes: depending how dressed up you make that burger. However, as I stated in my previous columns, barge line workers eat burgers and steaks every Saturday. It is a standard thing. So every Saturday, I put out my tray of burgers. Let me tell you, by the third and fourth week of working on the boat, a burger in a pan is getting boring.
Lately, I have been going with a burger of the week. I will go ahead and make these just before they eat. Thus it is easy for them to grab it and eat it. It is pretty much getting your whole meal in one burger. You have your protein, carbohydrates, dairy and vegetables.
There are a few important tips on making your burger. Here is a question that I was once asked: Why can I eat a steak rare but not a hamburger? Here is the answer. When grilling a steak, your harmful bacteria is carried on the surface of cut meats. Thus, when you are searing your steak you are killing the bacteria. Your hamburger is ground up, and any harmful bacteria from the surface of the raw meat is now spread throughout the hamburger. So cook your hamburger to a safe temperature. The question now presents itself as: Well then, how pink can my burger be? According to the U.S. Department of Agriculture, you can eat a burger that is pink inside as long as the internal temperature of the burger is 160 degrees Fahrenheit. The USDA offers guidelines for proper cooking temperatures to kill bacteria. Ground beef 160 F, pork 145 F, steaks and roasts 145 F and poultry 165 F.
Once your burger is done and ready to eat, how long can you safely leave your cooked burger out at room temperature? Once again I am going to refer to the USDA guidelines. The answer is two hours. The USDA guidelines teach us about the "danger zone." The danger zones are foods sitting out at room temperature between 40 and 140 degrees F. In this range of temperature, bacteria grow rapidly, and the food can become unsafe. However, you're safe for the first two hours. But if you're picnicking outside in hot weather, it is common sense to put your cooked foods away properly within an hour.
Along with this burger recipe I have two other recipes that I enjoy making. One is dressing up your boring pork and beans. This is simply done by adding hamburger, barbecue sauce, brown sugar and chopped green peppers and onions to your canned pork and beans. Just add in however much of each ingredient to your liking.
The other recipe is an easy layered dessert. The layered dessert is from a pilot friend of mine, Dustin Evans. Dustin works for American Commercial Barge Line. He has given me several recipes that his wife, Traci, makes. Every recipe I get from this couple is outstanding. Ask your crew members for recipes. It is worth it.
Dressed Up Burgers
Ingredients:
6 hamburger buns (options; sourdough bread, Hawaiian bread, toast or Kaiser rolls)
2 lbs. ground meat
6 Tablespoons any hot sauce
Salt
lettuce
6 large, thick slices of tomatoes
6 slices cheese (any kind you prefer)
6 deep-fried, breaded cream cheese stuffed jalapeno peppers
6 deep-fried onion rings
6 fried eggs
6 slices bacon
6 pickles and olives
6 toothpicks
Directions:
Heat up your deep fryer and fry your breaded jalapenos and onion rings. Divide your meat into six balls. Form meat into patties and make an indention in the middle of the patty to reduce shrinkage. This will help your burger remain flat while cooking. For flavor, spread a tablespoon of hot sauce on each burger. Lightly salt your burgers. Just do this to one side of the burger. Cook burgers on the grill, or fry them in a pan. You may also choose to line a cookie sheet with foil and bake your burgers in the oven at 350 F for 30 minutes until done.
While your burgers are cooking, make sure your bacon is fried and ready to go. Fry your six eggs over easy. Salt and pepper your eggs. Prep your lettuce and tomatoes. Have your cheese, pickles and olives ready to go.
Next is the fun part. Layer your burger. Start with your lettuce, tomato, burger, cheese, deep-fried jalapeno and onion rings, fried egg and finally bacon. Put the top of your bun on your burger stack and dress up the bun also with a spear of pickles and olives. You can put pretty much anything you want to on your dressed up burger. I even put pulled pork and barbecue sauce on my burger.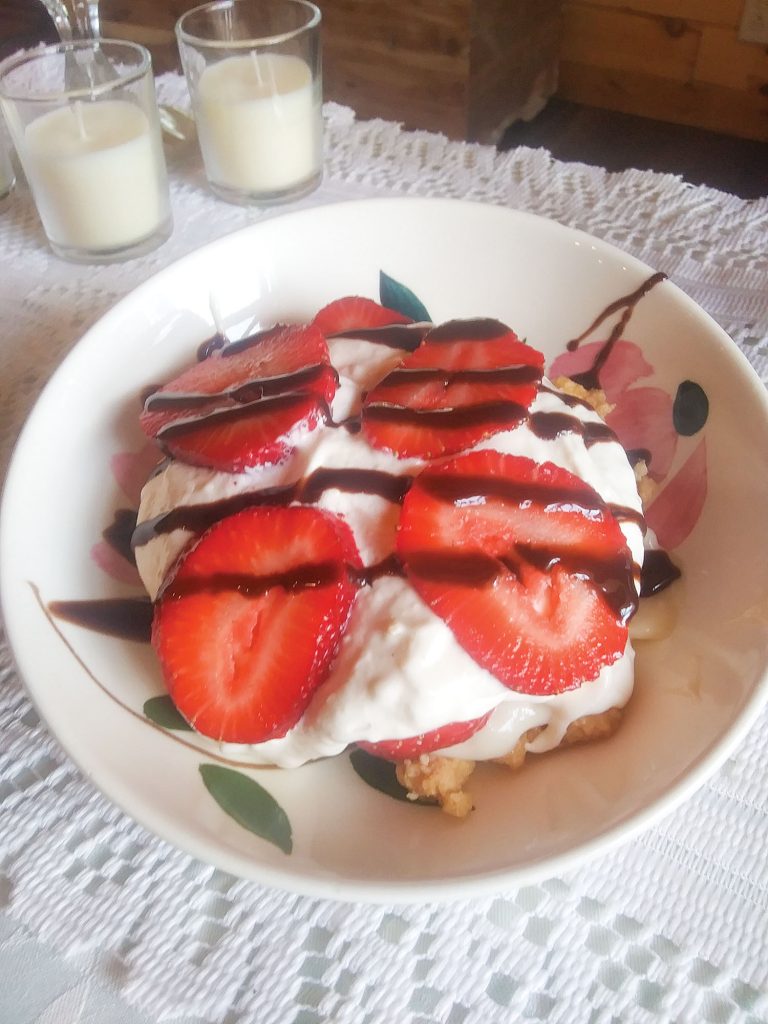 Traci's Layered Dessert
Ingredients:
First layer:
1 pkg. Golden Oreos
5 Tbsp. melted butter
1 8oz. cream cheese
1 cup powdered sugar
1 cup Cool Whip
Sliced fresh strawberries
Second layer:
1 pkg. cream cheese
1 14oz can sweetened condensed milk
2 boxes white chocolate instant pudding (may use instant vanilla pudding)
3 cups milk
2 cups Cool Whip
Chocolate syrup
Directions:
Crush Oreos in a zip-top bag and mix with melted butter. Press into 9 x 13 pan to make your crust. For the first layer, whip together cream cheese, powdered sugar and Cool Whip. Spread over crust. Top with a layer of strawberries.
For the second layer, mix together cream cheese, sweetened condensed milk, pudding and milk. Keep mixing until it starts to thicken. Then fold in the two cups of Cool Whip. Spread this mixture on top of first layer. Add another layer of strawberries. Drizzle chocolate syrup on top. Refrigerate.
I served this recipe to company. What I did was I made this dessert into individual bowls. The remaining ingredients I followed the directions and layered up in a Tupperware container.