Marquette Announces Leadership Changes
John Eckstein has become executive chairman of Marquette Transportation with Damon Judd, the company's president, assuming Eckstein's former duties as CEO.
The change took place June 1. As executive chairman, Eckstein continues to work with Marquette's leadership team and board of directors to set the company's strategy and engage with core customers and other stakeholders, the company said in a news release. Eckstein has 30 years of experience with Marquette.  The transition was planned for earlier in the year, but moved back due to the COVID-19 pandemic, said Eckstein.  It had been in the works for over five years.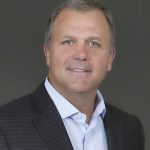 In addition to his new role, Eckstein said he plans to spend more time with his family and both professional and charitable projects with which he is involved.  The Eckstein family charity has become an important source of support for may industry related non-profits.
Eckstein is the youngest of the eight children of Ray and Kay Eckstein, who founded Wisconsin Barge Line and then, when John Eckstein was a teenager in 1978, began Marquette. He spent summers working as a deckhand while attending Coe College in Cedar Rapids, Iowa, and earning a Bachelor of Arts degree in business management and economics. He later earned a master's degree in business administration with a concentration in finance at Vanderbilt University.
Following two years as vice president of institutional bond sales for Merrill Lynch, Eckstein returned to Marquette as a dispatcher in 1990 before succeeding his father as president and CEO in 1991 at age 27. At the time, Marquette had five towboats and was a small "tramp tower" on the Mississippi River. 1993 was a pivotal year for the company when Eckstein purchased 85 barges.  Following the flood, the business took off.  It now has more than 135 towboats and tugs operating through its river, gulf-inland and offshore divisions.
"The last 30 years have been an incredible journey for me and the Marquette team," Eckstein said. "I'm extremely proud of what we've built and appreciate the friendships I've been able to establish across our industry. This does not mark my retirement from Marquette. The future of our company and our employees remains very important to me and my family."
Judd praised Eckstein's leadership.
"John is an exceptional leader whose genuine passion for our company, our people and the marine industry is unmatched," Damon said. "He successfully built Marquette through 30 years of good and bad markets through a consistent focus on the mariner as the key to our success, developing deep customer partnerships based on trust and by surrounding himself with a team that shared his energy and passion for the business."
He called Eckstein a mentor and said he welcomes the opportunity to serve as CEO.
"Over the last 14 years, John has been a true partner and mentor to me, and I look forward to continuing to work closely with him in the executive chairman role," Judd said. "I am honored to have the opportunity to lead Marquette and am blessed to be part of an outstanding team that shares a commitment to safety and to providing excellent service to our customers and mariners."
Darin Adrian, executive vice president, and one of only three employees who started with Marquette before him, spoke about Marquette's growth under Eckstein's leadership.
"I feel fortunate and honored to have had the opportunity to work closely with John for over 30 years through Marquette's growth and success," he said. "I am equally excited to work with Damon in defining the next chapter of the Marquette story."
Judd has worked for Marquette for 14 years, including serving on the company's board of directors from 2007 to 2013 as a representative of Marquette's prior financial partner. As president and CEO, Judd will be responsible for leading Marquette on a daily basis as the company executes its strategy, according to the company.  Eckstein's director reports are now reporting to Judd.
Eckstein said Judd is ready for the role.
"I have worked closely with Damon and our board to plan this transition over a several year period, and I am very confident that he and I will maintain a close working partnership in our new roles," he said. "We share the goal of making this transition seamless for our employees and our customers and will work together to position Marquette for continued success."