Did you ever try to peel a butternut squash or an acorn squash? Well, they have a tough outer shell. But with a few easy steps you can quickly chop your butternut squash without too much difficulty. Start with a very sharp knife and a sturdy cutting board. It is important to keep your cutting board from slipping. To stabilize your cutting board, lay a damp kitchen towel under the board. This will create traction between the board and counter so it does not slip around.
For your butternut squash, trim the ends off. Next, cut it in half where the round bulb shape and neck meet. Now stand the round bulb shape up on the flat end. While holding the squash sturdy on your cutting board, guide your knife through outer peeling and the tough flesh. It is like removing the rind off a watermelon. Continue all around the bulb, taking smaller cuts if necessary. Now do the neck the same way. Many internet instructions tell you to peel your squash. This is also another good way to clean your squash. However, sometimes the outer shell is thick. I find it quicker and easier to use a knife.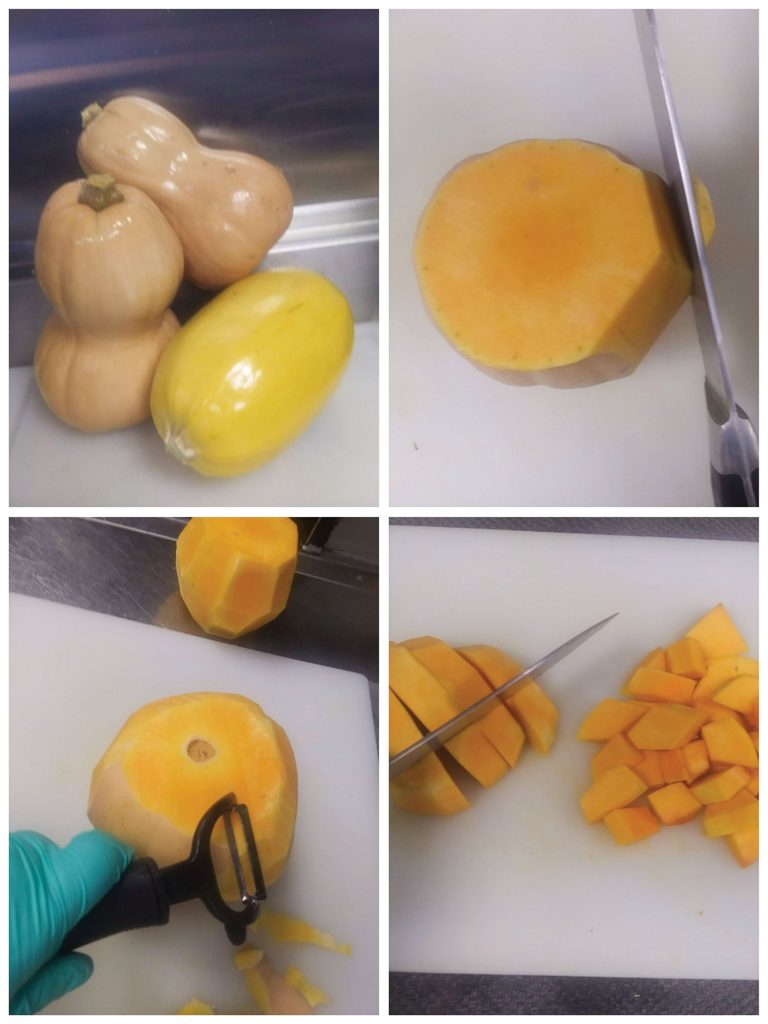 Once the outer shell is removed, cut the bulb in half lengthwise, exposing the seeds. Scoop out the seeds. The seeds are delicious and can be baked like you would pumpkin seeds. All that is left to do is cube your squash. This is done by laying the squash on the long, flat side. Cut one-inch slices, turn and cut one-inch slices again to make your cubes.
Your acorn squash has grooved ridges, and the skin cannot be cut off. Instead cut the stem end off to create a flat end. Place the flat end of your acorn squash down on your cutting board and cut in half lengthwise. Clean out the seeds. You are done! No need to peel the outer layer. You will bake the acorn squash on a parchment- or foil-lined cookie sheet. (Recipe to follow.) Do not throw out the seeds either. They also are delicious and have a delightful nutty flavor!
Spaghetti squash is prepared similar to the acorn squash. However, with this squash, all you have to do is cut the squash in half and scoop out the seeds. Place the open end of the squash face down on a cookie sheet. Bake for about an hour until it is soft like a potato. Let cool and scoop out the insides. The insides will be stringy like spaghetti. Gently place in a bowl. Pour on some melted butter, salt and pepper. Spaghetti squash tastes much like yellow summer squash. You can eat it as is or pour your spaghetti sauce over it.
These sweet squashes are full of vitamin C and potassium. They can be warmed up from roasting on a sheet pan to sautéing with cinnamon and butter and are even terrific in stuffing.
Butternut Squash
2 butternut squash peeled, seeded and cubed
Olive oil, enough to coat squash
1/3 cup brown sugar
½ teaspoon ground cinnamon
½ stick butter
Directions:
Heat oven to 400 degrees. Toss squash lightly with olive oil. Pour squash onto a foil-lined baking sheet. Place in oven for 20 minutes. Pierce with a fork to make sure squash is well done. While squash is in the oven, melt your butter with brown sugar and cinnamon. Stir until butter is melted and all brown sugar is dissolved. Drizzle on squash and toss gently. Your butter sauce may be tossed on your squash before roasting. This will make it more caramelized. Everyone's palate is different. If you have a very large squash, you may want to increase butter and brown sugar.
Spaghetti Squash
Heat oven to 400 degrees. With a sharp knife and a sturdy cutting board, cut the spaghetti squash in half lengthwise, exposing the seeds. Scoop out the seeds. These seeds can also be roasted. Place the spaghetti squash cut side down on a foil-lined baking sheet. Roast for 30-40 minutes. Check that your squash is tender. When cool to the touch, gently scoop out the spaghetti strands with a large spoon into your serving dish. You can eat your squash plain like this. Just add a little salt and butter. Or you can use it as your spaghetti noodles and serve it with spaghetti sauce.
Acorn Squash
Heat oven to 400 degrees. With a sharp knife and a sturdy cutting board, cut the acorn squash in half lengthwise, exposing the seeds. Scoop out the seeds. These seeds can also be roasted. Place the acorn squash cut side up on a foil-lined baking sheet. In each hollow, add one tablespoon of butter and one heaping tablespoon of brown sugar. Bake for 30-40 minutes. That is it. You may serve it as is out of its shell or scoop it out into a serving bowl, giving it a gentle toss. So simple!
Squash and Vegetable
Stuffing
1 stick butter
3 tablespoons olive oil
2 cups butternut squash, chopped
6 large mushrooms, chopped (portabellas are best)
1 large sweet onion, chopped
2 medium zucchini, sliced
1 red pepper, chopped
3 stalks celery
1 large handful fresh spinach
2 cloves garlic or 1 tablespoon, minced
¼ cup Parmesan cheese
1 teaspoon oregano
½ teaspoon sage
Dash of crushed red pepper flakes
Salt and pepper to taste
½ lb. Jimmy Dean sausage
Directions:
Preheat your oven to 375 degrees. Melt butter along with olive oil in a large pan. Add all your vegetables and garlic to the pan. Sauté until all vegetables are just becoming al dente. Mix in parmesan cheese and seasonings. Stir gently. Remove vegetables to a baking dish. In same pan, brown your Jimmy Dean sausage. (You may use any other brand.) When sausage is browned, add to your vegetables and mix. Bake uncovered for 30 minutes.
Caption for top photo: Squash and vegetable stuffing.