NGL Marine, the Houston, Texas-based river transportation subsidiary of NGL Energy Partners LLC, took delivery of two 2,600 hp. towboats recently, the mvs. A.M. Raymond and Kevin Allen. The Raymond was completed May 18, while the Allen hit the water on August 13. Both were built by Main Iron Works, an affiliate of Cenac Marine Services, at its yard in Houma, La.
"Each boat will be pushing two 30,000-barrel barges," said Craig Lagrone, NGL's vice president-marine. "One boat will be pushing a clean tow and the other a crude tow from Brownsville to New Orleans." He added that there has been little interest in any christening because of the pandemic, but "we might do a low-key, double christening in early November."
Lagrone praised the shipyard for its attention to detail and for the quality of its work, adding "Main Iron Works has been doing this for a very long time and is one of the best in the business." Both boats are 100 percent Subchapter M compliant. They departed the shipyard with certificates of inspection issued, he said.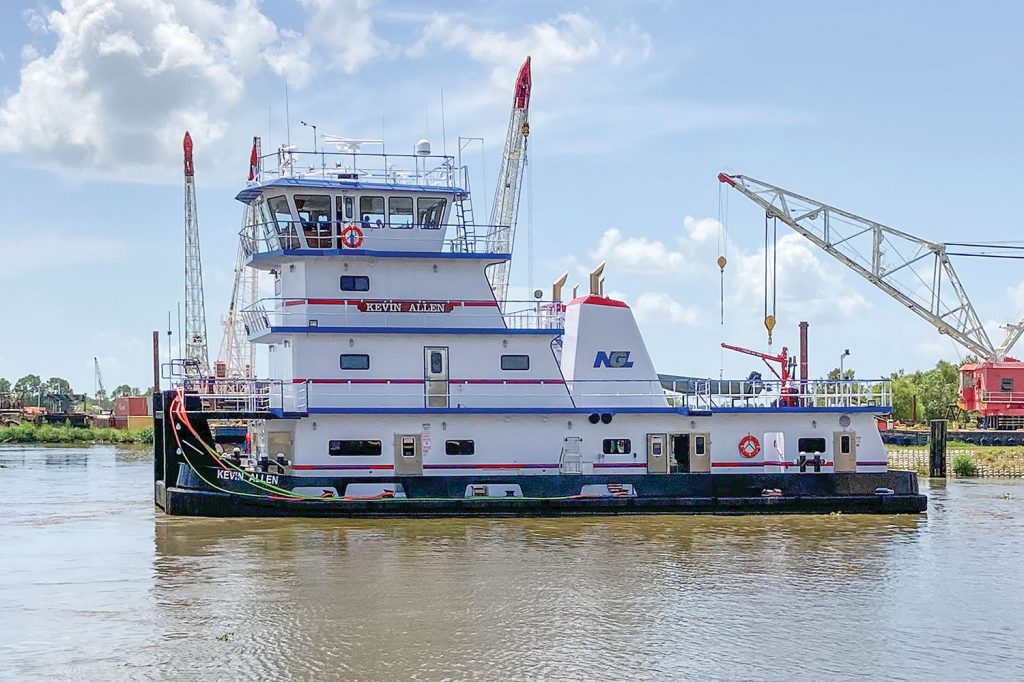 Formed in 2013 when NGL Energy Partners bought and merged Third Coast Towing and Cierra Marine, NGL Marine currently operates 13 towboats, including the Raymond and the Allen, and 25 30,000-barrel tank barges along the Gulf Intracoastal Waterway and Lower Mississippi River.
The new towboats each measure 88 feet by 35 feet by 10 feet, 8 inches and have a 35-foot pilothouse eye level. The twin-screw vessels are each powered by a pair of Cummins QSK38M1 main engines rated 1,300 hp. each. The engines are mated to Twin Disc MG5600 reduction gears from Sewart, which turn 85- by 56-inch, five-blade Sound propellers at a ratio of 6.5:1.
The propellers and 8-inch shafts with hardened liners were furnished by Houma Machine & Propeller, which is also a Cenac Marine Services affiliate. The seals are Simplan, and the bearings are Cutlass.
Within the hulls is tankage for 30,000 gallons of fuel, 18,400 gallons of water, 400 gallons of lube oil and 200 gallons of gear oil.
The new towboats are each equipped with two John Deere 99 kw. gen sets, cooled, as are the mains, by an East Park Radiator system. Steering is via a hydraulic-over-electric system from Rio Controls, which also provided the engine alarm system.
The four-deck vessels have quarters for a crew of six housed in five bunkrooms with three full and one half-baths. The deckhouse in each is outfitted with ceramic tile, FRP and acoustic drop ceilings. The galleys contain all-stainless-steel appliances. There is 3-inch mineral wool throughout the cabins, with additional sound barriers sandwiched between the mineral wool at each engineroom bulkhead to eliminate machinery noise.
The electronics-and-communication system for each boat was assembled by D&G Electronics. Two Nabrico 40-ton winches are featured on each of the work decks. The hulls are protected by M&M bumpers.
Caption for top photo: The A.M. Raymond, built for NGL Marine by Main Iron Works. (Photo courtesy of NGL Marine)