Here's an easy way to bring the smell of fresh-baked bread to your boat: use frozen dough. With a busy day on the boat planning and preparing many dishes, frozen dough can be a time saver.
There are many types of dough available for purchase: white frozen bread dough, frozen dinner rolls, pre-made biscuit dough, frozen phyllo dough, pizza dough and several more. With these frozen bread doughs, you will have the true aroma and flavor of homemade yeast breads.
This dough offers many advantages over scratch dough such as the economical storage advantage because it won't spoil like fresh bread will over time. Plus, with dinner rolls you can take out as many or as  few as needed. The best part of using frozen dough is  its many different uses,  and it will still give you the sense of a fresh baked product. Ohhh, the smell of bread baking in the galley creates such a good home feeling!
However, you still have to let it rise. There are several ways you can do this. Let me tell you the easy way I prepare it to shorten my time. Thaw your frozen bread dough in the microwave. To do this, spray a microwave-safe plate with non-stick cooking spray and spray your dough. With your bread dough on the plate, place it in the microwave uncovered. Microwave on the defrost setting for a minute at a time. After each minute, check bread to see if it is thawed, not cooked, still cold, but thawed. Now the dough will need to rise. Prepare your loaf pan using a nonstick spray. Place your thawed dough in pan and cover loosely. Dough will rise in two to three hours; let it rise until it is double in size. I usually let my dough rise in between meals.
I will get this all prepped in the morning, set out to rise and come back to the galley a couple hours later to prepare my next meal.
Before baking the bread dough, whisk an egg white in a small bowl until frothy or foamy. This is called an egg wash. Gently brush on top of your dough. The egg wash will give your bread a golden glazed look.
When your dough has risen, brush it again before baking. Bake at 350 degrees for 40 to 50 minutes.
Get creative with your dough. There are so many simple things you can do with your dough to make your meals interesting. Take for instance, the frozen-dough dinner rolls. After your quick thaw, roll dough about four inches long. Brush with butter and roll in parmesan cheese. Place on parchment paper, loosely cover and let rise for a couple of hours. Bake in the oven at 400 degrees for 15 minutes. You can also take your dough rope and tie it into a knot, let rise and bake. This is called the knotted roll.
Another change-up is take your frozen dinner rolls, cut into three pieces and roll into three separate balls. With a nonstick spray, spray muffin tins and put the three small balls into one muffin cup. Make several. Let rise and bake at 400 degrees for 15 minutes. These are called clover rolls.
Seeds, salad sprinkles, French fried onion rings and cheese can be added to the top of your frozen dough for an interesting taste and look. Just brush the top of your dough with your egg wash and roll dough in the topping of your choice. For a nice look, make three slices across the top of the bread. Let rise and bake.
So many other tasty things can be made with these doughs. Calzones are so good. They can be stuffed with so many different items. There are your pizza calzones, spinach with artichoke calzone, barbecue chicken calzone, mushroom cheeseburger calzone and you can even stuff your calzone with chicken salad. The finishing trick to a good calzone is to give it a good seal. See directions in calzone recipe below.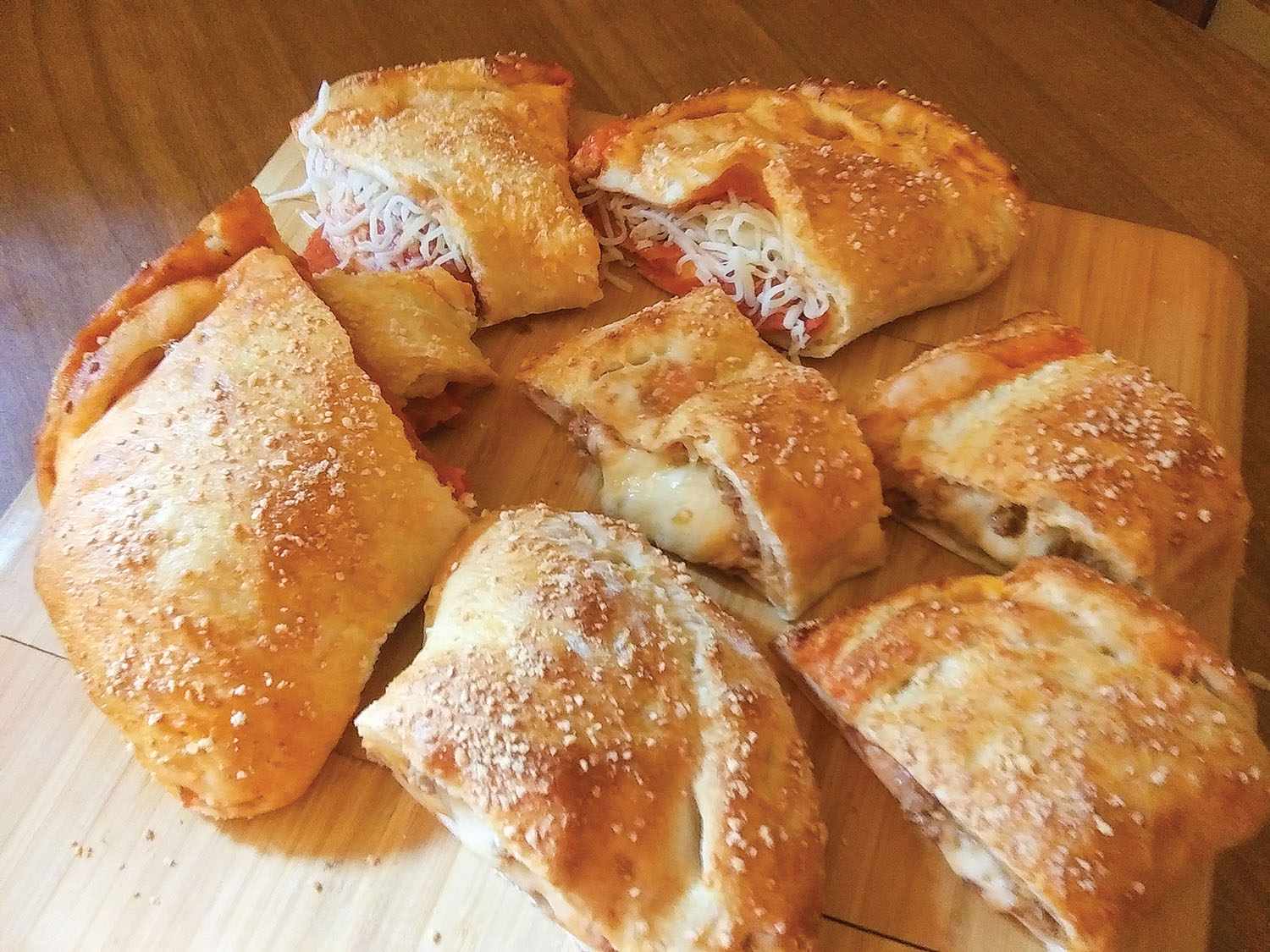 Easy Pizza Calzone
Ingredients:
Large pizza pan
Parchment paper
8 ounces pork sausage
1 loaf frozen bread dough (thawed)
1 cup pizza sauce or any pasta sauce
Garlic powder
Italian seasoning
Parmesan cheese
15-20 pepperoni slices
1-2 cups shredded mozzarella cheese
1 egg
Directions:
Preheat oven to 350 degrees. Cut parchment paper in a circle to fit pizza pan. Fry sausage, drain grease and set aside. Lightly flour a working surface. Divide your dough in half using a knife. Place one dough half on the floured surface. With a rolling pin, roll the dough into a 12×8 rectangle. You may have to hand stretch it a bit, but get it as close as possible to the measurement. Do the same with the other half of the dough. Spread the pizza sauce on each dough lengthwise. Sprinkle garlic powder and Italian seasoning on the sauce. Put on as much seasoning as needed to your personal taste. Top your dough rectangles with the sausage, pepperoni and mozzarella cheese, lengthwise. Fold your dough in half lengthwise over your toppings. You may have to stretch it a bit and press down to seal the dough. Seal up your other dough half. To secure the seal better, so all will not ooze out when baking, roll the edges of your dough approximately a half inch over and pinch to seal again. Close up the ends. Arrange your calzones on pizza pan. Shape calzones into a half moon shape. Prepare your egg for an egg wash. Using only the egg white, whisk till foamy. Brush top of calzones with egg wash. Sprinkle parmesan cheese on top of calzones. Bake 350 degrees for 20 minutes.
More Calzone Ideas
Spinach, Artichoke and Fresh Mozzarella
Hamburger, Mushrooms and Shredded Cheddar
Broccoli, Ham and Shredded Cheddar
Chicken, Jalapenos and Alfredo sauce
Mushrooms, Onions, Peppers, Steak
Chicken Salad, made fresh or store bought
Ground Turkey, Fresh Vegetables and Ranch dressing
Caption for top photo: There are many ways to get creative with bread dough to make meals interesting.