AWO's Brian Bailey Named 'Rising Star Of Safety' By National Safety Council
Brian Bailey, director of safety and environmental stewardship for The American Waterways Operators, has been named a 2020 Rising Star of Safety by the National Safety Council. He was selected as one of 32 men and women from five countries for this honor in recognition of his efforts to advance mariner safety. The NSC Rising Stars of Safety award celebrates up-and-coming health, safety, security, environment and quality (HSSEQ) professionals who are already having an impact on their field.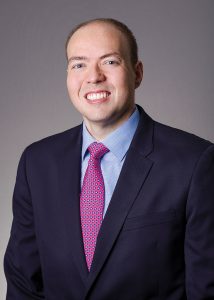 While at AWO, Bailey has spent the last four years focused on the continuous improvement of safety in the domestic marine transportation industry, bringing safety experts together with key industry figures and facilitating the sharing of safety innovation and industry best practices. His efforts have materially advanced the safety of one of America's most essential workforces, the National Safety Council said."I've always been aware of safety generally, whether it was safety healthcare outcomes with the American Urological Association, pipeline safety with the Arizona Petroleum Marketers Association or any of the other organizations and programs I managed and led over the last 10+ years," Bailey told The Waterways Journal. 
"These days, however, I believe in safety evangelism. And the importance of convening the broader towing industry community to learn about and engage on safety issues is more critical than ever. Each and every employee in the towing industry knows safety is important. They all want to work in a safe and healthy atmosphere. And each and every AWO member company believes it is their responsibility to look after employees, whether they're shoreside or afloat. Real change can happen when we sit down together and brainstorm, attempting to develop real, tangible safety solutions to make sure that everyone returns home from work the same way they left."
Bailey shared memories of his participation in the hands-on man-overboard training conducted in the summer of 2018 by Marathon Petroleum in Greenup, Ky. "I remember my lead instructor saying that a fall-overboard incident is 'something every crewmember could experience at least once in their career" and that 'a well-trained crew have a far greater chance of succeeding at rescuing the person with a favorable outcome.' Other memories of that day include that it was raining all day, submerging my hands in freezing ice water, shooting a rope gun, tossing life rings, throwing line bags, how to shout properly and jumping fully clothed in coveralls into the water."
Sign up for Waterway Journal's weekly newsletter.
Our weekly newsletter delivers the latest inland marine news straight to your inbox including breaking news, our exclusive columns and much more.
Bailey said he feels the recognition is as much directed to the towing industry as to him personally. "For the past 25-plus years, long before I joined AWO, our members have been engaged on a journey of continuous improvement, working with our shipper-customers and government partners to achieve the goal of zero harm to human life, to the environment and to property as we transport the nation's waterborne commerce. It's been my privilege to join and support that journey over the past four years."
Jennifer Carpenter, president and CEO of AWO, said, "Brian brings passion and creativity to his work. His dedication to protecting the health and safety of the hardworking men and women of the tugboat, towboat and barge industry makes a real difference to our industry and to the families of our mariners."
Marino Hwang of McAllister Towing, chair of AWO's Coastal Safety Committee, nominated Bailey for the NSC award. "Brian is an asset to AWO and its member companies," Hwang said. "His commitment to the safety and wellness of our mariners is unparalleled. He is truly deserving of this award, and I look forward to our continued work together on the AWO Safety Committees."
Matt Lagarde of Ingram Barge Company, AWO's Interregion Safety Committee chair, said, "Brian, and AWO as a whole, do an outstanding job of bringing together companies that compete commercially to work together as a team to reduce harm to people and the environment for the good of the industry."
At his acceptance, Bailey said, "To be recognized by the National Safety Council, our country's leading safety advocate with an unparalleled network of safety leaders, is a tremendous honor. In my four-plus years with AWO, I've learned so much and am motivated to learn so much more from the tugboat, towboat and barge industry's HSSEQ leaders. I am proud to accept this Rising Star of Safety award on their behalf."