Businesses in and around Wheeling, W.Va., are finding cost-effective river transportation solutions for their needs, revitalizing an area once primarily known for coal production.
Manufacturers in the region are taking advantage of the opportunities provided by the Ohio River. The river provides a connection to Pittsburgh, Pa., area steel mills upriver. Downriver, the link to the Mississippi and the Gulf is a vital connection for metallurgical coal and agricultural exports.
The mix of opportunities has drawn several companies to the region as they reposition and look toward expanding to increase their competitive edge.
Empire Diversified Energy
Empire Diversified Energy closed on a $26 million dock and wharf bond December 1 that will allow the expansion of its terminal in Follansbee, W.Va., at Ohio River Mile 70.
Sign up for Waterway Journal's weekly newsletter.
Our weekly newsletter delivers the latest inland marine news straight to your inbox including breaking news, our exclusive columns and much more.
Empire, which is based in Fort Lauderdale, Fla., purchased the former Trimodal Terminal and Go Green American Recycling facility from founder and owner Scotty Ewusiak in 2013, keeping Ewusiak on as company president. Ewusiak founded Trimodal and Go Green after buying the former steel mill site at a bankruptcy sale.
Empire is active in offloading metallurgical coal and loading coke for shipping both domestically and internationally. It also does business in scrap metals and limestone aggregates and is pursuing opportunities in the agricultural market.
The bond from the West Virginia Economic Development Authority will allow the installation of new docks and a heavy lift pad, Ewusiak said. The company is working with Italian crane purveyor Fagioli to provide several cranes, giving the company the capability of lifting up to 1,500 tons. The expansion will create efficiency in the loading and offloading of dry goods, Ewusiak said. It has been under development for 18 months.
The bond issue will be coupled with an anticipated investment of approximately $30 million over the next five to six years, bringing Empire's investment into the West Virginia facility to between $55 million and $60 million. It will also allow employment at the site to ramp up from just under 30 personnel now to between 80 and 100 over the next three years, Ewusiak said. He thanked both local and state economic development officials for their assistance as Empire continues its growth at the site.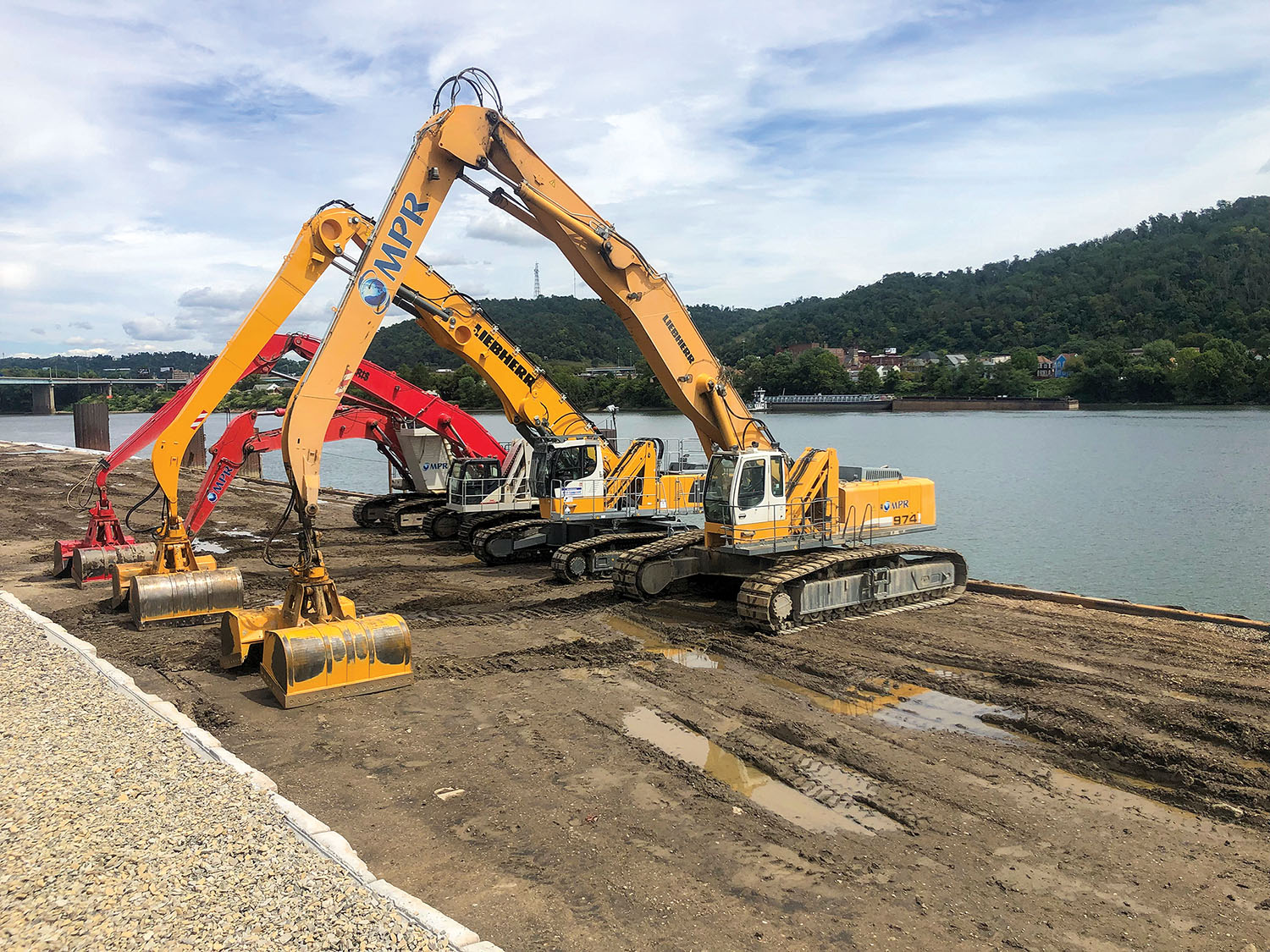 MPR Supply Chain Solutions
Founded in 2009, MPR Supply Chain Solutions in Bellaire, Ohio, is a transloading business at Ohio River Mile 92.5 that has continued to grow.
MPR purchased river frontage in Bellaire in 2011 and began transloading wire rod coils, fertilizer, steel slabs and barite super sacks, storing the commodities on site and then shipping them to locations throughout the eastern United States.
In 2015, MPR entered into a separate joint venture with a frac sand company to create MPR Sand Terminals. MPR Sand Terminals receives the sand via barge and then transloads, stores and reloads trucks at MPR's Bellaire terminal. The main storage location is 120 feet by 260 feet and is the largest automated ground storage location in the Marcellus and Utica shale plays. Trucks can be loaded and weighed in as little as six minutes, 24 hours a day, year-round.
In 2019, MPR made a large capital investment in both its harbor and equipment. The harbor expansion extended the dock to 850 feet to allow for additional unloading capacity. A Liebherr LH 110 material handler was purchased from Germany through Reco Equipment. This equipment adds to the unloading fleet, which also includes a Liebherr 974 CEW, Link-Belt 800 X2 and Link-Belt 800 LX, allowing MPR to unload up to four barges at one time.
Today, the company has nearly 20 acres on the Ohio River and a rail spur off the Wheeling & Lake Erie with the Norfolk Southern nearby. "We've come a long way," said Natalie Brown, MPR's president. "We used to unload two barges a month, and now during our busy times, we unload four barges a day with capacity to do much more. We unload over 1.25 million tons a year and have grown from three people to 35. The oil and gas business has benefited us and many other companies in the area. The proposed ethane cracker plant is just 10 miles south of our location, and we hope to unload barges of material for their construction. We look forward to creating value for more customers to benefit additional companies in this region through the utilization of the waterways."
Bellaire Harbor Service
Bellaire Harbor Service in Bellaire, Ohio, at Mile 92, just celebrated its 15th anniversary in business.
The company owns 16 boats and provides fleeting service for 275 barges in the Pike Island and Hannibal pools. Along with marine transportation and harbor/fleeting services, Bellaire provides marine repair and cleaning, stevedore/terminal operations and portable barge unloading.
Bellaire recently took delivery of a 1,200 hp. twin-screw towboat company president Bob Harrison renamed the mv. George J. Harrison in honor of his 16-year-old son. The boat was completed in October.
"Ever since I've been here, 15 years, we've always tried to add something on, whether it's been something small or something big," Harrison said of growing the operation.
Bellaire now has nine boats with Certificates of Inspection (COIs) from the Coast Guard, passing the 50 percent threshold.
The company has also grown to become one of the biggest barge unloaders in the area. It also offers cleaning services, aiming to be a "one-stop shop," Harrison said.
Tidewater Logistics
Tidewater Logistics is a 100-acre transload terminal and inland port in Steubenville, Ohio, at Ohio River Mile 68. It specializes in logistics, consulting and operational services to the frac sand and industrial markets.
Tidewater Operating LLC of Fort Worth, Texas, bought the former RiverRail terminal at the south end of the city in summer 2018.
"Historically, the barge dock was probably being used I would say six days a month," said Scott Spence, chief operating officer. "We've increased that now where our barge dock is really being used close to 20 to 25 days a month."
Tidewater also received final permitting earlier this year to double the size of its dock. Construction is anticipated to begin in mid-2021. The addition will give the company both additional capacity and capabilities as it will be able to service tank barges, Spence said.
"Our barge dock is growing, and we see that as one of our benefits," Spence said.
Tidewater also offers covered warehouse spacing, flat land for development and both barge and rail access.
One of the company's best assets is its location, Spence said, noting that it is close enough to reach Pittsburgh by truck but can take advantage of freight rates without having to go through nearby locks. Flexibility is also key, he said, with the company doing business in steel shred, plate, scrap, pig iron, pipe and four kinds of fertilizer as well as sand, and offering turnkey engineering solutions for clients.
"We have a lot of flexibility in both size, infrastructure and equipment," Spence said.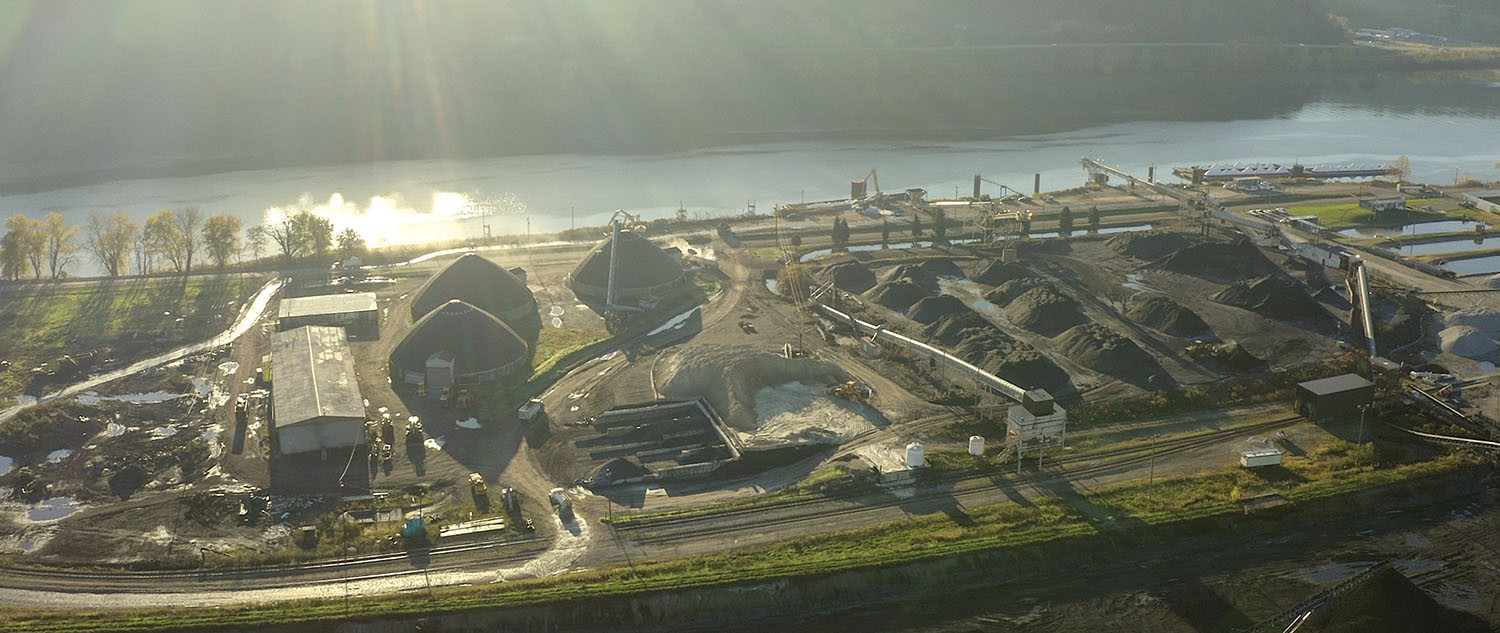 Warrenton River Terminals
Robindale Energy Services and Pickands Mather acquired Warrenton River Terminals at Ohio River Mile 80.9 at the end of 2018.
The 300 acre-plus facility in Rayland, Ohio, has more than 1-1/2 miles of river frontage on the Ohio. It had been previously held by Ohio Edison as a potential future power plant site as well as a coal blending and storage facility.
Warrenton has worked to repurpose its activities away from historical dependence on thermal coal, instead managing metallurgical coal and coke for the steel industry, urea for fertilizer, synthetic gypsum used in building products and aggregates certified by the states of Ohio and West Virginia for the construction industry. The company is also actively engaged in developing other transloading opportunities of both bulk and discrete products.
"The world has changed," said Scott Brown, Warrenton vice president, in speaking about the need for companies to develop new business opportunities. "I think it's the ability to adapt to those changes that will make companies successful."
Multi-modal transportation is one key to providing necessary operational flexibility.
Warrenton is located on Ohio Route 7 just north of I-70 in Wheeling and south of Route 22 in Steubenville, Ohio. It is served by the Wheeling & Lake Erie Railroad, which provides direct access Class I railroads, such as CS, NS or the CN, as well as a number of other short line carriers.
Of course, its Ohio River frontage and capabilities to transload off or onto the river is one of its greatest assets.
"I think the river presents a certain incredible opportunity for competitive access on the river that perhaps is different than that served by rail or truck, and it's a gateway to the world through New Orleans," Brown said.
Caption for top photo: Empire Diversified Energy closed on a $26 million dock and wharf bond December 1. (Photo courtesy of Empire Diversified Energy)