When you work on a boat, there are times holidays are unavoidable, and you are away from your family for weeks at a time. The people you work with become your family during these times.
As a cook for American Commercial Barge Line, I want to make the holidays as nice as possible for my crew. One way I do that is by asking what each person's favorite holiday dish is and getting the recipe. In addition to holiday cooking on the boat, I prepare several more dishes to make the holiday festive. However, this can be time-consuming among my other chores. It is best to prepare dishes ahead of time. Included are some easy-to-prepare dishes in the morning.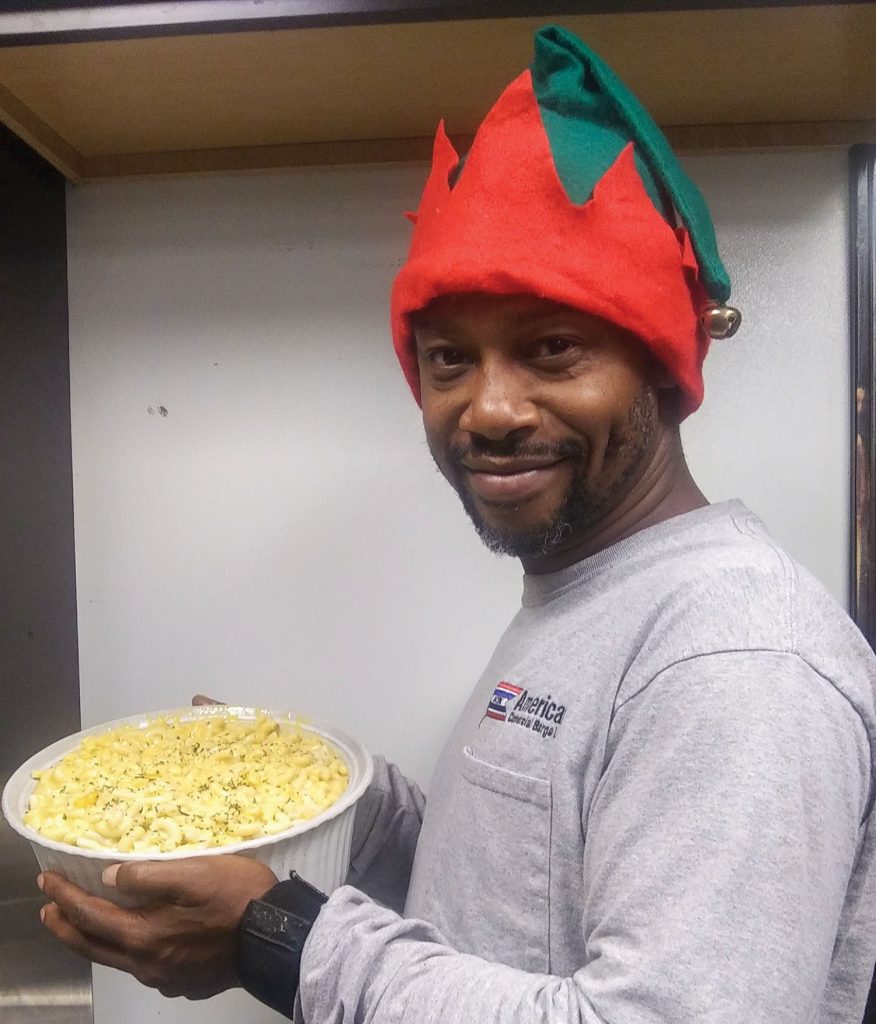 Also in this article is a picture of our crewmember Alphonse Patterson, who always likes a side dish of macaroni and cheese. But this mac and cheese recipe has a different cheese in it to make it extra special.
(In addition to this creamy, wonderful mac and cheese, try adding these ingredients for other variations: chicken, bacon, ranch, jalapeño, chili, barbecue pork or Cajun shrimp).
Patterson Macaroni and Cheese
Ingredients:
16 ounces elbow macaroni
1 stick butter (½ cup)
½ cup flour
3 cups whole milk
1 cup heavy cream
4 cups sharp cheddar cheese
2 cups Gruyere cheese
½ cup parmesan cheese
Directions:
Prepare elbow macaroni as directed on package and drain. With your butter, flour and milk you will make a roux. To make the roux, melt your stick of butter in a sauce pot large enough to hold all ingredients. Add your flour to melted butter and whisk. Next, slowly add milk to your butter and flour. Whisk constantly. Add the last cup of heavy cream and continue to whisk on medium heat until thick. Your roux should be the consistency of thinned out cream soup.
In a large mixing bowl, combine all of the cheese together. Place half of the cheese in your pot of roux. Mix cheese and roux together until completely melted and smooth. When the cheese mixture is thick and melted, add in your drained macaroni and mix thoroughly. Pour half the pasta mixture in a prepared 9×13 pan. Glass pans are easy for cleanup.
Divide the other half of your cheese in half again. Layer one half of the cheese on top of the pasta mixture in the pan. Evenly put the rest of the pasta mixture in the pan. With the last of the cheese, sprinkle it evenly on the pasta. Bake at 350 degrees for 20 minutes until cheesy and bubbly.
Easy Ham and Bacon Pea Salad
Ingredients:
½ cup mayonnaise
½ cup sour cream
1 tablespoon Splenda1 teaspoon pepper
4 cups frozen peas, defrosted
1/3 cup diced red onion
½ cup small cubed ham
6 slices bacon, cooked and crumbled
½ cup shredded cheddar cheese
For a festive topping:
1 Tablespoon pimiento pepper
Small spinach leaf
Directions:
You can mix this in the bowl you're serving the pea salad in. It is that simple!
Mix the first four ingredients together. Add the peas, onion, ham and bacon to the mayonnaise and sour cream mixture. Sprinkle shredded cheddar on top. That's it. For a festive topping, use the pimiento to make six petals on top of pea salad. Add a small spinach leaf in center of petal.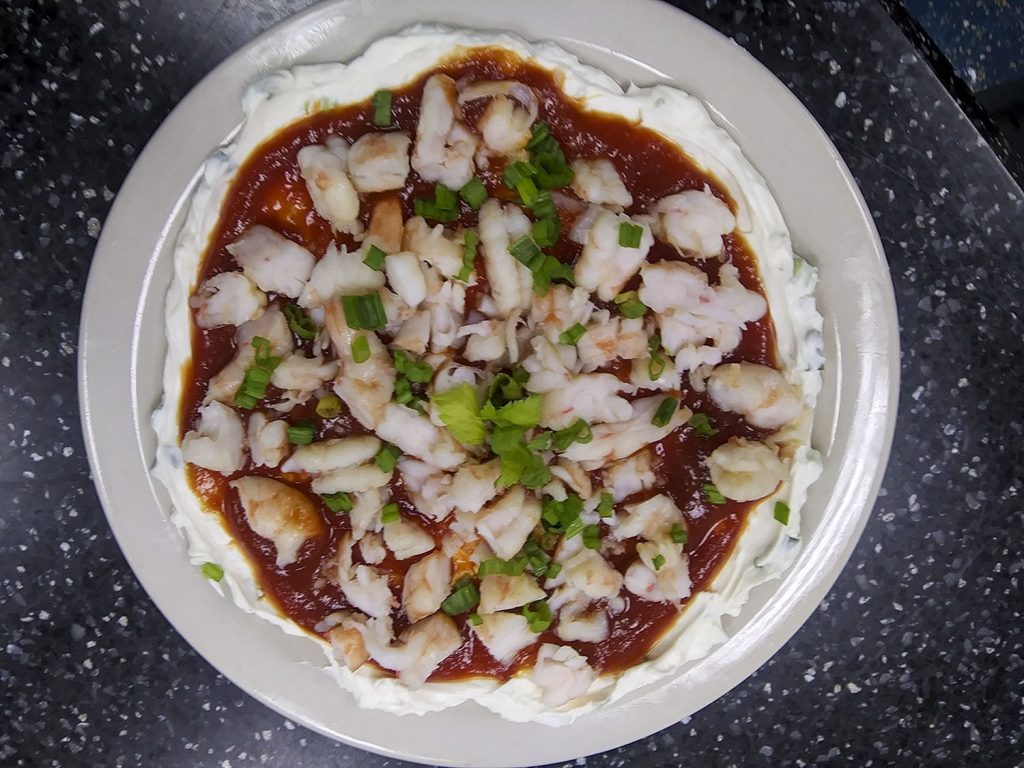 Ready To Serve Shrimp Dip
Ingredients:
1 16-ounce brick cream cheese, room temperature
½ cup cocktail sauce
12 pre-cooked shrimp, chopped
¼ cup chopped green onions
Crackers
Directions:
Spread cream cheese on bottom of serving plate. Evenly spread cocktail sauce on top of cream cheese. Top with shrimp and chopped green onions. Serve with crackers.
So easy and ready to serve.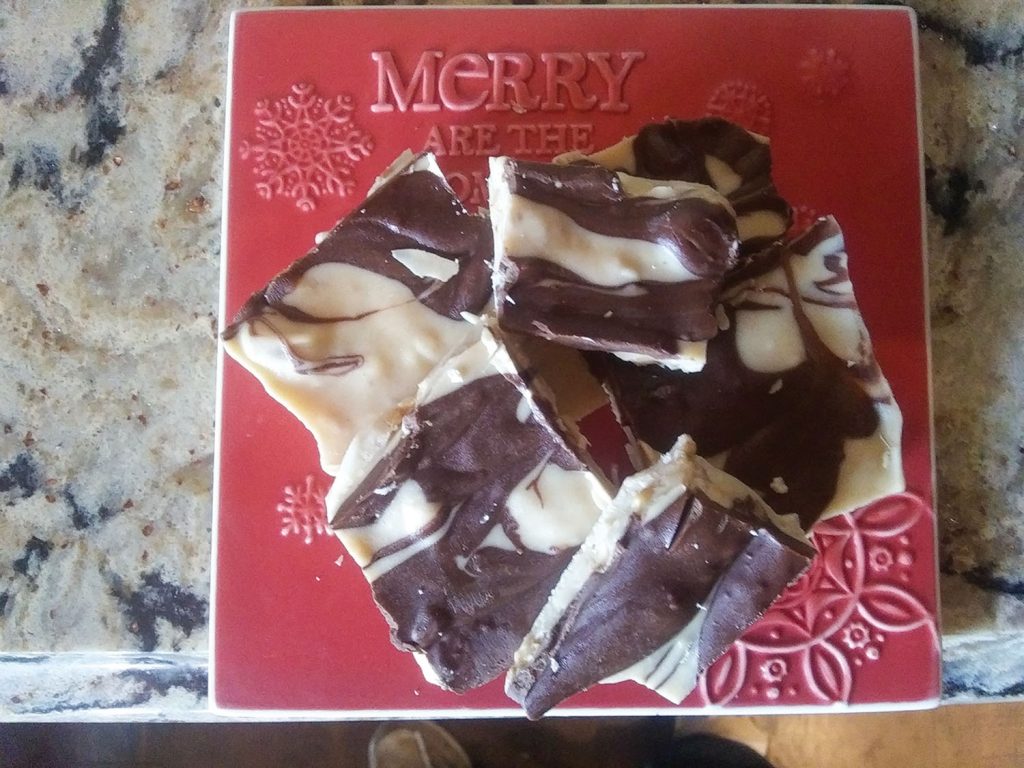 Tiger Butter Fudge
Ingredients:
2/3 cup creamy peanut butter
12-ounce bag white chocolate morsels
20-ounce package white chocolate almond bark
¾ cup crushed dry roasted peanuts
12-ounce bag semi-sweet chocolate morsels
Directions:
Use a medium sauce pan and melt peanut butter on low heat. Add white morsels and almond bark to pan and melt. Continue to stir until all chocolate is melted and smooth. Mix peanuts into chocolate and peanut butter.
Line a 9×13 baking dish with parchment paper. Evenly spread fudge mixture on dish. In your same saucepan, melt semi-sweet chocolate morsels. When chocolate is melted, spoon in parallel lines on top of fudge mixture. With a toothpick, swirl chocolate through white chocolate to make creative design. Put fudge dish in freezer for one hour. Remove and break into chunks.
Top photo: Easy ham and bacon pea salad.