"M'mm Good! M'mm Good!" That's what Campbell's soup is: "M'mm M'mm Good!"
Anyone remember that commercial? For many of the soups Campbell's does make, however, "made from scratch" is best.
I would like to add that there have been times I made soup from scratch and added canned soup. I did that for two reasons. One to stretch my soup and two I was missing something. There are no soup police out there who are going to note everything you put into your soup! So if a good percent of your soup is made from scratch, you can claim it as homemade.
Listed below are soups with a short description (but not limited to) of their ingredients. There are hundreds of variations of these soups.
BEEF SOUPS—browned chuck roast, mixed vegetables, potatoes.
BISQUE—thick cream soup made with seafood.
BORSCHT—a sweet and tangy beet soup with onions, beef/chicken broth and cabbage (Ukrainian).
BOUILLABAISSE–shellfish, stock from boiled shrimp or lobster shells, leeks, tomatoes and garlic.
CHEESE SOUPS—cheddar cheese, butter, onion, half and half milk and broccoli.
CHICKEN—onion, celery, chicken, carrots and potatoes (soft dumplings on top are the best).
CHOWDER—a creamy thick soup with chicken or seafood; Manhattan style includes tomatoes.
CREAM SOUPS—cream of mushroom, cream of chicken, cream of celery and cream of shrimp.
EGG DROP—thickened chicken stock, green onions, whisked eggs dropped into soup to cook.
FRENCH ONION—sautéed sweet onions, beef broth, French bread  and Swiss cheese.
GAZPACHO—a cold spicy soup with raw vegetables: cucumber, peppers, and tomatoes (Spanish).
GUMBO—roux (flour and fat), okra, sausage, shrimp, chicken, onion and pepper, served over rice
HAM AND BEANS—left over ham bone, onions and navy beans.
KIMCHI—pork belly, ginger, sesame oil, garlic and kimchi-fermented cabbage (Korean).
MINESTRONE—onions, carrots, celery, tomato, cabbage and pasta (similar to vegetable soup).
MISO—clear soup stock, green onions and tofu (Japanese).
MULLIGAN—a beef vegetable stew with potatoes, corn, carrots and peas.
PHO—simmered beef bones, flank steak, hoisin sauce, ginger, fish sauce and vermicelli noodles.
POTATO SOUP—potatoes, onion, bacon and milk.
TACO SOUP—hamburger, corn, black beans, tomatoes, tomato sauce, green chilies and beef broth.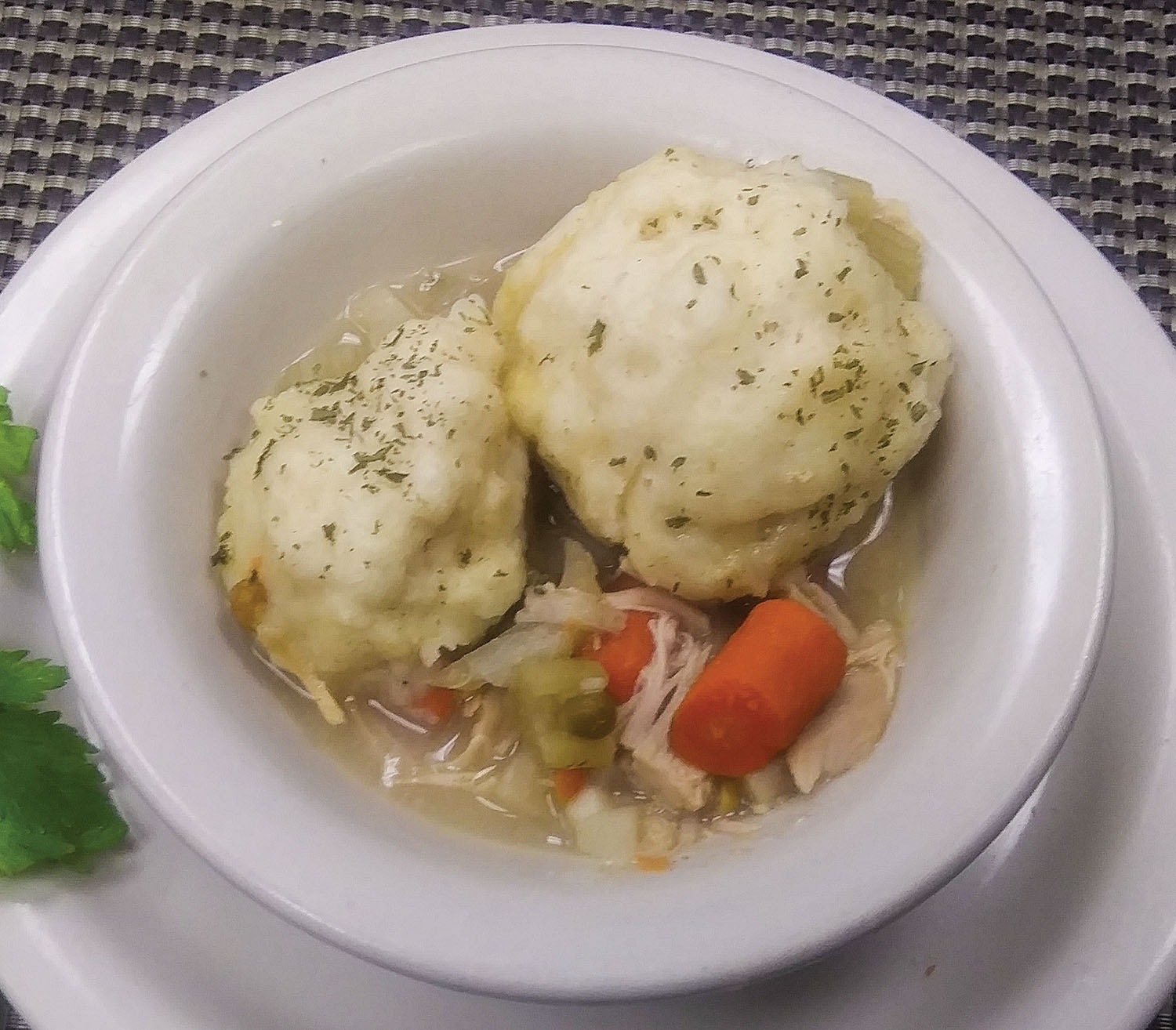 Old-Fashioned Chicken Soup With Dumplings
Ingredients:
1 package whole, cut up chicken
2 Tbsp. chicken base
1 large onion, chopped
5 stalks celery, chopped
5 carrots, largely sliced
2 large potatoes, chopped into one-inch cubes and rinsed
1 Tbsp. celery salt
2 tsp. garlic powder
Salt and pepper to taste
Dumplings:
2 cups Bisquick mix
2/3 cup milk
Directions:
Rinse chicken thoroughly with water. Place in a large pot. Add enough water to cover chicken. Add chicken base to water. Add onion, celery and carrots to pot of chicken. Boil chicken approximately 45 minutes until chicken is completely cooked. During this time you may have to skim foam off the top. When chicken is completely done, remove chicken from pot with a slotted spoon. Keep onions, celery and carrots in water with all the foam removed. Set chicken aside to cool. Add rest of ingredients, except for dumplings. Add salt and pepper to taste and continue to boil until potatoes and carrots are done. In the meantime, de-bone your chicken, discarding the skin. Cut your chicken into large bite-sized pieces. Return chicken to pot once potatoes and carrots are done.
Dumplings:
Mix Bisquick and milk. Dumpling mix will be a sticky dough. Bring your pot of chicken mixture to a boil. Drop dough by heaping spoonfuls into boiling soup. Dough will float on top. Boil uncovered for 10 minutes. Turn heat down to a simmer, and cook dumplings another 10 minutes. Keep dumplings in soup. Serve.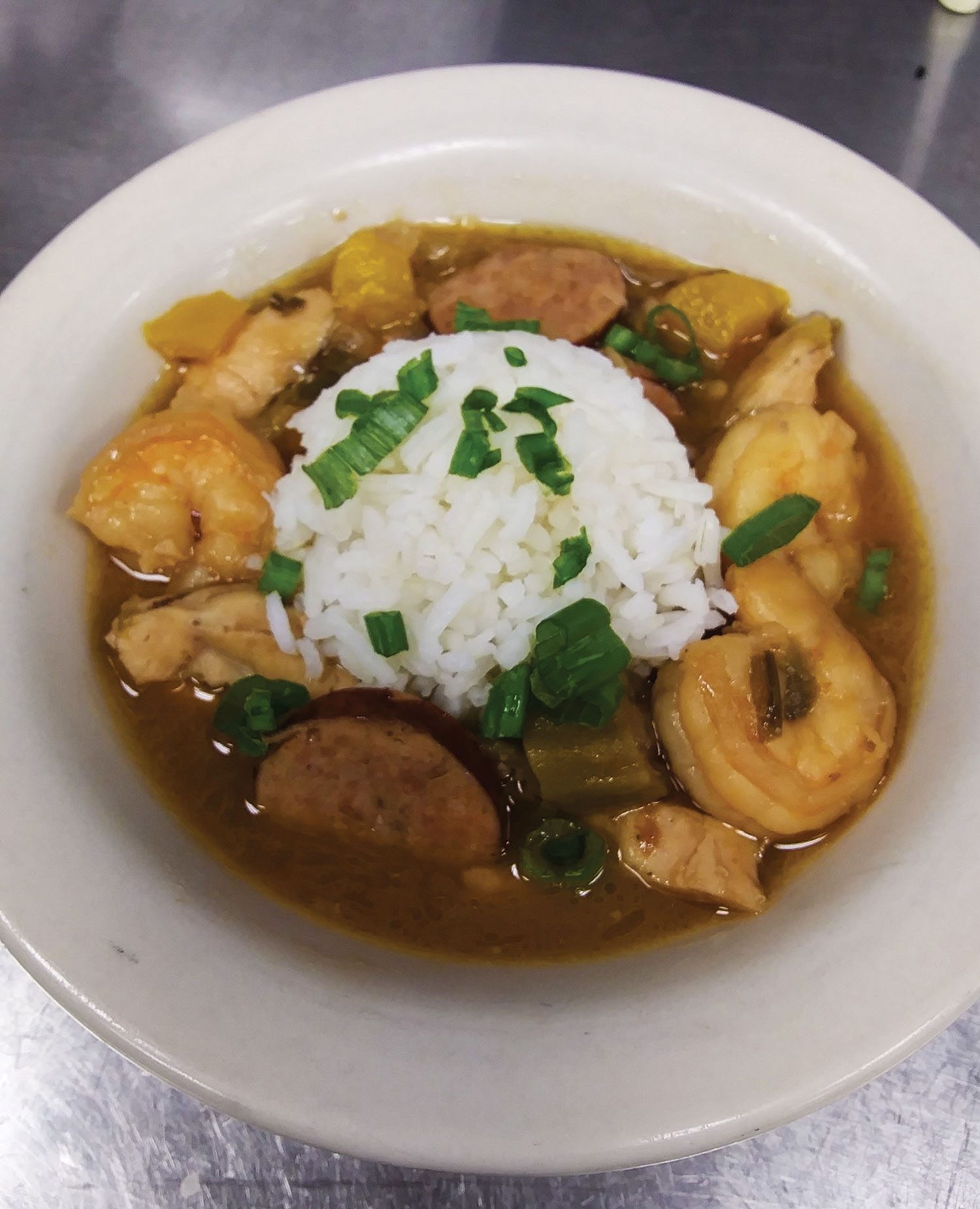 Gumbo
Ingredients:
1/4 cup butter
1 onion, chopped
1 yellow pepper, chopped
4 stalks celery, chopped
½ cup chopped green onion
1 jalapeno, chopped
For roux: 1 stick butter, 3/4 cup flour
4 cups chicken broth
2 cups water
½ cup oyster sauce
1 bay leaf
2 tsp. Worcestershire sauce
2 Tbsp. Cajun seasoning
2 Tbsp. minced garlic
2 cups chopped okra (may use frozen)
2 cups cooked, chopped chicken
2 cups shrimp, peeled
1 14 oz. smoked sausage, sliced
4 cups cooked rice
Directions:
In a large pan, melt ¼ cup butter. Sauté onion, pepper, celery, green onion and jalapeno. Remove sauté mixture and pour in bowl. In your pan, make roux by melting 1 stick butter, and add the flour. Heat roux on medium heat for about 30-40 minutes. Stir often so the roux does not burn. Do not boil. It will start to thicken. You will want your roux to be the color of a penny. Add broth and water slowly to roux while stirring. Next, stir in rest of ingredients (except the rice) and return your sautéed vegetables to the pan. Bring soup to a boil, then turn down to a simmer. Serve with a scoop of rice.
Taco Soup (Photo at top)
Ingredients:
2 lbs. ground beef
1 medium sweet onion
2 Tbsp. minced garlic
1 chopped jalapeno
2 14.5oz. cans diced tomatoes with liquid
1 10-oz. can Rotel, hot or mild
1 can green chilies
1 1/2 cups beef broth
1 14.5-oz. can tomato sauce
1 Tbsp. cumin
1 tsp. paprika
½ tsp. oregano
1 Tbsp. lime juice
2 cups corn
1 can black beans, drained and rinsed
Optional: cayenne pepper
Toppings:
Chopped sweet onion
Sour cream
Shredded cheese
Chopped green onion
Directions:
In a large pot, brown hamburger with onion, garlic and jalapeno. Drain fat. Stir in canned tomatoes, Rotel, green chilies, beef broth, tomato sauce and all seasonings. Cover and simmer on low for 20 minutes. Add lime juice, corn and black beans. Salt and pepper to taste. To add spice to your taco, sprinkle cayenne pepper to taste. Serve with toppings.