Bergeron Remembered As Visionary, Friend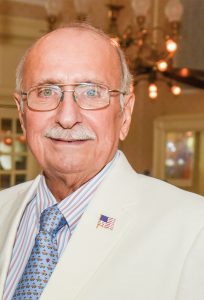 The New Orleans maritime community, family and friends of William T. "Bill" Bergeron are celebrating his life, while also mourning his loss, following his death February 2.
A native of Poydras, La., in St. Bernard Parish, and a legend of the New Orleans maritime industry, Bergeron died at his home, surrounded by his family, following a lengthy battle with kidney failure and a recent diagnosis of lung cancer. He was 73 years old.
A Legendary Start
If Bergeron would've retired from his career in the maritime industry in his mid-20s, he would have already cemented his legendary status. At just 23 years old, Bergeron was awarded the contract to build the Steamboat Natchez. He did so despite having neither experience building ships nor a shipyard in place to do the work.
"At 23, he signed a contract to build what's still one of the most iconic symbols of New Orleans," said David Fennelly, chairman of Associated Terminals and Turn Services, and a longtime friend of Bergeron. "It's actually unfathomable."
Bergeron would go on to grow his family's machine shop in Poydras into a multi-state operation, with Bergeron Industries in Braithwaite, La., and shipyards in Pearlington, Miss., and Demopolis, Ala. At one time, Bergeron even operated a shipyard in Venezuela.
"In his barge-building days, he bought and traded all the steel," Fennelly said. "He signed at that time one of the largest barge-building contracts of the time: a $58 million contract."
At their height, his shipyards employed as many as 1,400 people and were producing multiple barges a week.
"He told me, 'I always look at things from 40,000 feet above,'" Bergeron's wife, Joyce, said. "And his motto was, 'There's always a better way.' He would always listen to other people. It didn't always have to be his way. It's an amazing story."
Unfortunately, the downturn in the economy in the early-to-mid 1980s brought an abrupt end to Bergeron's shipyard operations. Bergeron, though, pivoted and built a successful cargo-handling operation called Gulf Coast Dockside.
"In his second life, he got into the stevedoring business," Joyce Bergeron said.
Bergeron grew that business through the 1990s until he sold it to Fennelly and Associated Terminals, which up until that time had been a competitor in the stevedoring business.
"During that process, we actually became very good friends," Fennelly said. "Our friendship grew over that period of time, from 2001 to 2021, and we spent an awful lot of time together. Billy was not only a competitor, but he was also a mentor of mine.
"You could call Billy Bergeron at 2 o'clock in the afternoon or 2 o'clock in the morning, and he would give you the same amount of commitment, advice, input or anything you needed," Fennelly said. "He was that kind of guy. You could lean on Bill Bergeron, and he would be there for you."
In the early 2000s and 2010s, Bergeron experienced a series of health issues. He had cardiac bypass surgery in 2007 and developed kidney disease. By 2014, he had a kidney transplant, with his sister-in-law donating the kidney.
Bergeron started a third major chapter in his maritime career in November 2012, when he was appointed and sworn in as a member of the board of commissioners of the Port of New Orleans. His five-year stint on the board, which included one year as board president, proved to be instrumental years, with the port seeking out and hiring Brandy Christian as president and CEO and beginning to investigate a site for a second container terminal. Not long after he completed his time on the Port of New Orleans board, Bergeron was then appointed to serve on the board of commissioners of the St. Bernard Port, Harbor & Terminal District. The Port of New Orleans has recently begun acquiring land and studying the feasibility of building a new container terminal in Violet, La., in St. Bernard Parish.
"He quickly became a mentor," Christian said. "He left our board in March 2018, and I can't think of a week in the last few years when I didn't call him for advice or to check in."
Bergeron, along with the rest of the board, was instrumental in hiring Christian as chief operating officer in 2015. She became president and CEO two years later. Christian said Bergeron's impact will endure as the new container terminal project moves forward.
"I honestly don't think we would be at this milestone without his leadership," Christian said. "That's one thing about Bill. When he had a vision, he never wavered. He stayed very focused on it, working to bring people along to achieve it."
"He was a force to be reckoned with, a driving force for the Port of St. Bernard negotiating with the Port of New Orleans for the Violet terminal," said Drew Heaphy, executive director of the St. Bernard Port, Harbor & Terminal District. "He had the foresight and the vision to see that need, not just the local need, but the regional need for that."
Heaphy also praised Bergeron's faithfulness to the board. Even though Bergeron was having to do dialysis in the mornings before board meetings, Heaphy said Bergeron would always find a way to be there for board meetings.
"It was an honor and pleasure to know Billy and to work with him," Heaphy said. "He's going to be sorely missed, that's for sure."
To honor Bergeron and his impact on St. Bernard Parish, Heaphy ordered the flags outside the port building to be lowered to half staff after his death.
Story Moments
While Bergeron's professional success is unquestionable, so too was his love of family, friends and adventure.
"No matter what you did with Billy, it became a story moment of your life," Fennelly said.
One such event happened when Bergeron and Fennelly were standing on a street corner in New York City. They spotted reporter Lou Dobbs out conducting interviews focused on New York street vendors. Bergeron, a huge fan of the New Orleans hot dog brand "Lucky Dogs," took the opportunity to argue for the superiority of Lucky Dogs.
His wife, Joyce Bergeron, told about how Bergeron enjoyed Lucky Dogs so much that he would climb aboard his motorcycle, with their dog, Bear, in the sidecar, and ride to the French Quarter for a hot dog.
 She told of another time when Bear's hair was trimmed, all except for a pompom on his tail.
"People would come up to Billy and say, 'What kind of dog is that?'" she recalled. "And he'd say, 'Oh, that's a Lithuanian lion dog. He's very rare.' And people believed him.
"He was just a super person," Joyce Bergeron added. "He loved life. He loved people. I just could not keep up with him."
"He was a man of character, and what a character he was," Bergeron's daughter, Tiffany Bergeron Cook, said.
Joyce Bergeron said one thing people might not know about Bergeron was that he was a self-taught piano player, who enjoyed playing and singing.
"He could put on a show," she said.
And he was a family man. He loved his two grandchildren, Wil and Emily, and always carried their picture in his pocket. He called his granddaughter his "super star" and loved to tell people about his grandson, who lives with Duchenne Muscular Dystrophy. His daughter now works for CureDuchenne, an organization that promotes awareness and research.
"Bill has championed talking to other people with this disease and raising funds," Joyce Bergeron said. "He's just been totally involved with raising funds."
"He's such a phenomenal businessman, but at the end of the day, family meant everything," Cook said.
As news of Bergeron's death got out, friends, family, former employees and colleagues began reaching out with words of thanks and stories, many of them posted to Bergeron's Facebook page. These are just a few:
"The cloth he was cut from is sold out permanently."
"When he's on a mission, he never stops."
"The Steamboat Natchez is an enduring image of the city. Your fingerprints are on the birth of this beautiful representation of the maritime industry, reaching beyond commercial bulk transport that underpins the foundation of our beloved country."