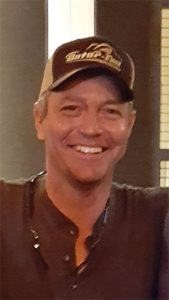 Jayson Grimes was 19 back in 1990 when he went to work aboard towboats. He credits a few friends of his who'd already started out in the industry with introducing him to life as a mariner.
"They kept coming home and telling me about it," Grimes recalled. "I said, 'Hell, I'm interested. I'll try it,' and 31 years later, I'm still out here. I'm just 50, so I've got a ways to go."
Grimes, who earned the nickname "Goob" from his Little League days playing catcher and "clowning around" with umpires and batters, started out with Hollywood Marine, where he worked for about 11 years. He spent six years decking for Hollywood before moving into the wheelhouse.
"I joined forces with Blessey in '01, and from then to now, I've gone pretty much everywhere Blessey goes," Grimes said. "I've covered a lot of waterway for them, all the way to St. Paul, Joliet, even Pittsburgh."
Grimes now serves as captain aboard the mv. Steve Daines.
A native of Alabama who now lives in Loxley, Ala., Grimes said the smaller rivers of the South still hold a special place in his heart. He said he cherishes being on watch for sunrise and sunset, especially when it's on the Tombigbee, Black Warrior or Tennessee rivers.
And even though he's been a mariner for more than three decades, Grimes said it's the everyday newness and challenge of the job that keeps him sharp.
"Every trip out is a challenge for me," he said. "The set of orders from the office, what waterway we'll be on, the waterway conditions. Every trip is a challenge. It's never going back to work doing the same old grind. It's always a challenge every time you go up to the wheelhouse. When you go between the sticks, it's going to be a challenge. You're in the hot seat then."
He said that unpredictability and newness are what level the playing field for new mariners, regardless of their age or background.
"We get all walks of life out there, different ages, people brought up in different ways," he said. "We just try to work together, and we welcome anybody and everybody, especially the young guys on the boat.
"There's really nothing in life that can prepare you for life out there," Grimes added. "You just have to go out and learn from the guys who have been living that lifestyle and hope someone will take you under their wing. There's just not an owner's manual for life out there on a towboat."
At work, Grimes said he's thankful to be part of the "Blessey family," where vessel, office and executive staff all work together toward the same goal and on the same footing.
"Blessey's been really good to me. I don't think I could've asked for a better company to work for," he said. "I don't consider anyone here my boss. I just consider them all close friends. They offer an open-door policy. You can just call anybody at any time. I consider everybody here my friend, I really do."
Both on and off the boat, Grimes said his anchor is his wife of 18 years, Sandie. Together, the couple has two daughters and a grandchild.
"She's always been very good about handling this kind of life that I live," Grimes said of his wife. "She's a champ. She's definitely my rock, that's for sure."
When not aboard the mv. Steve Daines or at home with his family, Grimes enjoys skeet shooting, sporting clay shooting and bird hunting.
"I have a huge passion for shotgun sports, and I put family ahead of everything," he said.