This chocolate éclair cake is fantastic! It tastes just like a real cake. The recipe calls for almond flour, Splenda sweetener, sugar-free pudding and sugar-free chocolate chips, plus a few other ingredients.
I also use this same recipe for the doughnuts and many other types of cakes. For example, one could substitute the sugar-free vanilla pudding for sugar-free chocolate pudding and make a chocolate cake with cream cheese frosting. Again that would be a sugar-free, carb-free dieters' cake. Delish. Also I have used this same recipe to make cupcakes. In addition, I used this recipe to make banana bread and just added my mashed bananas, Splenda brown sugar substitute and nuts. It tastes just like the real stuff. 
 The chocolate doughnut, you will notice, is similar to the recipe for the chocolate éclair cake, again with the exception of substituting sugar-free chocolate pudding. I also made lemon poppy seed doughnuts. I did this by using the sugar-free lemon pudding and adding poppy seeds.
There are so many variations with these recipes. One time I made the doughnuts, sliced them open, buttered them with cream cheese and topped them with fresh fruit. That one is actually my favorite. You will have to read the recipe, come back to my article and make what sounds tasty. 
 Now, about the truffles. There are several different ways you can do this recipe to make it easier. Instead of making the cookie, one could just purchase sugar-free cookies, mash them up really well and mix with cream cheese. I also used my baked leftover sugar-free cake, mashed it up in a resealable bag and mixed the crumbs with cream cheese to make my truffles. Once again you have to read the recipe and refer back to this article. This will only add to your sugar-free, carb-free list of desserts to make. 
Chocolate Éclair Cake
Ingredients: 
Double-Layer Cake:
5 cups almond flour
1-1/2 cup Splenda sweetener
4 tsp. baking powder
2 tsp. cinnamon
2 (1 ounce) boxes sugar-free vanilla pudding 
6 eggs
1/2 cup melted butter
1-1/2 cups milk
Filling:
2 (1 ounce) boxes sugar-free cheesecake pudding
3 cups milk
Chocolate topping:
2 bags sugar-free chocolate chips
1 tsp. vegetable oil
1/4 cup milk
1/4 cup butter
Directions:
Preheat oven to 350 F. Grease two round eight-inch pans with a non-stick spray. With a mixer, stir all dry ingredients together. Whisk eggs; add melted butter and almond milk to whisked eggs. Pour wet ingredients into dry ingredients and mix very well. Divide batter in half and pour into each of the round eight-inch pans. Bake 15 minutes. Some ovens require more baking time, so continue cooking until firm and inserted fork comes out clean. Let cool completely before stacking with filling.
While cake is cooling, prepare filling as directed on box; however, use only three cups milk for both boxes. Chill filling. When cake is cooled and pudding thickened, spread pudding on first cake. Use all pudding. Add second cake on top first cake. 
For the chocolate topping, put sugar-free chocolate chips in microwave-safe bowl with the vegetable oil. Microwave for 30 seconds at a time, mixing during intervals until chocolate is melted. Add butter and milk and mix thoroughly again. With a large spoon, drop spoonfuls of chocolate mixture along top edge of cake. Pour the rest of the chocolate on top of cake. Chill cake before serving. Keep refrigerated.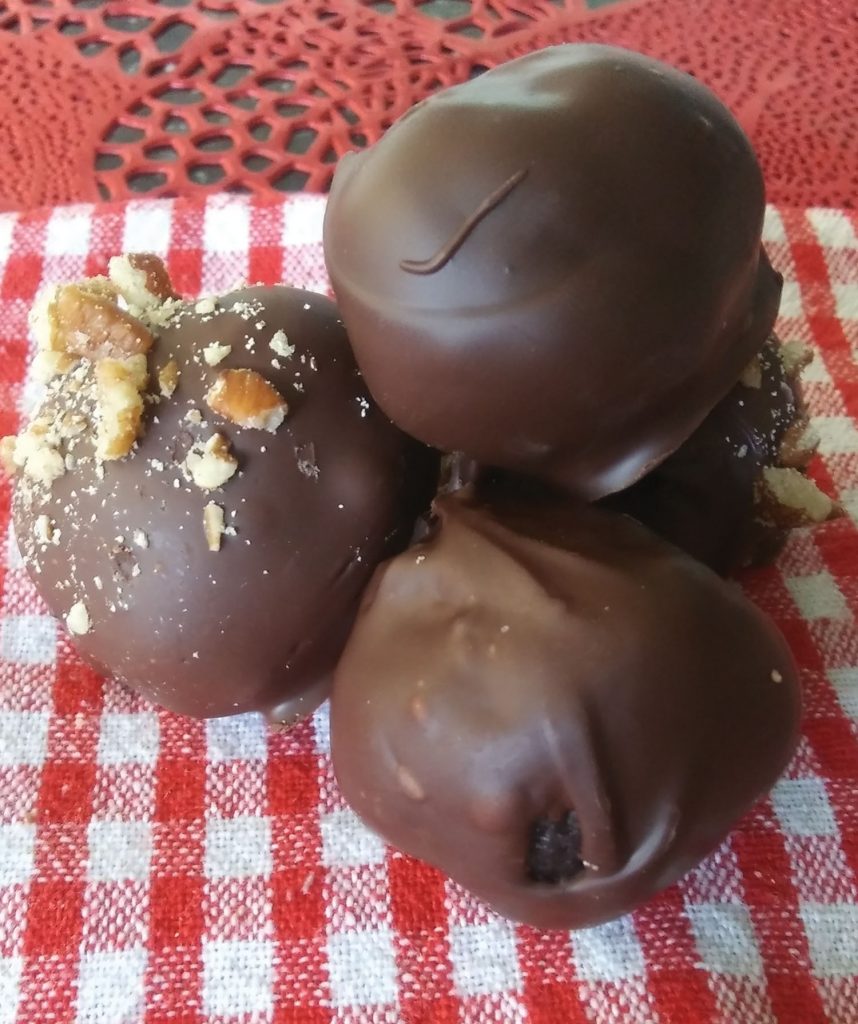 Sugar-Free Truffles
Ingredients for the cookie:
3 cups almond flour
3/4 cup unsweetened cocoa powder
1/2 tsp. salt
2 tsp. baking soda
1 cup butter, room temperature
1 cup sugar-free sweetener (Splenda works great)
3 eggs
1 tsp. vanilla
Ingredients for mixing the truffles:
1 (8 ounce) brick cream cheese
1–2 packages sugar-free chocolate chips
1 tsp. oil
Crushed nuts optional or sprinkles
Directions:
For the cookies, mix all ingredients in a mixer if you have one. Blend until well combined. Line a cookie sheet with parchment paper. You may do two things here. You can just spread the entire cookie batter on the cookie sheet to bake. If you really want to make the cookies, drop one tablespoonful at a time on parchment paper. This batch makes two dozen cookies. Bake at 350 for 10 minutes. The reason you can just spread the entire cookie batter on the cookie sheet is because once cooled, you will just put them in a plastic bag and crush up or place in a food processor and pulse to fine crumbs.
Mixing the truffles: After the cookies are cooled and crushed, soften your cream cheese in the microwave for about 30-40 seconds. Add the cream cheese to the crushed cookies. Chill cream cheese cookie dough for an hour. Once chilled, roll cookie dough into 1-inch balls. Put cookie dough balls on cookie sheet lined with parchment paper. Place truffles in freezer for 30 minutes. Melt chocolate chips with oil. Remove truffles from freezer and dip in melted chocolate. Remove truffles with fork or toothpick. Place truffles back on lined cookie sheet. This is the time to sprinkle nuts or sprinkles on top of truffles. Return truffles to freezer for 10-15 minutes to set chocolate.
Note: If you do not want to go through the hassle of making the cookies, just buy sugar free cookies and follow the mixing the truffles directions.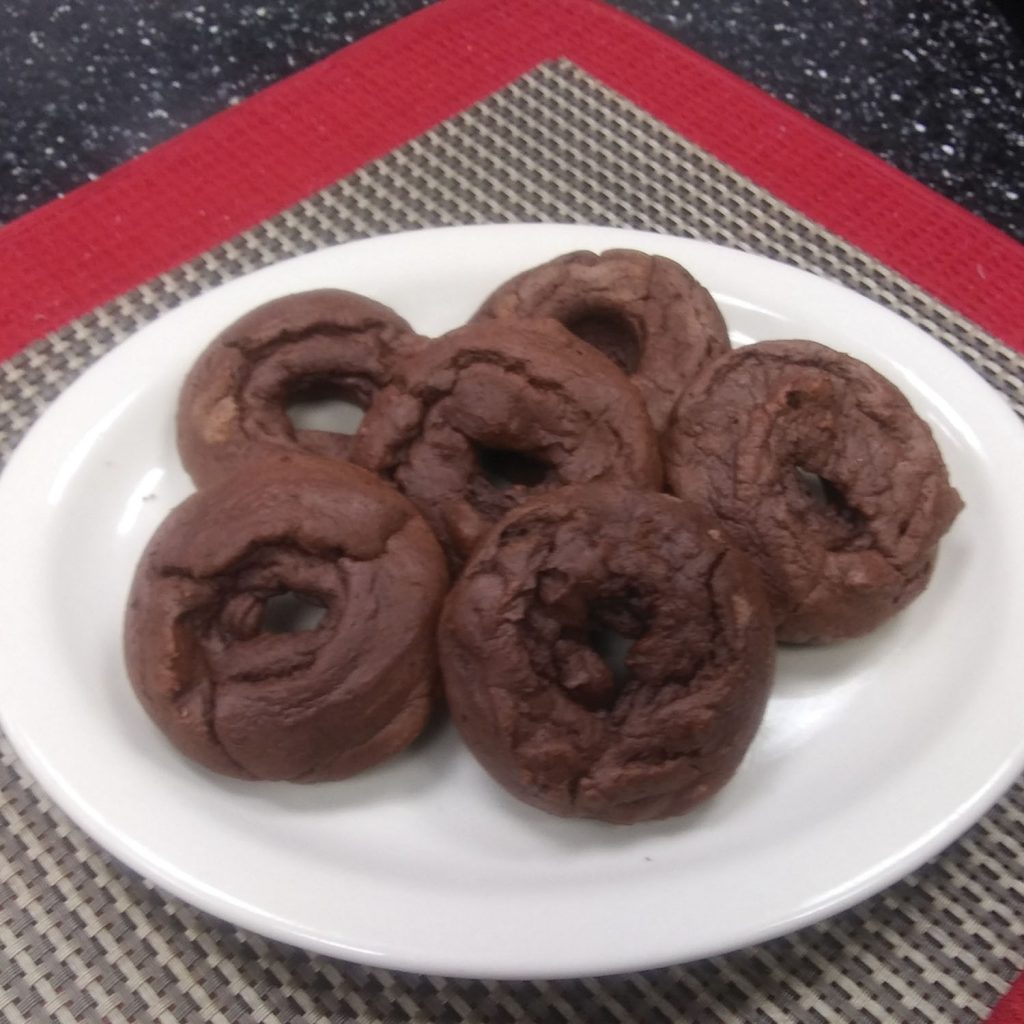 Low-Carb Chocolate Doughnut
Ingredients:
2-1/2 cups almond flour
3/4 cup Splenda sweetener
2-1/2 tsp. baking powder
1 tsp. cinnamon
1/3 cup cocoa powder
1 small box sugar-free chocolate pudding
1/4 cup melted butter
4 eggs
¾ cup unsweetened Almond milk (may use 2% milk)
1 tsp. vanilla
Doughnut pan
Directions:
Mix dry ingredients in a bowl. Add rest of ingredients to bowl. Mix thoroughly until well combined. Spray doughnut pan. Using a spatula, scoop out some batter and drop into half a doughnut ring. Get another scoop and fill the other side of the doughnut ring. Bake 13 minutes at 350 degrees. Cool doughnuts before removing from pan.