The teeth-rattling cold weather that blew through the South almost two weeks ago was highly unusual, and it showed, particularly in its effects on the power grid. Texas, in particular, made news for its rolling—and lengthy—blackouts, even as temperatures dipped near zero in places.
And it wasn't just homes and businesses that were without power in the cold. On the Gulf Intracoastal Waterway, both the Colorado River Locks and the Brazos River Floodgates were without grid power for close to three days, starting on Monday, February 15. While backup generators came on at Brazos, the cold weather rendered the generators at the Colorado River Locks inoperable for several days.
Despite that challenge, lock personnel at the Colorado River Locks soldiered on, maintaining lock service while basically living out of their work vehicles to stay warm.
"As it turned out, a lot of people who depend on backup generators saw that those weren't working as well in cold weather either," said Karl Brown, chief of the project operations branch for the Galveston Engineer District. "At our Freeport office, their generators kicked on no problem, but there at Colorado, neither one of those generators fired off. Here we were scrambling on that Monday to figure out what to do."
Lock personnel placed a call to generator technicians, but they were unable to drive to the site due to the weather. No power at the lock meant no heat in the lock offices, as well as no power to open and close the lock gates. Fortunately, water conditions at the time allowed the locks to remain in "open pass" mode. Still, safe transit of the locks requires lock personnel on site to shepherd vessels through.
"My lock masters and I huddled together and said, 'We're not going to stop navigation. Navigation is going to continue to flow, guys,'" Brown said. "So those lock operators got in the pickup we have there and turned the heater on. They had good radios and were able to charge the radios in order to maintain good communication with traffic. We kept navigation going that way."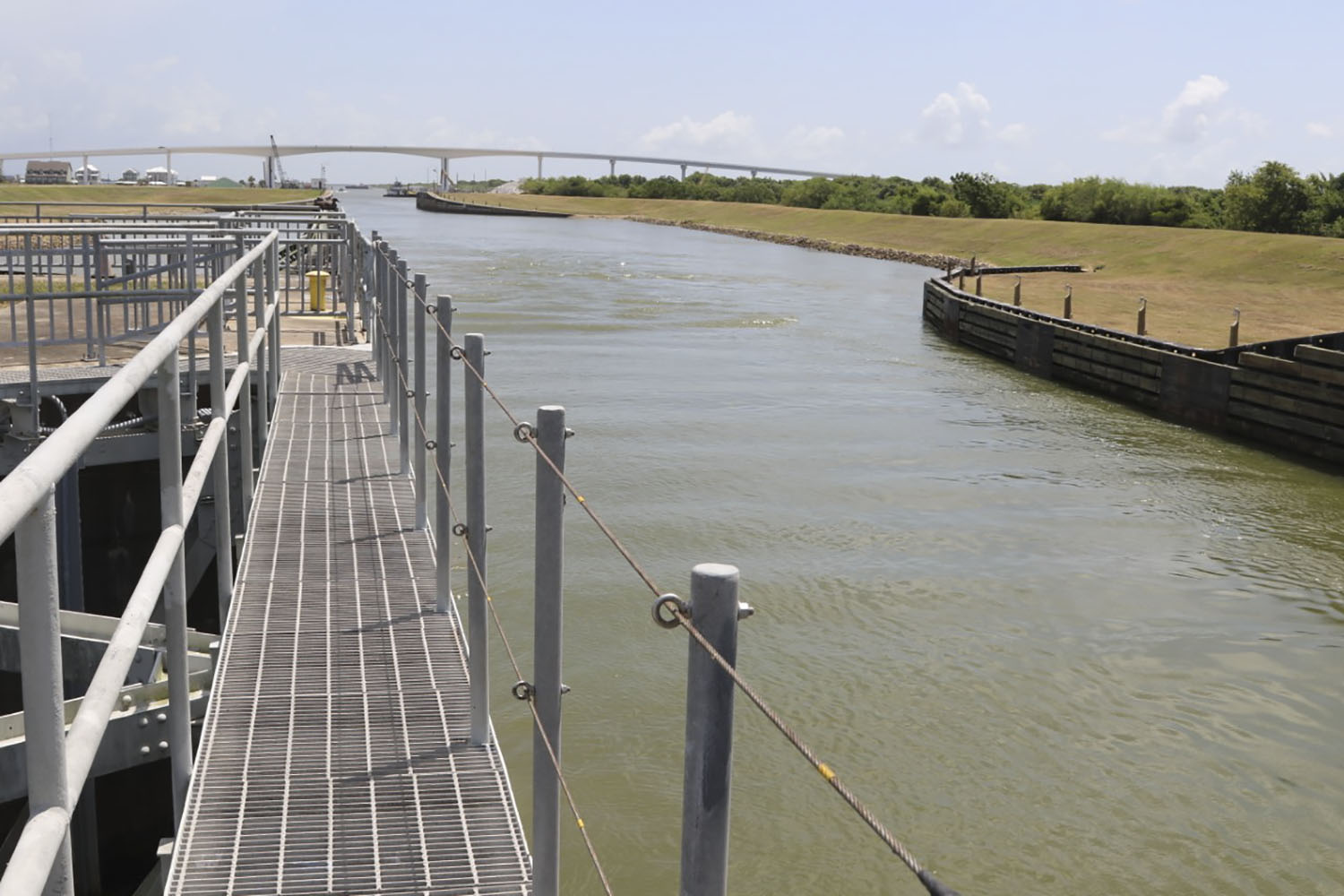 Eventually, Corps officials got some portable generators to the site in order to provide some heat to the buildings, but there remained no power to the locks, particularly guidewall lights. Due to the lack of lighting, the locks were closed to navigation at night, but they remained open throughout the power outage.
Brown said traffic was limited still, due to icy conditions on towboats and barges. By Wednesday, February 17, generator technicians made it out to the locks and repaired the impacts from the cold weather. Shortly thereafter, grid power was restored. Still, Brown said the effort on the part of lock personnel to maintain service was admirable. One lock worker even stayed onsite overnight those two days to monitor the radio, even though the locks were closed at night.
"These guys are traffic managers," Brown said. "We even call them low altitude air traffic controllers sometimes. We'll have 50 tows go through on a busy day, and we average 35, so it takes a lot of coordination by these guys."
That effort did not go unnoticed by industry leaders.
"I salute them for their efforts in getting out there, despite the frigid conditions, and allowing daytime traffic to keep moving," said Jim Stark, president of the Gulf Intracoastal Canal Association.
Caption for top photo: The Brazos River Floodgates. (Photo courtesy of the Galveston Engineer District)