Rock Island Engineer Honored By Quad City Engineering And Science Council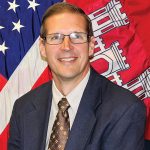 Roger Perk, senior engineer for the Rock Island Engineer District, was honored February 25 by being selected as a 2021 Senior Engineer of the Year by the Quad City Engineering and Science Council.
Perk serves as chief of engineering and construction for the Rock Island District, working on inland navigation, environmental sustainability and flood risk management projects that provide safety, security and sustainability for those that depend on the Mississippi River.
Perk has provided services for projects at 20 lock and dam sites, three major flood control reservoirs and more than 800 miles of flood control measures.
His work outside of the Quad Cities area includes overseeing the federal portion of the Cedar Rapids flood control project and deployment to New York City following Superstorm Sandy.
Sign up for Waterway Journal's weekly newsletter.
Our weekly newsletter delivers the latest inland marine news straight to your inbox including breaking news, our exclusive columns and much more.
Perk has been a guest speaker for and is the current president of the Society of American Military Engineers and is a STEM tutor/presenter at numerous school events. He has a B.S. in civil engineering from the University of Nebraska, and an M.S. in civil/environmental engineering from the University of Wisconsin.