Maritime Partners, a New Orleans-based owner of close to 550 towboats, barges and other maritime assets on long-term charter, held a christening ceremony February 26 for the mv. Chris Miller, the first of two 2,000 hp. towboats on order from Eymard Marine Construction. 
Eymard hosted the christening at its shipyard on the Harvey Canal, with the mv. Chris Miller moored bow-to-stern with the next vessel up for Maritime Partners, the mv. Kyle Smith.
The vessel is named for Chris Miller who, along with Raymond Butler, serves as an owners' representative for Maritime Partners.
"Between the two of them, they're overseeing construction at nine shipyards right now," Maritime Partners co-founder and Chief Operating Officer Austin Sperry said at the christening. "It's a tall undertaking and a difficult task, and they're doing it with grace."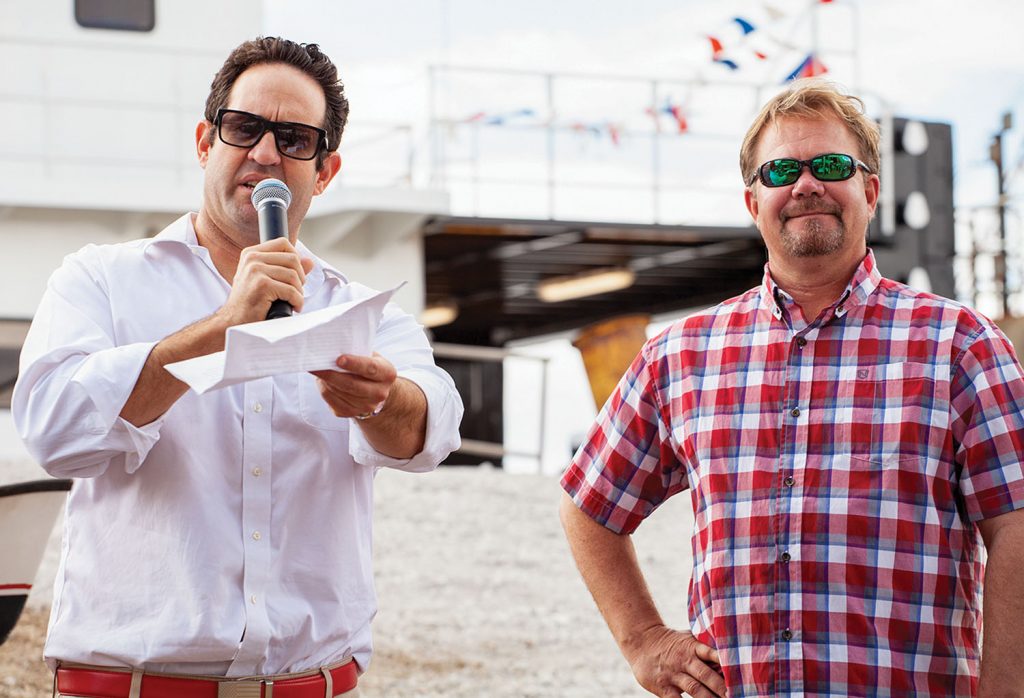 Sperry said he met Miller about four years ago at the recommendation of Jo Ann Harris, vice president of sales at Arcosa Marine Products, which builds many of Maritime Partners' barges. At that time, Harris reached out to Sperry to say he needed to meet Miller, who was about to retire from the Coast Guard after more than 30 years of service. Laughter erupted throughout the crowd gathered for the christening as Sperry recounted that first meeting with Miller.
"So I flew up [to Tennessee], and he came up in a blue jumpsuit," Sperry said, recalling Miller in his traditional Coast Guard blue coveralls. "I think the first question I asked was, 'Do you have any friends at the shipyard?' He said, 'No, they all hate me.' I said, 'Perfect. You're hired.'"
Sperry said Miller's impressive career with the Coast Guard spoke for itself.
After graduating from Bayard High School in Bayard, Neb., Miller joined the Coast Guard in August 1988, with basic training at Cape May, N.J. From there, Miller went to Cape Disappointment, Wash. He later served aboard the U.S. Cutter Point Ledge out of Fort Bragg, Calif.
"From there, he moved to San Diego, where he joined a tactical U.S. Coast Guard law enforcement team, where he was sent around the world, protecting and defending the freedom we enjoy every day," Sperry said. "He's been deployed more than five separate times around the world, including the Middle East, since the first Gulf war."
He concluded his career as part of Marine Safety Detachment Nashville, Tenn.
During his 30 years, two months and 16 days in the U.S. Coast Guard, Miller was honored with the Armed Forces Services medal, the U.S. Coast Guard Commendation medal, the Global War On Terrorism Services medal, the Global War On Terrorism Expeditionary medal, four Coast Guard Achievement medals and five Coast Guard Unit Commendation awards.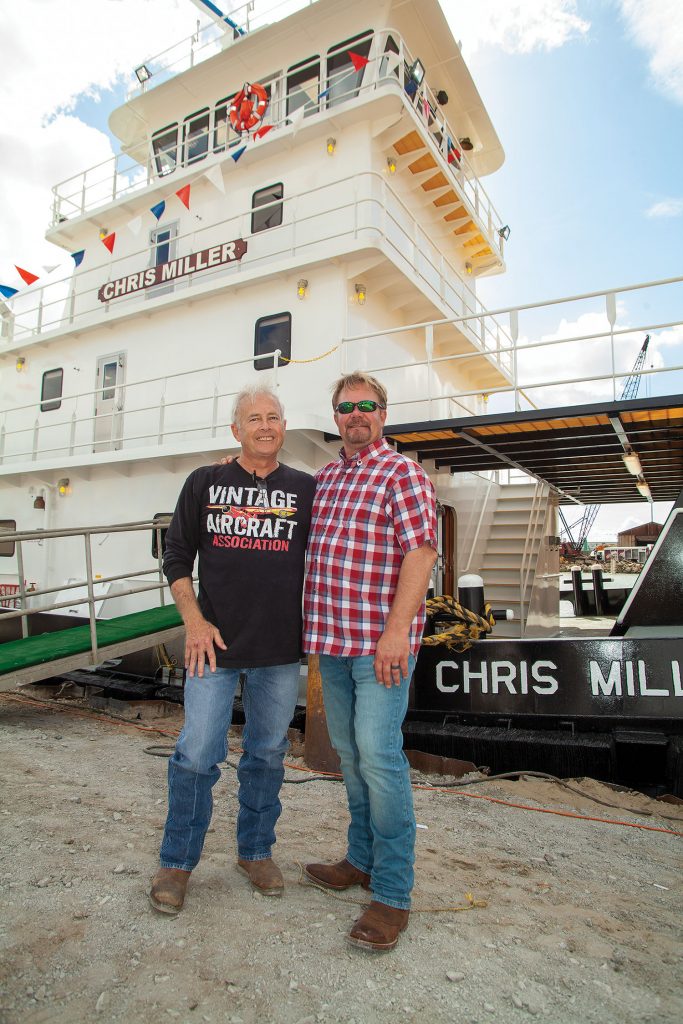 Sperry thanked Miller both for his service and for his time with Maritime Partners.
"It's been an absolute pleasure having you as part of the team and becoming good friends with you and your family and your wife, Deirdre," Sperry said. "I'm very happy for you and honored to name this boat for you, as is everyone at Maritime Partners. Congratulations."
Miller said he first learned about the honor when he was sent down to Eymard to inspect the new vessel under construction.
"I got down there and I saw 'Chris Miller' on the nameplate," he recalled. I just couldn't believe it, and I almost broke down crying right there. My initial reaction, honestly, was that I was ecstatic.
"This is one of the biggest gifts, you could say, that you'll ever get in the maritime industry," Miller said. "It's something I definitely do not take for granted. I could've never done it had I not gotten this job with Maritime Partners, which has taken us in as family."
Miller also thanked Butler, whom he called "my mentor on the towboat side."
"Mr. Raymond is always teaching," he said. "As I've had the chance to work with him, we've become great friends. He's a great, great man, and every time we step on a boat together, I always learn something. He's always teaching. Mr. Raymond, I thank you for that."
Standing alongside and supporting Miller at the christening were Deirdre, his wife of 20 years; sons Landon Smith, Trey Smith and Zach Miller, along with Landon's wife, Haley; daughter Sara Robertson and her daughter, Harper; his in-laws, Paul and Connie York; and his high school friends, Calvin and Sabina Hubbard.
Capt. Joy Manthey, a chaplain with Seamen's Church Institute, led a prayer for the mv. Chris Miller, the crew that will serve aboard the vessel and for all those gathered at the christening.
"God, give us the strength and patience we need as we navigate through the whirlpools of life," she said. "When we're headed upstream and can't seem to find slack water, replenish our spirit with new strength. When we're sliding deep in the bends, prepare us to meet the constant struggles of daily life with a renewed sense of hope and joy. May the currents and winds of our lives be always fair and favorable. This we ask in the name of Jesus our brother mariner who calmed the waters and quieted the storms."
Miller concluded the christening by breaking a bottle of champagne over the forward gunwale of the mv. Chris Miller.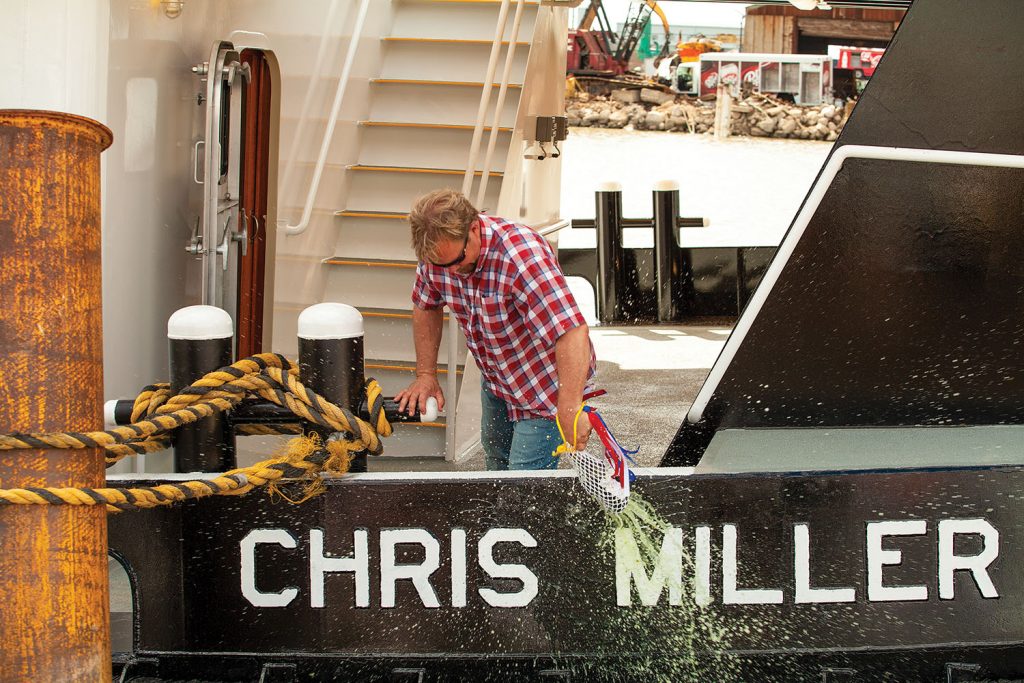 Vessel Specs
Entech designed the mv. Chris Miller, which measures 78 feet by 34 feet by 10 feet, with a design draft of 7 feet 9 inches. The pilothouse eye level is 33.5 feet. The vessel has tankage for 24,760 gallons of fuel, 426 gallons of lube oil and 6,610 gallons of potable water.
Horsepower aboard the mv. Chris Miller comes from a pair of Caterpillar C32 main engines from Louisiana CAT, with each engine rated at 1,000 hp. The main engines are paired with Reintjes WAF 572L reduction gears from Karl Senner (7.091:1 ratio). The vessel is equipped with 76- by 66-inch Sound Denominator-style wheels from Hung Shen, Wärtsilä PSE shaft seals from Dale's Welding, and Duramax Durablue bearings and DuraCooler keel coolers from Donovan Marine.
Engine alarms are by Blair Plaisance and Kirk Foret. Hydraforce supplied the steering system. Donovan Marine supplied the mv. Chris Miller's Seahorse wastewater treatment system and its two 40-ton Patterson deck winches, along with its capstans and kevels. Fendering is by Schuyler.
Inside, the vessel features accommodations for seven spread across five staterooms and four bathrooms. Wheelhouse Electronics supplied the electronics package. American Fire Safety & Supply outfitted the mv. Chris Miller with its galley fire suppression system. All other fire extinguishers, axes and fire hoses are from Donovan Marine. Dale's Welding provided the aluminum doors.
Eymard's own carpenter outfitted the mv. Chris Miller with custom Spanish cedar cabinets in the galley, bedrooms, bathrooms and the wheelhouse, along with the trim throughout.
Miller extended a special thanks to the Eymard family and the shipyard crew for the workmanship aboard the mv. Chris Miller.
"The attention to detail, the woodwork is absolutely amazing," Miller said. "You guys did amazing. I love every bit of it. Mr. Gary, family, love you guys. It's been a pleasure to work with you, and we're going to continue to work together. I'm looking forward to that. There's no other place I would rather my boat be built than here."
Caption for top photo: Eymard Marine Construction built the 2,000 hp. mv. Chris Miller for Maritime Partners. (Photo by Lisa Eymard)