Florida Marine Transporters (FMT), Mandeville, La., one of the largest independent marine transporters of dry bulk and liquid products on the inland waterways, took delivery recently of a new towboat, the mv. Mo Chiasson. Designed by Sterling Marine and built by Steiner Shipyard at its facility on Bayou La Batre, Ala., the 2,520 hp. Mo Chiasson is a conventional twin-screw towboat that measures 88 by 35 by 11 feet. A twin to the previously delivered mv. Chad Douglas, it is one of the 11 boats Steiner Shipyard is building for FMT.
The main engines from Laborde are Mitsubishi model S12R Tier 3 units with a mechanical governor control system, individual heads, inspection ports and heavier blocks.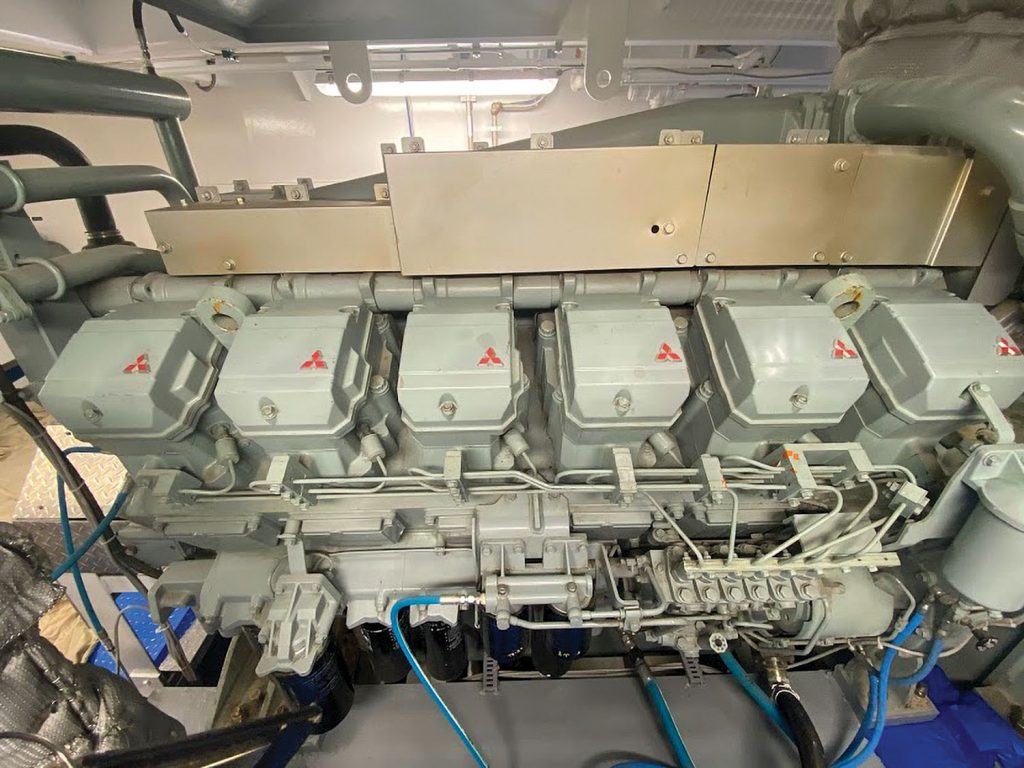 The engines are coupled to Twin Disc MGX5600 reduction gears from Sewart and have a 6.04:1 ratio. They turn Kahlenburg 82- by 62-inch propellers on 8-inch shafts with Simplan tailshaft seals and Duramax Cutlass bearings. The engines are cooled by Fernstrum keel coolers and monitored by an alarm system from EMI, which also provided the electric-over-hydraulic steering system.
When fully loaded with fuel and water (42,000 gallons and 8,000 gallons), the boat draws 8 feet 6 inches. The pilothouse eye level is 34 feet, 6 inches.
Auxiliary power for the new boat is produced by a pair of John Deere 99 kw. generators furnished by Kennedy Engine Company. Quarters for seven are composed of two double and three single bunkrooms, plus three bathrooms. An exercise room, fully furnished lounge and all-stainless-steel galley provide additional comfort for the crew. The deckhouse interior, manufactured and installed by Kern Martin, is insulated throughout with mineral wool and Mascoat sound-deadening coating in strategic locations. 
Air conditioning and heating is provided by a Mitsubishi split system, fire safety is achieved through a Novec system from Hiller Systems, and fendering is Schuyler. The Mo Chiasson has two Patterson 40-ton electric winches. Its electronics suite was supplied and installed by FMT's in-house IT/electronics department.
About The Namesake
The new vessel is named for Elmond "Mo" Chiasson, Florida Marine's port captain, whose responsibilities include performing operational assessments and audits of navigation and cargo operations of the company's fleet of towboats and barges. He also works on the fleet's regulatory compliance.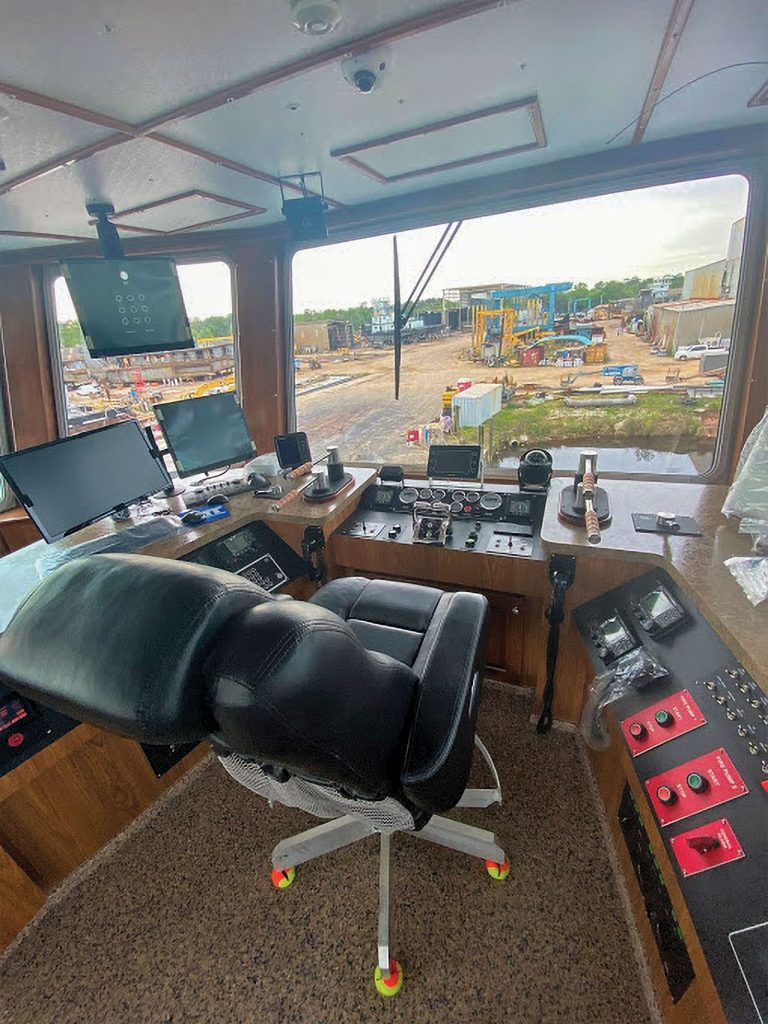 One constant during Chiasson's youth was baseball. He played throughout his early years, starting with T-ball when he was six and culminating with four years of college ball at Indiana University, where he earned his bachelor's degree. He played catcher and third base. Until three years ago, he played softball on a team called "The Old Timers" before finally hanging up his cleats.
The other constant, more to the point, is his employment in the marine industry, starting when he was 12. Both his parents worked in the industry. His mother was the accountant at Tibo Shipyard, a small repair yard with a 300-ton marine way located at Mile 1 on the Harvey Canal across the river from New Orleans. His father, Elmond Sr., was the vice president of repairs at Gretna Machine & Iron Works, a full-service shipyard that specialized in building and repairing barges, located at Mile 5 on the canal.
During the mid-1970s, Chiasson worked part time in the tool room at Tibo and during the summer as a helper in the yard until he was 17, at which time he began assisting his father with surveys at Gretna Machine, he said. (Ironically, Gretna Machine & Iron Works is now FMT Shipyard & Repair, a subsidiary of Florida Marine Transporters.) 
"The repair work I was exposed to early in my career helped me to understand construction and repair," Chiasson said. "In this industry you can never stop learning. Starting at the bottom is paramount to understanding operations of equipment and the limitations."
Adding that he wishes he would have started his career at FMT because of the family-like culture there, Chiasson said he joined the company in 2017, after having worked for Marquette Transportation and Magnolia Marine. He also operated his own consulting firm, Informar, which assisted small companies with Subchapter M and operational compliance. While at Indiana University, he enrolled in R.O.T.C., which led to a stretch of service in the U.S. Army, 10th Mountain Division, Foreign Materials Intelligence Group.
What motivates Chiasson the most is the memory of his deceased daughter, Gabby, who died in 2010 at the age of 11, after a three-year battle with cancer. "She was the bravest, toughest and most courageous person I have ever known," he said. "She is my inspiration."
Caption for top photo: The 2,520 hp. mv. Mo Chiasson was built for Florida Marine Transporters by Steiner Shipyard.