When Carter Newt of Newt Marine Service decided to begin repowering his fleet, his strategy and requirements were simple. 
He wanted a propulsion system that was dependable, fuel efficient and backed by reliable service and support. He also wanted an environmentally friendly system as Newt Marine, like many other companies, is committed to looking at ways it can reduce its global footprint. Ultimately, he decided on Volvo Penta and Interstate PowerSystems to meet those needs with systems that include Tier 3 engines.
"Upgrading to Tier 3 engines provides an immediate health benefit to the crew members and community," said Newt, vice president of Newt Marine, based in Dubuque, Iowa. "Additionally, the fuel usage saved is quite substantial, and the useful life of the engines will have a noticeable impact on the consistent fleet operations for the next several decades. As we progress with repowering machines to Tier 3 or greater, we are striving to create jobsites that are 'green' by having clean-emission boats, excavators, and winches." 
Iowa Department of Transportation and U.S. Environmental Protection Agency grant funding helped support the project. However, both agencies wanted to note that any opinions, findings, conclusions or recommendations expressed are those of the people and companies quoted and do not necessarily reflect the views of Iowa DOT or EPA.
Newt Marine Service is a 56-year-old family business located on the Upper Mississippi River at the South Port of Dubuque. It is a marine construction company specializing in fleeting services, dredging, drydocking, barge rental, specialized towing and terminal facilities. The company began operations in 1965 and has grown from a single tug, the mv. Coal Queen, that would do assists and work the grain elevators and coal docks. Since then, the company has acquired more than 20 tugboats, two drydocks and several dredges, cranes and excavators. The company now primarily performs contracted marine construction. 
Four of Newt Marine's repowers have been completed so far. Eventually, three more boats will be repowered. 
Repowering of the vessels included main engines, generators, gear boxes, shafts, wheels and keel coolers. Those that have been completed are the 60-by-22-foot Tigre and the 65-by-24-foot Katie Ann, which use twin Volvo Penta D13 500 hp. 1,800 rpm. Tier 3 engines. The 50-by-22-foot Fox Eldon Ann and the 56.6-by-22-foot Scarlette River were repowered with twin Volvo Penta D13 400 hp., 1,800 rpm Tier 3 engines. Repowering of main engines and generators on the Belgian, Kenneth Jackson and Captain Newt are expected to be commissioned later in 2021 and in spring 2022.
"Most of our boats are older age boats with great hulls, but they needed new engines," Newt said.
These vessels are used as assist boats, on dredging and rip rap projects and habitat projects.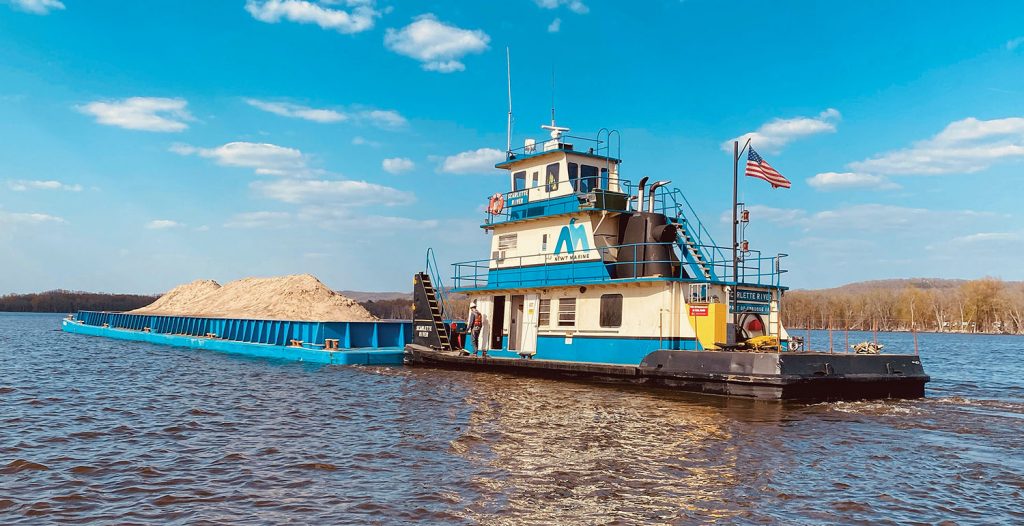 "Prior to repowering, we had run almost every engine manufacturer in our boats, with the exception of the Volvos," he said. "The availability of the Volvo engines gave us the chance to try something new that met our workload needs and came with an extended warranty."
Although Volvo is known worldwide for its engines, Newt noted that Volvo is not a dominant engine on tugs in the Upper Mississippi.
"By switching to Volvo, we are able to try something new, switch from mechanical diesel engines to electronic and become (as far as we know) one of the first companies to run the engines on the Upper Mississippi," Newt said.
The Fox Eldon was the first to begin operating with new equipment, in June 2020.
"Interstate was very helpful by providing technical guidance and training throughout the process," Newt said. "There was a bit of a learning curve switching from mechanical to electronic engines, but with their help we were able to adapt quickly."
The repowerings consist not only of propulsion engines, but also integrate the Volvo Glass Cockpit control system, installation of new generators and ZF Marine Gears. 
"Interstate and Volvo Penta offered a really attractive package with an extended warranty for the engines," Newt said. "As with any major business decision, we wanted the peace of mind that our investment would be supported. Interstate Power has several locations near our home base. In this business, being down for a day can have a significant impact on the budget of a project."
Unparalleled customer service is not only a goal for Interstate but highlighted in Interstate's motto, said Craig Jarosinski, Interstate's director of marine sales.
"Interstate's motto is 'Pride in Service,'" he said. "In today's competitive business climate, downtime means lost revenue or potentially lost business. We understand owners and operators must have the confidence that if service is needed, we will have the customer back up and running as soon as possible."
Initial discussions with Newt and his team required a combination of engineering, technical support and an attitude to take on any challenge in a coordinated effort to provide propulsion systems for the repower of multiple vessels, Jarosinski said, adding that Newt wanted proof that Volvo Penta and Interstate PowerSystems had what it takes to get the job done so he could meet the needs of his customers' schedules and busy timelines. 
"We have developed a strong relationship with the Newt Marine team from top to bottom," Jarosinski said. "It was not a secret from the very beginning in order to earn Newt's trust and build a strong, long-lasting relationship that there were high expectations. We worked closely on the engineering, installation and startup to make sure the repowers went as smooth as possible; if we were needed on site, we were there. Interstate strives to provide competitive pricing, and I would say our technical team is on par with some of the best engine distributors in our industry. Our team of engineers on staff provide technical details, drawings and make visits to the vessels to ensure everything is installed for the best performance and long life.  Once the vessel is operating, we provide exceptional customer service by employing highly skilled and experienced factory-trained technicians who take pride in their work and view the success of our customers as a direct reflection on themselves."
The Volvo Penta D13 is a six-cylinder 12.8-liter marine diesel engine that meets U.S. Environmental Protection Agency Tier 3 emission regulations. Highlights of the engine are that it is quick to reach maximum torque and produces low noxious emissions and no visible smoke regardless of load. Electronic management systems control unit injectors and fuel distribution to optimize and improve combustion. 
"Volvo Penta commercial engines are painted green for a reason," Jarosinski said. "Concern for the environment has always been a core value in their historic marine tradition. They have a dedicated marine group that focuses on balancing green priorities with customer expectations. The commercial heavy-duty engines have a unique torque curve optimized for significant low-speed torque, which makes the vessel very responsive.  This meets the expectations of towboat captains who have to navigate strong river currents and winds while maintaining control of their barge tow through the obstacle course of the inland rivers.  As a company, Volvo Penta  focuses on developing the best engines available providing reliability, long life expectancy, low emissions and fuel efficiency."
Fuel efficiency is especially important as customers look to improve efficiency and decrease costs, he said.
"Volvo Penta prides themselves on developing extremely fuel-efficient engines without sacrificing performance," he said. "The commercial heavy-duty engines provide peak torque as you throttle up all throughout the rpm. range. We put power to the prop while sipping fuel. Optimized combustion, optimized turbocharging, advanced controls and charge air aftercooling all contribute to reducing fuel burn, reduced emissions and high performance.  Reducing fuel burn goes straight to the bottom line of an operator's business and as fuel prices continue to rise is a tremendous benefit.  Volvo knows reducing the total cost of owning and operating their engines is a key decision every owner makes when selecting new engines. Volvo Penta fuel efficiency, reliability, and performance make this an easy decision."
Newt said he noticed the difference right away. 
"We have been very pleased with the boat repowers," he said. "We have put four boats in service on projects and have noticed better fuel economy. We look forward to what the future may hold."
Caption for top photo: The Tigre is one of four Newt Marine Service boats repowered with Volvo engines by Interstate PowerSystems. Plans call for Interstate to repower three additional Newt Marine vessels. (Photo courtesy of Volvo Penta)